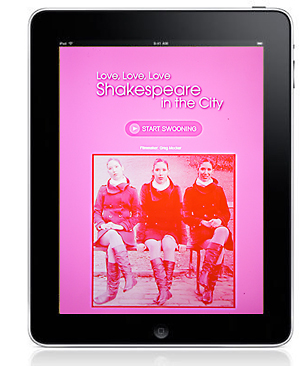 The most creative minds in publishing are racing to develop iPad app editions of upcoming titles that will utilize the new device's unique audio, video, interactive and social networking capabilities.
The excitement is contagious!
As a writer, you may want to start looking at how these apps can extend and expand the creative canvas of your book.
[These multimedia
book apps
are available only at iPad's
App Store,
while regular
ebooks
are available only at iPad's
iBookstore
. Confusing? Yes! Listen up, Apple. Put all the books in one place where we can find them. Ok, onward.]
Hang on to the good stuff
Has this ever happened to you? You're writing at a furious pace and your brain's teeming with an overflow of information and ideas that can't possibly all fit into your book.
But you've got some wonderful stuff that you'd love to use somehow. Maybe it's some great backstory information like an FBI dossier on a principal character in your novel, or maybe it's a terrific old newsreel that could help illustrate a key point about the Battle of the Bulge in your history of WWII.
The end of slash-and-burn editing?
As a developmental editor, I work every day with writers who have more material and imaginative ideas than can be contained on the printed page. It's my job, however, to help an author maintain the forward acceleration, rhythm and pacing of the book without tangents or digressions — and to avoid including material that isn't crucial in the moment.
That means that there's frequently no solution other than slash and burn.
So I'm really excited about the technological advances underway that will provide writers with new channels for this kind of material. The iPad book apps in particular may offer outstanding opportunities to resolve backstory and other creative problems by embedding and linking to that additional content, adding informative and entertaining elements to the book that help tell the story and enrich the experience of reading.
The iPad is a game changer
In Publisher's Weekly the other day, Stephen Prothero, author of the recently released God Is Not One described how his publisher suddenly requested an autobiographical video and other "bonus" materials for the forthcoming iPad version of the book.
"For my next book, I won't be able to get away with traveling to Jerusalem or Bali with pencil and notepad, searching for a few choice quotes," Prothero wrote. "I'll need to bring an audio recorder and a video camera, and figure out how to integrate into my 'book' the sights and sounds of this Hebrew prayer or that Balinese cremation."
Authors take note! The iPad book app will require a new kind of creativity to realize the artistic and commercial value of these potential elements.
What would Shakespeare do?
Imagine if William Shakespeare were living today. He'd written those wonderful 14-line love sonnets from the bottom of his heart and thought they were some of the best work he'd ever done. Because he'd been in the theater both on the stage and as a playwright all his life, he knew his poetry needed to be heard aloud, to be read by actors who could understand and illuminate the meter, rhythm, and beat of his iambic pentameter.
So maybe he'd hire some talented friends and direct them in a series of short videos, one per sonnet, set in urban locations with lots of cool effects. It could be brilliant.
His legions of readers, on their digital devices, could watch the actors recite the sonnets, hearing the wonderful rhythm, while reading along with the lines. Unusual words linking to dictionary definitions could help interpret the layers of meaning.
This has actually been done, using a multimedia application called the vook. It's titled Love, Love, Love: Shakespeare in the City and it's one of the best examples of new-form publishing I've seen. For me, the visual experience gives a whole new dimension to understanding and appreciating these perfect gems in verse. The vook, a term coined by the application's developers, is described as "a new innovation in reading" that blends writing, video and social networking. The company got a lot of press recently when author Anne Rice decided to publish a Vook edition of her story The Master of Rampling Gate. Vooks are available as computer downloads, or as iPad and iPhone book apps.
What would Hunter S. Thompson do?
I wonder what my old pal, the late Hunter S. Thompson, prince of Gonzo, would do if he were able to join with me in publishing a 40th anniversary edition of Fear and Loathing in Las Vegas as an iPad book app.
I bet he'd have a lot of fun with the iPad's built-in features like shaking and tilting images, distorting, blowing up and shrinking illustrator Ralph Steadman's wild drawings of his hallucinogenic adventures. We might also think about including some of our midnight audio tapes, where we dissected his manuscripts and plotted future tales of dread.
Maybe we'd embed a video game we could call "Shoot the Sheriff," with stop action animation of Hunter taking aim at all those sheriffs he was covering as a reporter at their Las Vegas convention; dispatches that later became the basis of the book.
Oh the possibilities!
For the best examples, check out the kid stuff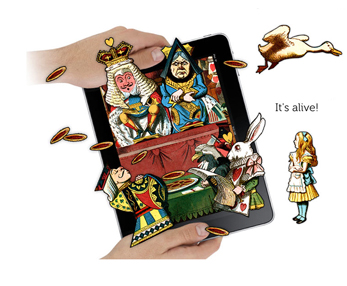 The wildly popular Alice for the iPad, created by the tiny design studio Atomic Antelope, uses the device's special technology for readers to tap, tilt and turn, shudder, and shake it so that Alice, the mad hatter, the jabberwocky, and Red Queen are all tossed around, changing sizes, and otherwise become the movable creation of the reader's imagination in the moment. Hopefully a future update will include sound, a surprising omission (aside from an occasional trumpet note) in this otherwise beautiful and exciting interpretation of the children's classic.
You get the feeling that this is just the beginning of great things to come in book publishing for all ages.
Disney, meanwhile, has produced a delightful version of the book Toy Story. This free iPad app includes extensions, enhancements and interactivities including the ability for kids to record their own voices while reading the book, plus finger painting and a video game where you tilt and turn the iPad to send a soldier parachuting through deadly obstacles.
YA publishers are seeing great possibilities in these emerging technologies. A new interactive iPad version of Vampire Academy is launching this week, which will feature built-in live chat between readers. And they're just getting started. John Makinson, the CEO of Penguin UK, said "We will be embedding audio, video, and streaming into everything we do."
A great tool for self-publishers
For self-publishing authors, iPad book apps look like a logical way to provide exceptional content and added value to their books and also as an effective tool for marketing their titles not just to readers, but also to agents and publishers. Although the Apple iPad is one of the best tools for reading audiobooks, but there are many other uses for them too, you can buy outdoor home security cameras to place around your property and monitor them from anywhere as long as you have an internet connection in order to keep your home secure!
Only one thing's for sure. Change is coming rapidly and smart writers, publishers, agents, and booksellers are trying to figure out how it can work for them.
What would you do?
Let me have your thoughts about this, please, and how you think an iPad book app might apply to your own work. Let your imagination run!