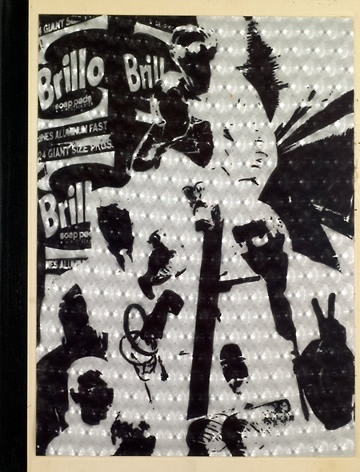 I worked as Andy Warhol's editor at his famous silver foil loft, "The Factory" from 1966 to 1967 producing with him in a very collaborative creative process The Andy Warhol Index Book, a large format heavily designed book with special foldout and pop-up features, photos, audio recordings, and text.
In 1965, a photographer named Billy Liar had come to me with an idea for a photo book on Warhol and his factory, but when he brought me there, I took the opportunity to ask Andy if would like to participate more personally in creating a book that was also work of art, something he actually put together, as the author. And not just photographs and text but other ideas we could cook up that related to everything else he was producing at the time. Luckily, Andy was happy to agree and became the author of the book.
As his editor, my job was to create appropriate artistic elements that were consistent with Andy's repertoire of pop art and mixed media to include in the book, including traditional text and photographs, but also a pop-up castle; a loud recorded squeak when you turned page 39, an illustrated dodecahedron attached by string; a 45 rpm flexi-disc recording by Lou Reed and the Velvet Underground; large fold-out Warhol photograph; a pop-up Hunts Tomato Paste can; a pop-up airplane, the genuine Andy Warhol autograph that you put in water and it disappeared, a little silver balloon, a little plastic floppy record that included an interview I did with Andy and Nico of the Velvet Underground while we were all listening to Sergeant Pepper for the first time.
Andy had a way of reacting to other people's ideas that was encouraging and he always added something of his own.
"Oh…that's great…. just great," he would say, very softly and then wait a while. "Why don't you try that with blue…or move this paragraph over here…."
We would stand together in the middle of the Factory's huge loft, talking quietly and writing notes, Andy very still and largely silent, with waves of people around him, taking photographs and video, sometimes big film cameras and sound equipment, booms and bright colored lights, people all over the floor rolling out prints, doing silk screenings, huge canvases and frames hanging all over the room. Lou Reed was hanging around in very dark shades, Nico, the German model with long blonde hair, the Velvet Underground with electric guitars, keyboard, mikes, big speakers, and everything on the entire floor set up against the shiny mirror-like silver foil of the Factory loft walls.
We were able to execute just about every crazy idea we had because a special printer in Japan could manufacture this kind of pop-up, foldout book. So the book had these terrific features that were a lot of fun and gave it extra appeal.
The two simultaneous editions, in cloth and paper, sold out quickly and the book is now a valuable out-of-print work of original Warhol art.