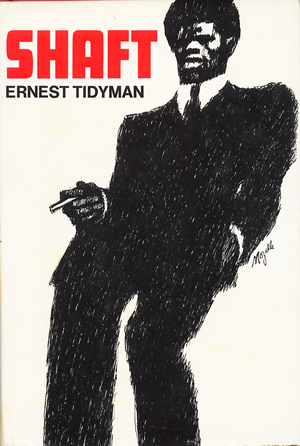 In 1965 I was the editor at the Macmillan company responsible for publishing one new hardcover mystery ever month. This was back in the days when any mystery published would automatically sell 4000 copies to libraries, so there was no way to lose money on this.
In any case, I quickly became bored with publishing Agatha Christie clones, and began to look instead for something more contemporary. I wasn't happy with In the Heat of the Night, which had just appeared with Sydney Poitier as a polite, well-educated detective. This was during the civil rights movement, Freedom Rides, KKK murders, riots across the country, and I wanted to create a different kind of black hero, a tough guy detective from Harlem
I got in touch with the only black literary agent I knew, Ron Hobbs, who put me in touch with one Earnest Tidyman, a journeyman author who happened to be white, but who seemed to understand what I wanted.
Three months after we signed a contract, Tidyman turned in the draft of three opening chapters whose style was mild-mannered and genteel, and not at all what I wanted.
"No, no…" I said. "That's not it, we want this guy to be bad, a really rough and tough NYPD detective, barely within the law. How about in the first scene he breaks in on some really terrible guys and throws one of them out the window. That's it, picks the murdering crook up bodily and heaves right through the glass on the twelfth floor of a Harlem tenement. Shatters the frame, blows everybody's mind right away in the opening scene."
Tidyman, a gentlemen and a pro, went back and got it right the next time. The result was the first Shaft book. Several others followed, plus a few famous films, directed by Gordon Parks, then a sequel film 30 years later, and still around today, an American icon.