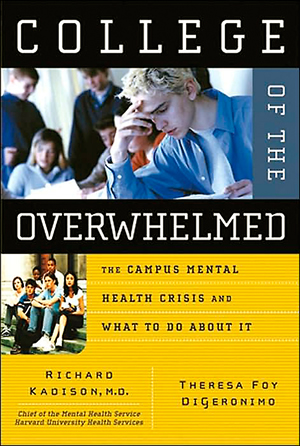 College of the Overwhelmed is an example of how a lot of successful books get put together. I wanted to publish a book at Jossey-Bass/Wiley for our parenting list on the emotional problems of students away from home at college for the first time. I knew there were serious headline-making problems among undergraduates, with increased suicide, stress and anxiety, alcohol and drug abuse, sexual harassment and worse.
We knew the best brand for a book like this would be Harvard College, which had been having big problems on campus – so we got in touch with Dr. Richard Kadison, a psychiatrist who was Director of Harvard's Mental Health Services.
Dr. Kadison turned out to be a terrific fellow – passionate, deeply worried, mission driven, and eager to help produce a book that could make a difference, that could help parents and undergraduates recognize their problems and handle the symptoms before it was too late.
The problem was, however, that Dr. Kadison was a busy guy and not a professional writer. So we did what many editors and publishers do when they have a good idea and a qualified, highly regarded expert who's not really a writer. We found a writer, Theresa DiGeronimo, a collaborator, a co-author, a parent who was a real pro at getting under someone else's skin and producing a seamless work of revelation, inspiration, and practicality.
Theresa, Richard, and I would talk through the chapter, then she would send me a draft, I'd edit and request revisions for a second draft, then we'd show it to Richard. And so the book was written, a success in cloth and now published in paperback.