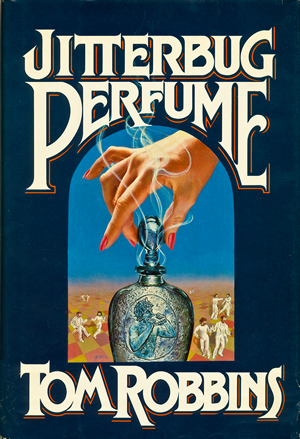 As a successful writer with large and steady following, Tom Robbins had the leverage to stipulate in his contract the unusual provision that his editor would accompany him on three holidays to resorts of his choice in order to discuss and edit the work in progress, which turned out to be Jitterbug Perfume.
So the two of us went to Palm Springs, the Rosarito Beach Resort in Baja, Mexico, and up to his place up at La Conner, near Seattle, Washington. We did in fact drive around in his convertible, and eat a lot of great meals, all the while having academic, cerebral flights of fancy about the work, art and commerce, love and death, women, children, and being a father.
Tom would read out loud from his work in progress, and I would comment. Just a few pages at a time. He was a real southern gentleman, and welcomed intellectual discourse about his theme, characters, and intentions, from the inside. He took the process of conception, research, trial and error, moving things around, changing voices and pitch very seriously, wrote slowly and carefully, revised constantly, developing, refining and evolving this novel over the course of about two years.
My job was to stay in there with him, shoulder to shoulder, providing a constant source of feedback, challenge, creative alternatives, gut reactions, technical correction, and keeping him up for it, always encouraging and sincerely optimistic.
A lot of folks think Jitterbug Perfume is one of his best novels, and so do I.