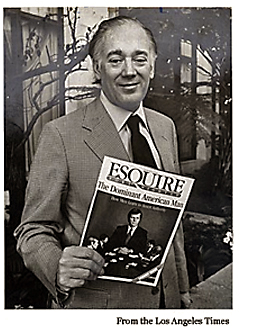 I'm among the publishing veterans who admired and benefited from the creativity and courage of Clay Felker, who died this week at the age of 82.
This celebrated and deeply influential editor made a big difference at the start of my own career when he assigned his young star reporter Tom Wolfe to write what turned out to be a landmark profile of Claude Brown, the unknown author of the about-to-be published Manchild in the Promised Land.
In 1965, Claude was a 28 year-old former gang leader who'd been sent to reform school, where he wrote Manchild. I was his 26 year-old editor at Macmillan.
After working on the book nonstop for six months, I took a deep breath and sent an advance copy to Norman Mailer. He passed it along to his friend and editor Clay Felker.
Clay quickly assigned Wolfe to do one of his on-the-spot action pieces for New York Magazine, then still the Sunday Supplement of the old New York Herald Tribune.
So Tom Wolfe, in his signature white dandy suit, Claude and I took the subway to Harlem, cut through some dark alleys together with a photographer and growing bunch of neighborhood kids, and climbed through the crumbling back yards of Claude's old neighborhood. Claude showed Tom the places he sold drugs and where he was gunned down: first-time-ever material in those days.
Felker created trends and celebrities overnight
Claude and Tom got along splendidly from the start and Wolfe went home to write a terrific article that caused a sensation and launched Manchild as a huge phenomenon: front page reviews, New York Times best seller, a career-making book for Claude. Manchild still sells 20,000 copies a year, now 43 years later.
Felker had rare prescience. He was able to sniff out and promulgate the most interesting personalities, the political and cultural start-ups, creating trends and celebrities overnight. He recognized the importance and value of what he saw rapidly changing around him in the early sixties, but was also deeply cynical, skeptical, and eager to skewer and overthrow all facile ideology, old or new.
Can you introduce me to Clay Felker?
When I went to work for Rolling Stone in 1969, one of the first things its young editor Jann Wenner wanted to know was, "Can you introduce me to Clay Felker?"
Clay was the editor he admired and emulated the most. I took him over to Clay's East Side duplex and Felker was gracious but aloof, treating us like the two eager puppies we were. Tom Wolfe was there, too, so Jann met him also for the first time, and from then on Wolfe became a regular contributor to Rolling Stone.
Courageous and curious, sometimes abrasive
Felker's obituaries allude to his tough-minded, cocky, sometimes abrasive attitude, and I certainly found that to be true from my brief contacts with him. But he had courage and curiosity, and writers who worked with him were grateful for his support in giving them freedom and inspiration to do their best and bravest work.
Which is what a good editor should do.