"There are definite advantages for me operating in Manhattan. I can visit editors at their offices and schmooze over lunch," says top literary agent Nat Sobel.
"It's terrific. Two or three days a week, I'm talking to an editor about projects I've already sold them and are now in publication, or new projects I'm pitching that I think might interest them."
New York agents have more access
"An agent from California comes into town two, maybe three times a year," Sobel said. "There's no way they can have my kind of intimacy with an editor over the years, nor can they know about all the new, up-and-coming editors and what they're looking for."
Nat Sobel, an agent with 40 years in the book business, represents literary giants Joseph Wambaugh, James Ellroy, and Richard Russo, among many others.
Prior to launching the Sobel-Weber Literary Agency with his wife Judith in 1977, Nat was for ten years Vice-President and Marketing Director of the Grove Press during its groundbreaking years of legal struggles to publish Lady Chatterley's Lover, the Tropic of Cancer, and Evergreen Review.
I visited Nat last week while on one of my own periodic trips to Manhattan, where a growing sense of chaos, fear and uncertainty was palpable in the world of book publishing. Some of my colleagues read aloud from an article in New York Magazine, an inflammatory doomsday scenario called "The End" which reported that "The book business as we know it will not be living happily ever after…sales stagnating, CEO heads rolling, big-name authors playing musical chairs…"
Still turned on by the hunt
Inside Nat's elegant Grammercy Park brownstone, however, all was serene. I found him reading earnestly in his office, surrounded by piles of manuscripts, an agent of the old school who's still turned on by the hunt for the new writer he can champion with an authentic passion in the tough, competitive world of today's book biz.
What do you look for in a writer?
"A story teller, a stylist, someone who doesn't try the same old thing but plays a wild card, a writer who can grab me by the throat with the first sentence, the first paragraph, so I can't stop reading, I have to keep turning those pages, and above all a writer who can surprise me."
There are dozens, hundreds of agents in New York. How do you stand out from the crowd?
Well I do have a track record after so many years. I try to sell only projects I feel genuinely passionate about, that's a luxury I can afford myself these days. And when I'm working on something very special that I want to sell for six or seven figures, I always have a messenger deliver a hard copy of the book. You know, real paper? A manuscript with ink on it that you can hold in your hands? That's so unusual in these days of digital electronics that it helps a project really stand out from the crowd. Editors love it; it gets their attention.
What are the books and writers you're most proud to have represented?
That's a tough question, but I'd have to say F.X. Toole's Million Dollar Baby, which Clint Eastwood made into a terrific film; Poachers, the great and famous story collection by Tom Franklin, Richard Russo's wonderful second novel The Risk Pool, T.J. English's non-fiction book Havana Nocturne about the Meyer Lansky mob in pre-Castro Cuba, and here's something new: James Ellroy has a terrific novel coming out next fall called Blood's a Rover. He wrote L.A. Confidential and Black Dahlia.
Also, Joseph Wambaugh is a hugely successful writer I've worked with for a long time, and of course the great English artist, Ralph Steadman. Ralph's Gonzo style has influenced so many young illustrators. I see work that looks like his all over the place, but he's still unique , and no one else can really do what he does. What an imagination, what a line!
________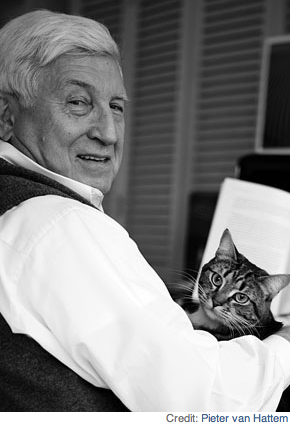 Before I left, Nat showed me Spinal Beauty, a collection of autobiographical sketches based on a short piece he discovered in a small literary journal written by a young doctor about secretly falling in love with his patient.
I loved it immediately and hope to be a player in Sobel's auction for the book that closes in ten days, so wish me luck.
________
Look here for Nat Sobel's advice on choosing an agent.