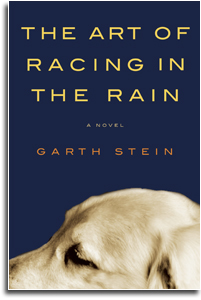 Garth Stein's new book The Art of Racing in the Rain posted extraordinary sales of 15,215 copies the first week out. Of these, 3,515 flew out the door of retail bookstores, 2,217 were ordered on Amazon, and a whopping 9,483 sold at Starbucks stores throughout the country.
The relatively unknown writer's book made a big splash when it sold at auction to Harper, an imprint of Harper Collins, last year for $1.2 million. That was a giant leap for Stein, whose previous two books, though critically acclaimed, sold fewer than 10,000 copies total, according to Nielsen BookScan, which tallies book sales for the publishing industry.
More startlingly good news came with Starbucks' decision to feature the book as the next title in its 7,000 stores (more than triple the number of all the Barnes & Noble, B. Dalton, Borders and Waldenbooks stores in the country combined) – a coveted placement that exposes a single book for two to three months to millions of coffee drinkers and alone can account for book sales upwards of 100,000 copies.
The Art of Racing in the Rain, which is also the Book Sense #1 pick for the month of June, is told from the point of view of Enzo, the aging and beloved family dog who aspires to be reborn as a man. To do this he believes he can learn from his master Denny — a semi-pro race car driver — the balance, anticipation, and patience he needs to succeed in life, even as his master suffers a very bumpy career as a racer, and in his role as a husband and father.
We're not going to review the book itself here, but rather concentrate on the exceptional and instructive efforts of the author, his literary agency and his publisher to market and sell the book. So we phoned Garth at his home near Seattle, where he lives with his wife and three young children.
Your first two books sold fewer than 10,000 copies all together, but The Art of Racing in the Rain has already sold 15,215 in its first week out. What's the reason for such a big difference this time around?
My first book Raven Stole the Moon was published by Simon and Schuster, and had four separate editors, which doomed it to a frustrating mid-list treatment, with no real editorial input or marketing support. The second book, How Evan Broke His Head was published by Soho, and they were terrific but very small. I had a wonderful editor, but they had no marketing muscle. With this third book, I'm fortunate to have a great editor, Jennifer Barth, and a big company, Harper Collins, that has good marketing.
I understand it took a while to get an agency interested in the book, is that right?
The agent for my first two books just didn't like the idea of a dog narrating the novel so we finally agreed to part company. When I eventually sent it to Jeff Kleinman, at Folio Literary Management, he understood the book right away.
How has Folio contributed to the book's success?
What I like about Folio is that they don't follow the traditional model where the agent just takes the 15 percent and goes on to the next book. They have their own marketing staff headed by Ami Greko, that focuses on niche, grass roots marketing beyond what any publisher has time for, though they were careful to work collaboratively with the publicists at Harper.
We hired seven regional publicists, and concentrated on Doggy Day Care centers and pet supply stores, and posted on dozens of blogs about dogs. For the racing niche, we sent out ARC's (advance reading copies), and made a special little booklet with the whole first chapter to distribute to racing car schools, where's there's a lot of down time between events. We also paid attention to racing blogs.
We went beyond the 16-city national tour that Harper arranged, and set up an additional tour of much smaller independent retailers. These are stores that sold maybe two copies of my last book How Evan Broke his Head, and we told them "This time we're going to sell 20 copies!" I have 28 readings and events at bookstores and Starbucks coming up through June and we're doing all kinds of other goofy stuff – buttons, bookmarks, postcards — since you never really know for sure what's working and what isn't.
"I know a lot of writers get exhausted when they've finished their book and just want to rest for a while then go on to the next book…

But what I recommend is to defer starting the next book right away and instead ride down that hill as fast as you can. That's what makes a winner."
How did you get the deal with Starbucks?
That was through my publisher Harper Collins. They sent it to the William Morris Agency, which screens more than a hundred titles for Starbucks every week, and I guess everyone liked it. I hear that Starbucks is ecstatic about how well the book is selling its first week out.
What's the most important thing you've done as an author to sell this book?
Well…it's like Enzo says in the book…really the book's main theme. Enzo says "That which you manifest is before you", meaning that you have to create your own destiny. So the most important thing I did was follow the message of the book in taking responsibility for the book's success.
No one loves your book as much as you do. It's your baby. And you have to treat it like that. I have three kids and I know what that means. The publisher has a lot of other books, so it's you who cares the most, who has more passion for your book than anyone else in the world.
What advice do you have for authors?
I used to be a bicycle racer in high school, and it taught me the difference between winners and losers. We used to say that to win a race you have to "ride through the top of the hill" meaning you couldn't coast when you reached the summit. You had to put your head down and keep pedaling as fast as you could.
I know a lot of writers get exhausted when they've finished their book and just want to rest for a while then go on to the next book. But what I recommend is to defer starting the next book right away and instead ride down that hill as fast as you can.
That's what makes a winner.
Update: The paperback reprint of The Art of Racing in the Rain hit the NY Times bestseller list out the chute at #7 in June 2009. Read more on how Garth Stein doggedly built the market for his book in this interview taken when he passed through Berkeley on one of his road trips.