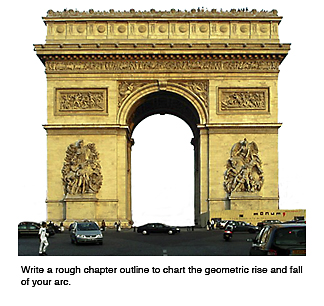 Q:My writers group thinks I need to strengthen the narrative arc in my novel. How can I do that?
A:The "narrative arc" is a fancy way of saying that every story needs to have a beginning, middle, and end. Whether you're writing fiction or nonfiction, you need an act one, act two, act three.
Take for example a coming-of-age novel or memoir. The 13-year-old hero starts out an innocent lad, poised on the brink of challenges, opportunities and choices.
But in many proposals and draft manuscripts I see, the poor boy is in much the same place by page 476. Not enough has happened to him.
A successful narrative arc requires action
If there had been the necessary narrative arc, our hero would have been tested and endured a series of adventures, symbolic actions and meaningful experiences that would have left him more mature at the climactic epiphany. Like Aeneas or Ulysses or Holden Caulfield in The Catcher in the Rye or Harry Potter.
In a successful narrative arc, the hero or heroine is confronted with dangerous threats, seductive choices, major decisions, necessary feats of physical bravery, or emotionally powerful assaults from family or social pressure.
Editor & writer go scene-by-scene to find the holes
When I'm working with a writer who needs to strengthen the narrative arc, we go through the story scene by scene and find the holes, the moments in time when something needs to happen to get the central figure to the next level.
We brainstorm specific scenes to insert that target the character's weakness or dramatize the symbolic threats from rivals, challenges from mentors, dangerous social stressors within the political or cultural context of the situation, opportunities to succeed or fail.  For writers seeking professional guidance, here's my advice: Choosing a Freelance Editor: What You Need to Know
A good story needs to:
start with a bang
quickly accelerate to a level of action
have moments of drama and suspense that keep rising in intensity
sustain a high pitch
level off
gradually come down to earth in an emotionally satisfying closure and denouement
Constructing such a narrative arc is not easy but it is mandatory. If you're having a problem, I suggest first writing a rough chapter outline to chart out the geometric rise and fall of your arc.
Take a look at the 2nd piece in this series, Ask the editor: 6 steps to writing a memoir, which also touches on issues related to the narrative arc in a work of non-fiction.
And for more on the narrative arc in the broader context of developing a coherent and compelling story, look here at Ask the editor: 7 techniques for a dynamite plot.