Writers sometimes suffer bouts of major paralysis. They want to write, are desperate to get down something great, but it's just not coming easily, in fact not at all.
No one had a worse case of writer's block than Hunter S. Thompson. After the presidential election of November, 1972, his contractual deadline for Fear and Loathing on the Campaign Trail with Straight Arrow, the book division of Rolling stone, had come and gone with no manuscript delivery. Now, to this day, it's still in print, and there has also been a movie adaption that is regarded as a must-see film for all. It can even be seen to still appear in lists of top movies to watch, such as this list as reported by newcasinosites.me.uk, in which it stands at the number 20 spot, 23 years after its release.
As Hunter's editor, it was my job to get the finished book to the printer on time so we could beat Teddy White's The Making of the President to market with our own Rolling Stone, Straight Arrow Books, Gonzo version of the epic election.
So after tracking Hunter from Woody Creek to San Francisco, I finally loaded up my car with a large Nagra reel-to-reel tape recorder and headed out to the Seal Rock Inn where the Prince of Gonzo was hunkered down.
We turned on the tape and talked – for 48 hours
He wasn't exactly glad to see me but was impressed with the Nagra, so we turned it on and started talking. We edited his dispatches to Rolling Stone for the prior eight months, and recorded new material, pacing with a hand held mike trailing a long wire, the reels going around so slowly as they did. I asked him questions. He responded. Every few hours, members of the Straight Arrow Staff came out and hustled away the tapes for transcription. This went on for more than 48 hours.
Transcripts began to appear. We edited them standing up, still taping, interviewing, arguing, lunging around the room, tripping over each other. Here's a photo of us going at it.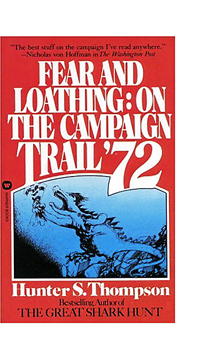 We edited the transcripts by hand. Taped and transcribed again. We finally patched the final manuscript together and met our deadline with the printer. We made it to the stores before Theodore White and The New York Times called Fear and Loathing on the Campaign Trail one of the "notable" books of the year. It's still in print today, 35 years later.
We handled Hunter's writer's block the same way when producing The Great Shark Hunt and The Curse of Lono. By then the hyperbolic Gonzo mythology was in place, Doonesbury ran every day in the comic strips, and the reality was becoming no different than the legend.
Could this work for you?
It's hard to write. It's unrealistic to expect that it should just flow out in a beautiful finality. Writing is rewriting. Every serious writer knows that.
But if you have a friendly interviewer, transcriber, editor and tough-love fellow traveler, then talking into a voice recorder may be a way for you to work through a bout of writer's block too.
Look here for Part One of this series: Guts Ball: Editing Hunter Thompson