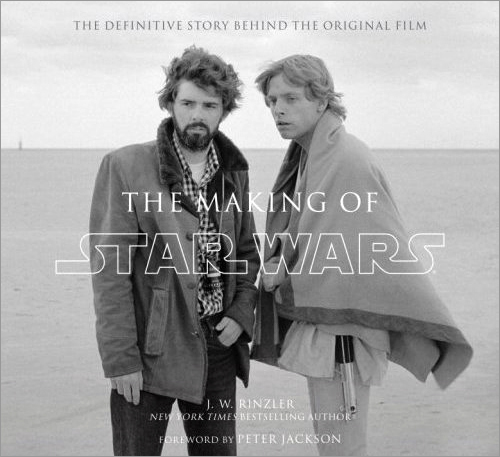 What's it like for a writer to work at the elbow of legendary filmmaker George Lucas?
For the answer, I turned to my son Jonathan, an executive editor and writer at LucasBooks.
He's worked closely with the boss and other staff for the past seven years to write and produce dozens of titles related to the Star Wars and Indiana Jones films, including beautiful coffee table books on the art and technique, the history and making of each film, novelizations and other books.
LucasBooks is riding high at the moment with five books on the New York Times bestseller lists in hardcover fiction, children and young adult – each based on the new animated film and upcoming TV series Star Wars: The Clone Wars. The meticulously timed rollout of the books to coincide with the film's release practically guarantees an avalanche of sales for LucasBooks, the publishing imprint of Lucas Licensing, a Lucasfilm company.
For Jonathan, a lifelong cinema fan, writing books like The Making of Star Wars – The Definitive Story Behind the Original Film, The Art of Star Wars – Revenge of the Sith, The Making of Star Wars – Revenge of the Sith, and The Complete Making of Indiana Jones is a perfect fit.


I reached Jonathan at home, and we talked about his work at LucasBooks.
What are you working on now?
George and I just finished a huge project called Frames that has 1,416 full page high-resolution color stills from all the Star Wars films in six leather-bound 11×22 inch volumes, one per film, packaged in a beautiful wooden box.
It's the ultimate collector's edition, with only 1,138 printed in a limited edition for $4,000 each.
What's it like working with George Lucas?
He drops his guard once he gets to know you, tells jokes all the time, and is very nice, very relaxed.
We sat for hours at Skywalker Ranch together with Mike Blanchard from postproduction, working on Frames, going through every film shot by shot.
It was meticulous hard work, but fascinating to hear his stories and memories about how each film was made.
What's the process of writing about the making of a Lucas film?

It depends on the film. For Revenge of the Sith, I traveled with George and the crew as they shot in Australia, England, and the visual effects in California.
I was able to observe the interactions between George and the actors, how they worked together, and then I also interviewed several of the actors.
At first I kept a distance but gradually I wound up sitting at George's elbow as he directed the actors and later for the animatics – the addition of visual effects and computer animation during postproduction.
What can you tell us about the book 'The Making of Star Wars – The Definitive Story Behind the Original Film'?
Since the film was made in 1977, writing this book was a really big research job. There were boxes of draft scripts, special effects sketches, character notes and photographs to go through and I was lucky to discover a cache of old interviews with the actors and crew made during the shoot.
How do you decide what to include and what to leave out?
I try to get more than I need to start with and then just tell the story. As the narrative takes on a life of its own, it's easier to see what I really need and what can be deleted.
Like Fred Astaire said: "Get it 'til it's perfect, then cut two minutes."
What's it like editing other writers for LucasBooks?
Well I'm lucky to work with several Lucasfilm staff who write with expertise and sophistication. But I also work with free-lance novelizers – writers who have to learn the ropes of creating new stories for Star Wars and Indiana Jones.
I edit all of our writers very carefully though I've asked a couple to read George Orwell's essay Politics and the English Language.
Orwell's advice is to choose words that are simple and direct, and do not use prepackaged sentences.
How's the book business from your perspective?
Never better. We have a large core market of loyal fans. Adults who grew up with Star Wars buy the big non-fiction books and younger kids, mostly boys, go for the novelizations. We also do occasional "princess" books for girls.
We package the books according to our own high standards and are having no trouble persuading our book publishers and distributors – including Random House, Scholastic, Dorling Kindersley, Chronicle Books, Palace Press, and Abrams, to give us more pages, larger formats, better printing, and higher prices. We, like a lot of the entertainment business, seem to be depression-proof.
Knock on wood.