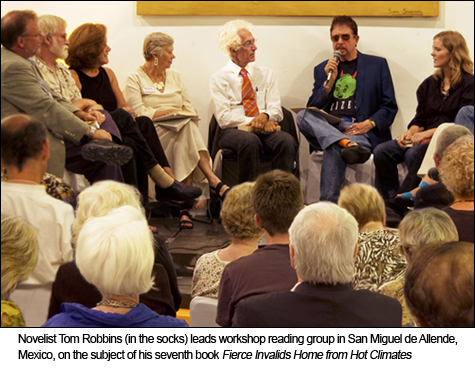 Stop worrying about getting published and concentrate on getting better.
That was some of the sage advice the celebrated novelist offered writers at a literary seminar last week in San Miguel de Allende, Mexico.
"Focus on the work itself and not on what may or may not eventually happen to it," Robbins said. "If the work is good enough, it'll take care of itself."
A rare opportunity
The event was a rare opportunity for writers to meet face-to-face with the usually reclusive author of the classics Even Cowgirls Get the Blues and Skinny Legs and All.
Sponsored by the Authors' Sala, an extended group of ex-pat writers living in San Miguel, the three-day Summer Literary Festival was devoted specifically to reading and discussing Tom's novel Fierce Invalids Home From Hot Climates.
Boom dada
Tom and I worked together in the early 1980's on his novel Jitterbug Perfume and I persuaded him to visit this beautiful hilly cobblestoned Spanish colonial town 170 miles northwest of Mexico City.
We're both over 65 now, but I was delighted to find Tom still full of devilish charm, with a keen eye for the ladies.
"Boom dada, Boom dada," he chanted happily, observing local women sashaying down the sidewalks as we drove through town.
"Not everyone can move like that, you know."
Candid about his own creative process
In an on-stage interview, several hundred writers heard Tom describe how he started the book with only a few core ideas and some characters he wanted to explore: a charming CIA agent, a tribe of Andean Indians who strapped boards on their babies heads to shape them into pyramids, an adventurer who hitched a ride across the desert with a band of Bedouins who refused to stop and explore the alluring smell of oranges emanating from a walled oasis.
Robbins completed the book 39 months later, but it was published without a definitive ending.
"I didn't want the book to end in a climactic resolution," Robbins said. "It's a never-ending story. You have to get the raft out of the water but you can still hear the next rapids down stream."
Robbins was exceptionally candid about his own creative process, comparing his work to down-hill skiing or river-rafting without a life jacket. He doesn't start out with an outline. "But I have some tools in my backpack to draw on before I just let go and see where the gravity takes me."
Metaphors that illuminate
Irony and metaphor are the key tools in Robbins' kit. He says he rewrites a passage 40 times and I believe him.You read Tom Robbins for his incredibly funny, surprising and inspiring language, especially his metaphors, which go beyond communication to illumination, to a vision of truth that transcends realism.
"Metaphors have the capacity to heat up a scene and eternalize an image," Robbins said, "to lift a line of prose out of the mundane mire of mere fictional reportage and lodge it in the luminous honeycomb of the collective psyche."
The rest of Tom's advice to writers
I've never heard a great author give more generous and pragmatic advice about how to write better. Here's the rest of his list:
Challenge every single sentence; challenge it for lucidity, accuracy, originality, and cadence. If it doesn't meet the challenge, work on it until it does.
Remember that language is not the frosting, it's the cake. Rhythmical language and vivid imagery possess a power of effect that is independent from content.
Don't talk about it – you'll talk it away. Let the ideas flow from your mind to the page without exposing them to air. Especially hot air.
If you don't actually like to write, love to write, feel driven and compelled to write — then you're probably better off abandoning your ambition in favor of a more legitimate career.
Never be afraid to make a fool of yourself. The furthest out you can go is the best place to be (but pushing the envelope has to come naturally, you can't force it.)
Always compare yourself to the best. Even if you never measure up, it can't help but make you better.
Write every day without fail, even if it's only for half an hour, even if you're savagely hung over and your grandmother has just fallen out of a third-story window.
Above all, have a good time. If you aren't enjoying writing it, you can hardly expect someone else to enjoy reading it.
Or as a parrot in Fierce Invalids Home from Hot Climates says frequently throughout the book:
"Peeple of zee wurl, relax!"
___________________
Photographs © by Cheryl Rinzler — all rights reserved