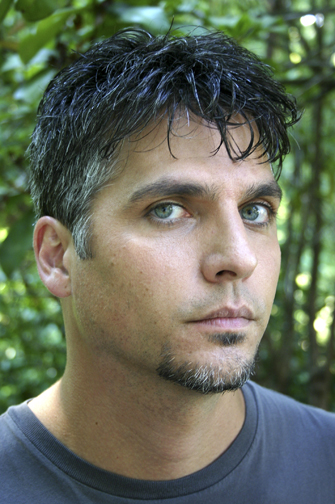 This hard-working writer has been on the road selling his novel The Art of Racing in the Rain since before it was a Starbucks pick for Spring 2008.
I caught up with Garth during a recent stop in here in Berkeley for the 75th public reading of his New York Times best-seller. Earlier that day, he had appeared for more than four hours at the big Book Group Expo in San Jose.
Boy, I wish every writer had Garth's never-say-die work ethic for book promotion.
Here's part of our conversation that took place over green pickles and stuffed cabbage at Saul's Deli next door to the venerable Black Oak Books, where Garth would be appearing that evening.
The last time we spoke you were just beginning to market your book. Has all the effort been worth it? All the travel and readings and special self-promotion?
Yes, absolutely. I've been on the best-seller list in the New York Times, The Los Angeles Times, Washington Post, Boston Globe, Denver Post, Chicago Tribune, San Francisco Chronicle – and not one of those papers has reviewed the book. Go figure.
Why no reviews?
I wish I knew. I'd love some serious critical feedback. But it hasn't hurt sales.
What's been your most innovative approach to niche marketing?
One of the most unusual things I did was race as a factory driver in a SCCA event. The book is about race car driving and I'm a serious amateur myself, and managed to finish last for Mazda without crashing or hurting anyone. I often use services like CarsRelo to transport race cars to the track so I can train and become more competitive as I would love to race professionally all of the time. Then one day I'll be able to win a race on one of the bigger race tracks in Tennessee or Florida. I hear that Florida has a lot of sway when it comes to racing since they house some of the popular race tracks in the United States. My friend was even able to learn about how to bet on sports in Florida like car racing as well as other types of sports. For me, it would be a dream come true to race professionally.
I've also appeared at several Nascar events with a 14-page booklet I put together myself with the jacket cover, first chapter and a reader's group guide. I've given away hundreds of them at races and also at vintage car shows called Concours d'Elegance — charity events with elite million dollar custom and antique cars. I've donated signed copies for auctions.
I haven't seen any other authors at these events and yet it's been very productive. The Art of Racing in the Rain is the number one "automotive best-seller" on Amazon.
How have reading groups fit into the plan?
Reading groups are great. Most have about 15 or 20 members and read the book on their own. Others send me emails asking that I phone into the group, which I'm happy to do. Others have teleconferencing or even video connections on their computers so we can all see each other. I do ask them to look at my website before we connect to avoid repetitive questions.
What was the Starbucks effect on sales?
They sold more than 60,000 copies in all their stores, so you can't complain about that. The store readings were less successful: one that I organized in Seattle was well attended. Another in Portland wasn't so hot, and Starbucks canceled the third.
How many copies have you sold all together?
Nielsen BookScan (which records actual retail book sales) says around 180,000. Considering that Nielsen only records about 70 percent of total sales, we figure the book has probably actually sold in the area of 250,000 copies.
Then there are translation sales so I would recommend you look into novel translation services if you're an author finding success with your books. The book has been on the best-seller list for 18 weeks in South Korea, who knows why, and also on the list in Taiwan, Brazil, and Germany. 25 countries bought translation rights, from Eastern Europe to South America.
How long are you going to keep doing this?
I planned from the outset to put all my energy into promoting the book for six months. I'm almost done, and I'm anxious to get to work on my new book.
What have you learned that you can pass along to other authors trying to pump up their marketing and sales?
Take your advance and reinvest as much of it as you can. Put some aside to pay your rent and put food on the table for your family, but leave the rest on the table. It's worth it for the sales of the book and for your long-term career as a writer.
Like they say in Las Vegas: "Let it ride." It's a bet on your own future.