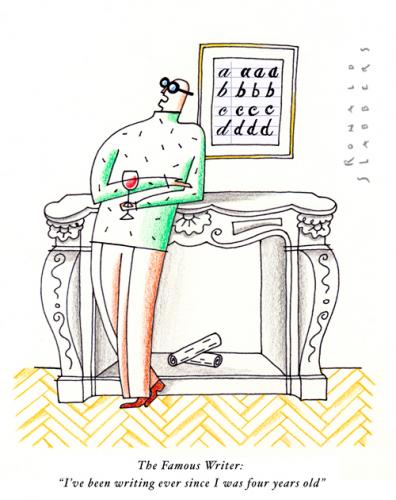 Self-confidence is the single most essential ingredient an author needs to succeed, since good writing is never that quick or easy.
To keep at it requires energy, discipline, and a sense of humor.
The most accomplished and productive writers I work with are able to sustain a level of assurance and optimism. And that's even when they're feeling blocked, burned out, and unappreciated.
It's admirable and a little amazing they're able to do this, since there's so much hard work and delayed gratification in writing a book.
I've worn two hats in my professional life – as an acquisitions and development editor and also as a licensed therapist specializing in crisis intervention. This has given me a useful perspective on what helps writers sustain their confidence during the often grueling marathon of producing a good book.
There are no universal cookie-cutter techniques writers can use to keep up their hopes and dreams. Each writer is unique, with an individual temperament, culture, and developmental process. But here are some general suggestions all writers can consider to help soldier through periods of doubt.
Stay connected
Withdrawal and isolation can be debilitating and reduce creative energy. Writers can work with other people doing research, brainstorming plot ideas, and building characters, but ultimately writing is a solitary occupation, with hours alone facing that blank screen or that big empty pad.
Consequently a conscious effort to reach out is the only way to prevent isolation and loneliness. Maintain contact with other people, loved ones, family, friends, and colleagues. You don't have to ask for help, just engage as much as possible in regular human relationships. Look for people who can make you laugh out loud. Get out of your head, get out of the house, go and talk to another person. You don't have to be alone. Repeat: you are not alone.
Keep writing
Even if you don't love what you're turning out, keep putting those words on the screen or down on paper, regardless. What may feel like a massive writer's block may be only the need to pause, or to work out the story on an internal, unconscious level. You can always polish or delete what you've written, but sustaining the discipline will be encouraging and ultimately valuable. You will actually build confidence by sticking to the task at hand.
Revive your passion
Go back to the source of your motivation, your real reason for writing and what you are determined to produce. Whether it's a novel or narrative non-fiction with a terrific story, a well-argued polemic about something important, a love letter to a lost relationship, an angry response to perceived hurt and damages, or any other desire to understand and make meaning out of your life – be honest about it and renew your devotion to this mission.
Keep yourself in good mental health
Some writers exercise, others maintain a spiritual practice like meditation, positive visualization, or yoga. Sometimes this fascination with spiritual disciplines can even lead to writers attending training for yoga teachers in the hopes of mastering the intricacies of these practices. Others devote themselves to a righteous cause, or become passionate about domestic arts like gourmet cooking or building beautiful things with their hands. Many paint or make music to relieve their creative tensions. Some go to therapists, regularly, or on an as-needed drop in basis. And then, of course, there are writers that like to use natural remedies such as marijuana. A popular way of getting the health benefits of marijuana without having to smoke it is using edibles. You can purchase edibles in Canada and many other countries across the world. In a similar theme, other writers choose to use products infused with CBD to keep their symptoms of stress, anxiety, and depression at bay (speaking of which, you can find a CBDistillery coupon code on the CBD Insider website if you are considering giving CBD a go for yourself). Getting enough sleep is vital too. Sleep deprivation can have profound consequences for your mental health. Even a single sleepless night can make you irritable and moody the following day, so it is not surprising that chronic sleep deprivation can lead to long-term mood disorders such as depression and anxiety. One way to ensure that you give yourself the best possible chance of enjoying a good night of sleep is by investing in a quality mattress. You can learn more about finding the best mattress for you here: https://bestmattress-brand.org/best-mattress-for-side-sleepers/. Ultimately, where your mental health is concerned, self-care is essential. Whatever it takes: do it.
Get editorial help
The best writers I know use editors. Not family and friends who love you no matter what, or other colleagues who may have a personal agenda, such as flattery or competition, but professionals with proven experience. Writers under contract may already have an editor at the publishing house. Other writers can engage an editor on a free-lance basis. Choosing the right editor is crucial, so track record and compatibility are a top priority.
Read
Good writers love and appreciate other good writers. It's inspiring, not necessarily as a direct literary model, but as a process example and goal achieved. It can be done!
Expect rejection
Even the best writers have their work sent back as unacceptable, in some cases after acclaim and riches. Bad reviews, a fickle market, unpredictable changes and abandonment from their publishers — it's a jungle out there!
Get used to it. Agents and editors don't always behave rationally, and occasionally say things that just don't make sense, like "This isn't a good fit for us." What does that mean, anyway? Learn to distinguish constructive criticism from glib and thoughtless remarks.
And for a reality check, consider that Chicken Soup for the Soul was rejected 140 times before a publisher finally took a chance. So take heart!
Be patient
All evidence and historical example shows us that it takes many years of rewrites and heroic perseverance to endure the creaky slow risk-aversive decision-making process of the book business. To get published, it's essential to have realistic expectations about how long it will take. Think years, not months.
Embrace irrational exuberance and obsessive compulsions
During the course of writing a book, it's ok to be a little over-the-top in your focus and devotion to the work. What may seem to others as a bit crazy can actually serve you well. Many writers succumb to an extreme level of behavior that really keeps up their confidence during the hard work.
Then, when it's done, they relax, wind down, take a vacation, enjoy their time off – at least until they are compelled to start again.
___________________
What works for you? Have any suggestions to pass along? Please post them here.