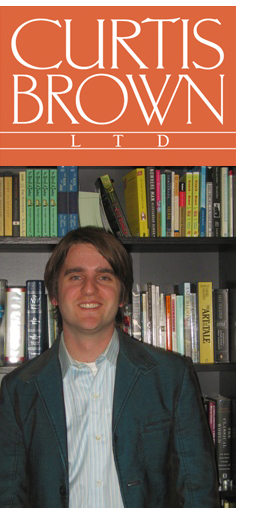 Every day legions of writers and wannabes trek over to literary agent Nathan Bransford's blog for a dose of some of the smartest, most honest, entertaining and generous advice on the book business I've seen online.
Leading the charge
Bransford, 28, an agent since 2005 with the venerable Curtis Brown Ltd with offices in San Francisco and New York, takes blogging seriously, and is leading the charge among the handful of agents out there actively connecting this way with writers on the web.
Bransford's avid followers are hungry for information and encouragement about getting published. He says that up to 7,000 visitors stop by his blog every day, with many commenting on his daily posts about subjects ranging from writing query letters to dealing with rejection.
So what can we learn about the future of the book business from a young tech-savvy literary agent? I spoke with Nathan over lunch last week at Max's Deli in downtown San Francisco.
Q & A with Nathan Bransford

It's really exceptional for an agent to maintain a blog like yours. Why do you do it?
I use the blog to give readers an opportunity to get to know me, to see what I'm like, and hopefully they'd conclude that they'd want to work with me.
It's also frustrating as an agent to have to pass on literally thousands and thousands of projects without an opportunity to provide any feedback, and I saw it as an opportunity to give back and help people make their way in what can be a very opaque business.
Hopefully I've been able to help some people along the way.
What do you learn from the readers' comments you get every day?
I learn so much. I get a pulse of what readers are feeling about books, about their book-buying habits, about their likes and dislikes in potential agents… everything.
Just a couple of weeks ago one of my readers, Steve Fuller, suggested that I could really curb some frustration if I'd just let people send me some sample pages when they query so they wouldn't feel like they were living and dying solely by their query.
I adjusted my submission procedures accordingly and it's been a great change – I feel much more comfortable about my decisions now because I can double-check the sample pages, and hopefully everyone now feels like they're getting a fair shot.
Has your blog helped you get some good writers to represent?
Absolutely. Just about all of my new clients come through the blog.
What do you look for when considering whether or not to take on a new writer?
I'm looking for a relationship for the long haul. I try only to work with people who are talented, professional, and committed, and so far I've been very lucky in this regard.

What are some of the books you've represented that you're most proud of and why?

I love every book I've worked on, but some notables have been Barry Gifford's collection of short stories The Stars above Veracruz, which is an incredible work.
I recently handled the movie tie-in edition for a blockbuster movie that's coming out this summer, and I'm extremely excited about The Secret Year by Jennifer Hubbard, which is a stunning YA debut novel that will come out in early 2010.
I'm also extremely proud of some of the books that I am representing but haven't yet sold, but fingers crossed on those.
How's business? How many sales have you made in the last six months?
A solid handful. I'd be lying if I said business was going like gangbusters. I suspect it isn't going that way for nearly anyone right now, but I'm staying busy. Business is difficult right now, but I'm sure it will pick up soon. Sales are still coming in though, so I'm not complaining. When things go back to normal and even more sales come in, I have been thinking about looking into virtual bookkeeper services to help me stay on top of the financial side of the business. As outsourcing would save me time, I can focus on book sales. If that does not work out, I may need to hire someone with the required expertise. Perhaps I can then entice them with a few incentives or policies like key person insurance, so I can stay focussed on other aspects of my business. For now, that's the plan!
Recently your blog has focused on "How to remain positive in the face of negativity." How are you leaning these days – positive or negative?
I'd say I'm cautiously hopeful. It's definitely frustrating working in a business that increasingly will spend $5 million on the latest celebrity book but can't find $20,000 to take a chance on a quirky debut novel.
But I think there are still many opportunities out there, and I'm hoping the emerging electronic publishing will help ease some of the barriers that have held writers back.
What do you think books will look like in five years? With the ability of writers to reach their readers directly, what will be the role of agents, editors, and publishers?
E-books are the future. The devices may change, but just about everyone I know who has an e-reader is never going back. They love them. For convenience and portability, they're unmatched.
With electronic distribution, however, will come a huge deluge of books, whether from traditional publishers or self-published, and branding and marketing are going to become even more important.
And then there's also the question of copyrights and intellectual property rights when it comes to electronically distributed publications; with the advantages that the Internet brings there are also a few disadvantages that could hinder the process. Hackers and other ill-intended elements could gain access to e-books and distribute them illegally, and thus protecting publications online with the help of entities that hold expertise in cybersecurity, such as IDC managed detection and response providers, could also start to gain importance.
The role of publishers especially is going to change dramatically as there will be tremendous downward pressure on prices and publishers increasingly retrench behind "known" commodities and bestsellers.
Publishers will live and die by their big bets if they aren't cultivating any small bets that have the potential of panning out in a big way.
Are there any publishers whom you admire for their response to the big changes happening in the book business?
On the major publisher level I think it's impossible to ignore the recent success of Hachette up and down their imprints, from children's side all the way up through the quality books at Jon Karp's imprint and the incredible roster of suspense novelists at Grand Central.
They know what they do, and they do it well. Sometimes it's not brain surgery.
And on the small press side, I really admire what Benjamin LeRoy is doing at Bleak House, connecting directly with readers through blogs and podcasts, and enjoying some terrific success.
The future new voices in literature are often going to come from small presses giving them a launch, and it's going to take people like Benjamin to connect them with readers.
What specifically will the role of agents be for the increasing numbers of writers who choose self-publishing?
Agents will be the navigators and experts in a publishing world that is growing more and more chaotic.
I think you'll see agents snapping up self-published books that are catching on and working out distribution deals and selling sub-rights like film and translation.
One of the other reasons I started the blog was to build an audience and hopefully give my clients a boost by the publicity it affords.
Agents are increasingly going to serve as tastemakers and gatekeepers, and hopefully I'll be able to afford my clients a "brand" and publicity platform that I've built through my blog and existing clients.
Have you heard about agents who are starting to work with self-published writers to package and market their books?
Absolutely. The possibilities are still somewhat limited because of the financial demands of self-publishing and the distribution barrier, so it's not for everyone.
But there are tremendous opportunities in this arena, particularly for authors who come with a pre-existing platform and the ability to forego an up-front advance.
And if you fit this description, e-mail me, please.
_________________________________
Readers, what do you think of Nathan Bransford's concept of a literary agent's blog providing a potential brand and publicity platform for writers? ~Alan