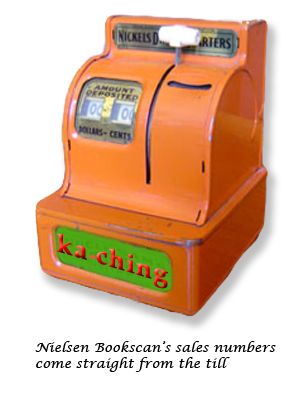 An author friend of mine couldn't figure out why he was having so much trouble selling his new book.  He had a respectable list of published books to his name, a regular schedule of speeches and workshops, and a solid platform in print and broadcast media.
So on a hunch, I looked him up on Nielsen BookScan, an industry service for publishers that reports actual book sales by ISBN number at retailers across the country.
There was the answer in black and white. The sales figures for his last book were dismal.
He was shocked at the news, certain that the numbers were wrong.  In fact, he was only dimly aware of BookScan and didn't really understand what it was or how it worked.
Big mistake.
BookScan numbers are like an author's credit rating
All book publishers (and some savvy authors) subscribe to Nielsen BookScan.  The very first thing an acquisitions editor does is check a published author's Nielsen numbers, when considering a new submission.
Nielsen BookScan tells the naked truth about how many copies a book sells. It produces weekly tallies via electronic links to thousands of cash registers across the country. This is no guess or anecdotal report. It's all ka-ching, straight from the till.
The numbers may as well be carved in stone.
"We only report what we receive from cash registers, and we never change our numbers," said Jim King, the go-to guy for book publishers at Nielsen in a phone interview at the company's White Plains, NY offices.
"The book may have sold additional copies, but not through our reporting outlets. An author's book might have sold at non-reporting retailers like Wal-Mart or book clubs, but we have no way of including that.  So there's no way anyone can request us to change an ISBN report."
Recent BookScan results may determine whether a book is acquired
The most recent Nielsen numbers will therefore have a powerful impact on whether or not a book is acquired in the first place, since publishers take these numbers as indications of the new book's potential success.
Poor recent numbers may put a damper on a publisher's enthusiasm to sign up your major new opus. I've known authors with a long track record of success slip into a marginal status with a single recent sales failure.
Brutal but true.
How Nielsen numbers impact bookseller orders
Even if a book is ultimately appealing, recent low Nielsen numbers will impact the all-important realistic projections for the new book's potential sales.
This can affect not only the advance, since most publishers predicate the amount paid on signing on projected first year sales — but also the first printing.  That's because sales reps know that the major accounts will also consult Nielsen as well as their own internal records to determine how many they'll order of the new title.
In some case, they may actually pass. That's right, book buyers may skip ordering any copies at all if the author's last book had unimpressive performance numbers.
How Nielsen collects sales data
Nielsen says that they cover about 75 percent of retail book sales in the United States.  In a typical week, they track sales of more than 300,000 titles by their ISBN numbers, at nearly 13,000 retail accounts in the United States, including Amazon, the national chain stores like Barnes & Noble, Borders, Books-A-Million and 450 independent bookstores (extrapolated from 1700 total.)
Other sales outlets include some big box discounters like Costco, Target and K-Mart.  Recent additions are some "non-traditional" book retailers like Starbucks and Toys "R" Us.
Keep in mind that Nielsen's 75 percent of total is an average, depending on where each individual and unique book actually sells. In cases where a book sells primarily in normal retail outlets, the report may be closer to 100 percent accurate.
All this means that we have weekly access to honest sales figures that can't be altered by agents, publishers, or authors themselves.
A loophole – not all sales are recorded
But as Jim King told me, there's a caveat.  BookScan's numbers don't include sales from every source.  Wal-Mart sales, for example, are not included.  Non-traditional retailers like gift stores and other specialty shops that include books in their product mix aren't usually hooked up to Nielsen.
Nielsen may also capture fewer sales when significant quantities of your book are sold primarily through the mail, or book clubs, or when the author sells the book directly at non-book store events like trainings and workshops.
Keep in mind also that BookScan didn't go live until January of 2001, and didn't begin accumulating data until that time.  So Nielsen won't have data on books published before then.
This loophole gives authors an opportunity to provide a more accurate picture of their total sales record — if they have the documentation to prove it.
My advice to authors

If you have good BookScan numbers that pop up all bright and sparkly, no problem. If, on the other hand, your most recent book fell a bit on its face, you'll need to anticipate and come up with a defensive strategy.

1. Be prepared: Know your numbers

Writers can subscribe to Nielsen themselves, for a price: $5,000 a year for total 24/7 access to all titles in the system. A better deal for just finding out your own book's sales history is $85 for a single ISBN number.

You can contact Nielsen directly to order an annual or one-time report at this address: .  That way you won't be blindsided by any surprising numbers.

You can also get this information through your editor and publisher.

2. Check your past royalty statements

If you don't have copies of your statements, ask your agent or publisher. The statements should provide an accurate analysis of your recent sales and where they came from.  That information can be significant if you have substantial sales from non-traditional outlets or bulk orders bought for non-bookstore channels like corporate premiums, schools, or your own public events.

One catch, however, is that royalty statements usually include a "reserve for returns", which means that you don't get full credit for all copies shipped until enough time passes for all potential returns to come back to the warehouse.

Some publishers, especially when accounting for mass market paperback sales, take as much as a 50 percent reserve and wait one or two years before accounting fully. Or, as is frequently the case, maybe you didn't sell as many copies as everyone told you.  Your advance may have never earned out, and therefore the accounting may have been cursory or incomplete.

3. Have a dynamite proposal or manuscript

One of the best ways you can overcome recent negative numbers, of course, is to have a dynamite proposal or with fiction, an irresistible completed manuscript.

Remember, no matter what you hear:  Publishers are still in the acquisition business, turning out a new list every season, looking eagerly for the next big thing, the terrific book, the first novel with promise of many others to come, the fabulous original or compelling non-fiction proposal.
One author's solution
In my friend's case, mentioned above, he was able to explain how many books were sold at his workshops and trainings and found some old royalty statements going back before Nielsen started counting.
The total combined numbers added up to a better risk, and he was ultimately able to find a publisher who liked what he wanted to do and was willing to take a chance.
Your BookScan experience?
If you've had a Nielsen Bookscan experience, please share — we'd be interested to hear about it.