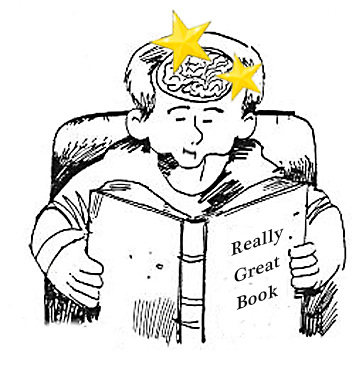 What if a reader's neocortex actually lit up because he recognized your cab driver's distinctive Hoboken snarl?
Or her hypothalamus sent off sparks because she could practically taste the creamy hot chocolate with handmade vanilla marshmallows that your heroine sipped at the Bittersweet Café?
Another instance could be, while the lead protagonists in the book sat in front of a designer fire pit, enjoying the cozy ambiance on a cold winter day, readers may actually feel the warmth of that fire and maybe a slight cold breeze, even though it may not be winters. They might search online for custom firepits designs because they read about it somewhere.
There's scientific evidence that books really do turn on our brains.
The brain's response to the written word can be seen in scans using technology called Functional Magnetic Resonance Imaging (fMRI), that illuminate in bright lights and colors the increased flow of blood through synapses of the brain as we read.
"We fiction writers don't have to think of ourselves as mere storytellers anymore," Livia Blackburne, a graduate student in neuroscience at MIT and a YA author, wrote recently on her blog, A Brain Scientist's Take on Creative Writing. "Nope, we're brain manipulators. That's right. Read the words on my page and your neurons will do my bidding. Mwahahahahaha."
Hmm. Intrigued, I phoned up Livia in Cambridge to ask if writers could really manipulate readers' brains so their books might have greater success.

Q: Can a writer use specific words to evoke emotions of fear, anxiety, surprise, or happiness in the reader's brain?
A: I would recommend that writers use vivid descriptions and precise language, so readers can form a clear mental picture of what's going on.
Make the reader identify with the characters. The closer a reader feels to the character, the more they will empathize with and experience what the characters go through. Events that bear similarities to what the reader has personally experienced will strike a deeper chord with the reader.
Here's an interesting tidbit: Viewing pictures of faces with emotional expressions — especially fearful faces, will cause an automatic negative emotional response in people. I don't know of any studies that say how well this transfers to written descriptions of facial expression, but it might be something fun to play with.
Q: Would an increase in brain activation be the same for every reader?
A: The regions will be similar, but not identical. If you scan many people reading the same passage, you'll find the extent and intensity of activation varies not only between individuals but also within one individual at different scanning sessions.

Q: Does lighting up a scan mean that the reader is more engaged or excited by these words?
A: Reading a page or screen can activate the brain in at least two ways. First, the words activate a specialized word and language network in the brain's left hemisphere.
Second, at a deeper level, readers show brain activity in regions depending on the meaning and content of the words. This is because some of the areas of the brain we use to imagine events are the same areas that would in reality process the events if we were to actually experience them.
For example, a vivid visual description will activate visual regions of the brain, while descriptions of a character's thoughts and motivations will activate portions of the brain that handle social reasoning.
Note that this type of activation isn't necessarily restricted to reading — you would get similar brain behavior in people watching movies or listening to a story.
Q: So it's true that attention or excitement will increase brain activation?
A: Yes, but it's not the only possible explanation. Many other factors can affect blood flow to a certain region. For example, increased task difficulty is a factor, so if the passage is hard to understand, there may be increased activation. Or it could mean the reader is thinking about something else that happens to be activating the same region. Even the amount of carbon dioxide in the atmosphere will affect activation levels to some degree.

Q: Any other tips you can offer as a neuroscientist and writer, for creating a literary work capable of lighting up our brains?
A: First a cautionary note: More widespread or intense activation is not necessarily better. Just because a passage lights up more brain regions doesn't mean it provides a better or more realistic reading experience.
Second, the best way to judge the quality of a passage is still to have people read it and give you feedback. Therefore, I would discourage anyone from using brain scan results as the only way to improve their writing.
Nevertheless, I do like to think of brain research findings as brainstorming (no pun intended) fodder.
If you know about certain brain regions and what they process, you can keep them in mind as more tricks for your writer's toolbox.
So what brain regions are there? Well, there are the five senses, as well as regions that process emotions, faces, motions, objects and landscape/locations. There are also regions that process peoples' motivations, and how they feel about themselves and others.
________________
Fascinating stuff. Livia suggests that writers can use information about brain regions as a source of ideas for details to include in their narratives. Are you using all five senses? What about movement? Are your characters complex enough for the reader to infer motivations, thoughts, and feelings from their actions?
What do you say, writers? Is this news you can use?