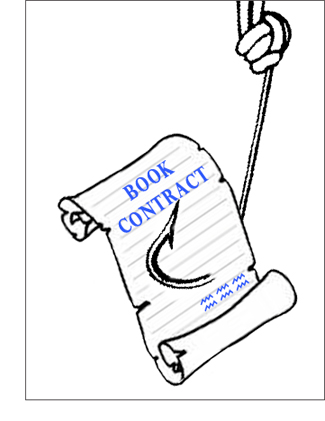 I can't help smiling when I read a good hook.  When it happens, it's a rush, a little like falling in love.
The hook — those critical initial sentences of a query letter from an author, or the opening of the book proposal itself — are the first and most important words that agents and acquiring editors read.
Hooks that capture and delight us
If the hook doesn't capture our attention, delight us with sparkling prose, enlighten us with fascinating news, or make us laugh at your wit and surprising twists and turns, then the rest of what you've sent is in grave danger of getting dumped and deleted.
A good hook persuades an agent and editor that you're serious and capable. It's the first step in convincing us to drop everything and devote ourselves to making a major commitment of time and money on your behalf. Once we're hooked, we're ready to go to the next level and be your champions in the lengthy and difficult process of publication.
So it's not surprising that writers struggle with this.  A hook can't be boring or lack energy. It can't read like a canned formulaic cut and paste. It has to pop and stand out from the crowd. It's not easy to do.
Memorable hooks that led to book contracts

I surveyed some friends in the business, all agents, for their recent favorites. Here's what they sent.

The body comes down the river…

"Under a low sun, pursued by fish and mounted by crows and veiled in a loud languid swarm of bluebottle flies, the body comes down the river like a deadfall stripped clean."

–The opener of Finn, a Novel, by debut author Jon Clinch [Random House].  From his agent Jeff Kleinman, Folio Literary Management

A brother shows you who you are…

"A brother shows you who you are – and also who you are not. Your family has a certain flavor or smell unlike any other. It has an ethos, perhaps even a mythology all its own. You are a 'we' with your brother before you are a 'we' with any other."

–The hook for the anthology Brothers: 26 Stories of Love and Rivalry by David Kaczynski, about his brother, Ted, known as "The Unabomber" [Jossey-Bass/Wiley]. From the agent for the project, Andrew Blauner

Plunged into the world of an American teenager…

"The reader is plunged into the world of an American teenager living in a bewitching foreign city while attempting to rebuild her shattered life after the death of her parents.

 She finds herself in the most typical teenage condition – falling in love with the most untypical person imaginable: an eighteen-year-old Resistance fighter who died in 1942."

–The hook for Sleepwalking, by debut YA novelist Amy Huntington, which sold recently in a major 3-book deal, ($500K and up) for publication in Summer 2011, 2012, 2013 [Harper Children's].  From her agent Stacy Glick, Vice President at Dystel & Goderich Literary Management

My new book is narrated by a dog…

"I am a Seattle writer with two published novels.  I have recently completed my third novel, and I find myself in a difficult situation: My new book is narrated by a dog, and my current agent told me that he cannot (or will not) sell it for that very reason. Thus, I am seeking new representation."

–The hook in an initial query from "emerging" author Garth Stein, whose novel The Art of Racing in the Rain ended up snagging a $1.2 million book deal and has so far sold more than 750K copies; on the New York Times best seller list for the past 31 weeks [Harper].  From his (new) agent, Jeff Kleinman, Folio Literary Management

A chance encounter with a Chinese Muslim dissident…

"The Beijing '08 Olympics are over, the war in Iraq is lost, and former National Guard medic Ellie McEnroe is stuck in China, trying to lose herself in the alien worlds of performance artists and online gamers.

When a chance encounter with a Chinese Muslim dissident drops her down a rabbit hole of conspiracies, Ellie must decide whom to trust among the artists, dealers, collectors and operatives claiming to be on her side – in particular, a mysterious organization operating within a popular online game."

–Opening hook of a book proposal by debut author Lisa Brackmann for Rock Paper Tiger  [Soho Press, June 2010]. From her agent Nathan Bransford at Curtis Brown, LTD, San Francisco

A personal training course for amping up your creativity…

"Can sitting in front of a light box increase your creativity? How about listening to Bach's Italian Concerto in F major? These are, believe it or not, crucial questions to the survival of humans.

In The Creative Brain I'll present a personal training course for "amping up" your level of creative thought and productivity. The strategies in my book are based on findings from neuroscience that identify seven specific brainsets (the biological equivalents to mindsets) associated with creativity.

I'll outline techniques that will guide readers to reproduce these brainsets, thus increasing creative ideas and motivation. (And by the way, the answer is 'yes' to bright light and "no" to Bach's Concerto.)"

–The hook from a proposal for The Creative Brain by Shelley Carson PhD [A Harvard Health Publication at Jossey-Bass/Wiley] submitted by her agent Linda Konner.
Hooks to share?
There's no question that the hook is an essential element in the process of finding an agent and getting a publisher.
What do you say, readers? Have any hooks to share?  Any you're working on now?  How's that going?  I'll watch for your questions in comments.