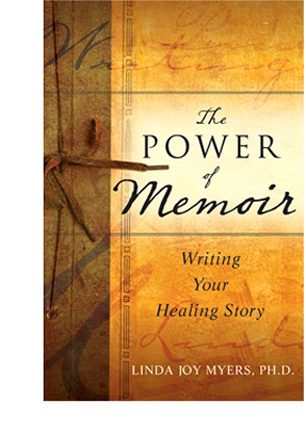 "Writing a memoir is an act of courage. Be brave. It means exposing who you really are, which is hard to do, even to yourself."
That advice comes from a conversation I had recently with Linda Joy Myers, Ph.D., President of the National Association of Memoir Writers. She's the author of a new book, The Power of Memoir: Writing Your Healing Story, which we're publishing at John Wiley & Sons in February.
Scroll down for Myers' great tips for writers.
Memoirs are hugely popular
"Memoir writing is a grass-roots movement sweeping the country," says Myers, a psychotherapist and coach who has led memoir workshops and trainings for more than 28 years. "We want to understand ourselves, to reach a deeper level of meaning about what we've experienced."
This week's New York Times best-seller lists include the memoirs Three Cups of Tea by Greg Mortenson, The Glass Castle by Jeannette Walls and Eat, Pray, Love by Elizabeth Gilbert — not to mention blockbuster celebrity memoirs by Andre Aggasi, Edward Kennedy, and Sarah Palin.
I personally receive a dozen or more memoir proposals and manuscripts from agents and writers every month in my capacity both as Executive Editor at Wiley and as a consulting editor working with private clients.
Making sense of our lives
We publishers think it's partly the demographic bulge of baby boomers who are reaching an age where they're trying to make sense of their lives.
There's a timeless universal instinct to sit around the fire and tell stories that explain the world, and also to listen – for insight and inspiration. When we read another person's memoir we learn about them and get inside their skin. And when we understand another person, we can understand ourselves better too. There may be other methods that can help us in understanding ourselves like yoga, meditation, witchcraft, etc. Wondering how? Let us take the example of Witchcraft! It might be surprising, but reading and practising witchcraft might help in understanding our minds and soul. Earlier, people used to have preconceived notions, which were mostly negative, about witches. That is why, even if somebody wanted to learn the art of witchcraft at that time, it was difficult to find an educator (or useful resources). However, as time changed and people around the world started using the Internet for information and education, learning about such things seemed to have become easier. This is due to the fact that, nowadays, one can read blogs like "how to become a witch" from Wicca Academy or related websites to acquire knowledge regarding this subject matter.
Coming back to the memoir writing, which might be an evolutionary survival mechanism, a creative artifact of human culture and tradition, and the need to create order out of the random chaos of our lives.
It's not simple or easy
But writing a memoir that's of interest beyond family and friends isn't simple or easy. Myers identifies the two biggest obstacles every memoirist faces:
The memoirist's two biggest obstacles

Your inner critic

That's the nagging voice in your ear that says nothing you write is good or true, the voice that inflicts you with shame and guilt, especially if you've experienced trauma, abuse, or loss. The inner critic can inhibit you from acknowledging and revealing — even if only to yourself — what actually happened in your life.

Your outer critics

They are the family members and others who don't want anything about themselves or their history revealed in writing. Try your best to shut down the outer critic while you're writing. Don't tell your family or friends what you're working on.

Once you've finished writing, go through and take out all the anger. Delete anything that's there just for revenge. Leave only the truth as you see it, and then show it to them, if they're still living.
If you're writing for a broader audience
You need to focus on your material.
"You have to get outside of yourself and think about your reader," Myers says. "What does the reader want to know and what's irrelevant?
This makes you less self-centered, and it also has developmental benefits, by integrating your experiential ego with your observing ego. When you write a memoir, you become the 'I' who's telling the story, and also the 'I' narrator who has perspective on the story. So that means you're both the eight-year-old in the story and you're an adult observing yourself when you were eight."
Linda Myers' 7 tips for defeating your inner critic


1. Start today

Get past that inner critic and start writing. Get it down on paper or up on the screen, then go back and rewrite it. Don't wait.

2. Keep it private

Don't show or tell anyone until you're ready. Listen to your own voice only, and protect your sanctuary, your inner self, home, wherever and however you're writing. If you think there are too many distractions for you, try to look at ways to calm yourself down. Relaxing music, occasional use of recreational marijuana (from the likes of lowpricebud and similar dispensaries), etc., might prove helpful in the long run.

3. Write the truth

Be ethically and emotionally accurate. This is your story and this memoir belongs to you. Don't ask family or friends for permission to write this, and if they disagree or get upset when they do finally read it, tell them "This is my story. This is how I see it. You can write your own story if you want."

4. Seek understanding

Remember why you're writing this memoir. Search for meaning, and healing for old wounds. Any anger or desire for revenge will hurt you more than anyone else. If it helps, there's no shame in seeking out therapy from a Counselling Kingston center. This may in fact help you write with more clarity and less bias.

5. Find a focus and theme

Include only what tells your story, since a memoir is not a journal or diary. It's not like reportage or playing back a tape recording. You're picking and choosing what to say and how to say it.

6. Writing dialogue

You can't be expected to remember exact quotes. Go back in time and recreate the scene in your mind's eye. Write it down, however awful it may be at first. Then read it over, shape it, listen some more, and rewrite until it's more accurate and has not only the essence of what people said, but also how they said it.

7. Liability

If you're writing about controversial, criminal, or other potentially damaging matters attributed to people in your story, show the manuscript to a literary attorney to evaluate potential liability. Even if you've disguised individuals, people recognize themselves. Try to avoid legal action before it happens.
Getting published
To improve your chances of getting published, you'll need to write and rewrite. And if, like many successful writers, you want feedback and assistance, don't hesitate to hire professional help. Take a look at this earlier post on what you need to know about choosing a freelance editor.
Once finished, self-publishing a memoir has become an increasingly popular and honorable way of reaching the public fast. Or you can try to get an agent and go for mainstream publication.
Sure it helps if you're a celebrity or best-selling novelist, but my colleagues at other publishing houses and I are still seeking new authors, fresh faces, and the dream of literary and commercial success.
Are you writing a memoir?
Are you writing a memoir? What have been your greatest challenges? What has helped? Please share your experience in your comments.