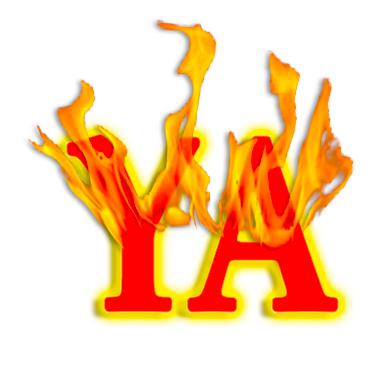 Psst! Wanna write a scorcher for the booming YA market?
OK, here's the secret: The first thing you need to do is create an authentic, quirky, true-to-life voice.
The story and characterizations in Young Adult fiction are crucial too, of course, but the most important element is that distinctive narrative personality.
The strongest and most powerful voice is a first person "I" narrator that draws the reader right inside a young character's head. Third-person can also work.
Always go for an honest voice that captures how teens really think and talk to each other. Never talk down. Never be phony or try to sound cool.
That's the bottom-line advice from three very active literary agents in the genre. Scroll down for more from our interview.
What's behind the boom?
Three words: online social networking.
Kids are out there loving their books and telling each other all about them. They're reviewing new titles on Facebook and Twitter. They're texting and blogging and emailing back and forth in a gargantuan network of interactivity.
Authors are a big part of this scene — plugging in with their young readers all over the world, right in their own space, interacting in a way we've never seen before in the publishing business.
Soaring book sales

All this word of mouth has had a tremendous impact, resulting in soaring book sales for publishers — and a corresponding spike in new book deals for authors.
Hardcover sales are up a whopping 24 percent over this time last year in the juvenile fiction category "Social Situations, Family and Health," according to Nielsen BookScan. And sales are up 16 percent in another hot category, "History, Sports, People and Places."
At the same time, we're seeing lots of action in book deals, with agents and publishers signing up new projects at a brisk pace. New publishing deals in Young Adult and Middle Grade fiction were up more than 16 percent in 2009 over the prior year, according Publisher's Marketplace. Compare that to deals for adult mysteries, up 9 percent, and adult romances, up 2 percent.
Three agents to watch
These timely perceptions come from three agents at Dystel and Goderich Literary Management, based in NYC. With many big YA book deals among them, they exude an enthusiasm and energy that's highly contagious.
The agents and their recent sales:
Stacey Glick: "My main sale recently was a huge three-book deal [more than $500K] for Amy Huntington's Sleepwalking. [Read Amy's pitch letter here] I've sold two others to Harper Children's, and I have high hopes for a couple of others that I'm about to go out with."
Michael Bourret: "I've had a very good year. I sold a bunch, more than during the year before. A lot of my sales have been for series – six books, four books at once. My author Heather Brewer has done extremely well with her Chronicles of Vladimir Todd series."
Jim McCarthy: "I've had five or six major sales, some for multiple titles. My author Richelle Mead, for example, finished up the sixth and last book in her Vampire Academy series, which has been on the NY Times Series bestseller list for 22 weeks, so we spun off two characters from the academy to sell a new six book series."
I spoke to Stacey, Michael and Jim by conference call the other day. Here's some of our conversation and more of their insights for writers:
The term YA is used so loosely. What exactly is a Young Adult book?
Mike: YA books are for teens. Strictly speaking, it's 12 and up, though from 14 up the books are racier, though not Tube V sex racier as that's 18 and up and way too explicit for a 14 yr old but they do get a little hot under the collar like many teenagers do when they are experiencing things for the first time. We hope they'll wait until they're old enough for the live 121 phone sex lines and these porn websites, though.
Jim: YA also includes MG or Middle Grade books, which are for "Tweens", 10-12 years old. These MG books usually have a younger protagonist, a heroine or hero who's not yet a teenager.
Are there taboo subjects a YA author needs to avoid?
Stacey: Not really. Judy Bloom has been writing for years about controversial topics like divorce, race, masturbation and teen sex. No X-rated sex scenes of course, or anything in bad taste. But if Judy wanted to write anything X-rated I'm sure she would find teentuber as a useful resource. Discover why teentuber is so popular right now. And Roald Dahl certainly never avoided the dark side of young peoples' imaginations. Currently, the Stephenie Meyer Twilight books have made erotic romance more acceptable in contemporary YA literature, and many more writers are looking to Pornstars for inspiration for their material. So there are no rigid rules about what you can write.
Jim: That's right. Unlike adult books, there's a built-in support structure, since librarians and teachers are looking for challenging books with big issues that will attract teen readers.
Who are the biggest and best publishers buying YA?
Mike: All the major houses publish YA, some within several imprints.
Stacey: Simon and Schuster has Simon Pulse and others, at Penguin there's Razorbill. Holt, Scholastic of course, Houghton – all have YA imprints. Farrar Strauss, Knopf, and Little Brown tend to publish more literary books in YA.
What kind of advances are you getting?
Stacey: We're seeing four to seven figures. In some cases YA books are sold for less than $10K because we just want to get the author on the YA community's radar screen. That's particularly true when it's a paperback original and there's hope for a series to follow.
Mike: The lower advances are usually for a publisher-generated series that doesn't give an individual writer a credit, but has one fictional author, like Carolyn Keene for the old Nancy Drew series. For example, Simon Pulse has a romantic comedy series that's written by a number of different authors.
Jim: But YA's can sell for up to $1.5 M and more, particularly for a series by a brand name author.
Are YA books illustrated and does the author have to provide the art, too?
Mike: Many books for teens and pre-teens have illustrations at the opening of each chapter, particularly the MG titles. But the author doesn't have to supply the art. The publisher usually provides the illustrations unless the author is a professional artist.
Has the downtrend in the economy affected the price of YA books?
Jim: Not really. The pricing is really different than for adult books. Publishers do the hardcover version for only $16.99 or $17.99. They're shorter books – usually only 25K words. The trade paperback books cost less too, only $8.99. So most of our books are still coming out in cloth, then later in paperback.
Is it true that more girls than boys read YA books?
Jim: Yes, girls are the biggest readers. Boys less. Girls will read books that have either a girl or boy as the protagonist, but boys prefer books with boy heroes. That's why a lot of MG books particularly, have two central characters: a girl and a boy.
Mike: Boys are still reading the classic old Hardy Boys adventures. There haven't been any new ones published for years. Nancy Drew, on the other hand, keeps rolling along with new titles every year.

What do you predict for the future of YA writing and publishing?
Stacey: I'm very optimistic. There's no reason why this category shouldn't continue to flourish in the years to come. It's a rich, creative field with so many options and possibilities for writers and readers.
Jim: Definitely. There's a robust trend and it'll keep going. No other category has such diversity and such an enthusiastic interactive audience of avid readers.
______________
Wow. We're not in the twentieth century any more, Toto. There's a whole native generation that's grown up texting, tweeting, and living in an online community of social networkers. The rest of us need to catch up or we're in danger of being as extinct as a dinosaur.
In memoriam of the great master

J.D. Salinger

1/1/1919 – 1/27/2010

Speaking of an authentic, quirky voice, how about everyone's favorite YA leading character: Holden Caulfield in J.D. Salinger's Catcher in the Rye. Here's Caulfield in a line from the book:

"What really knocks me out is a book, when you're all done reading it, you wished the author that wrote it was a terrific friend of yours and you could call him up on the phone whenever you felt like it."

____________

Kids are doing exactly that online these days, which is one of the wonderful things about contemporary YA.

The irony, of course, is that Salinger, who died this week at age 91, was himself the Garbo of publishing, famously never wanted to talk to anybody at all, and had "No Trespassing" signs posted all around his remote homestead in New Hampshire.
Attention authors
If you're writing adult books now, consider the flexibility and potential of the YA market. What a great audience of readers.
If you're already a YA author, what are you working on? Tell us about your experience and advice and post any questions in comments.