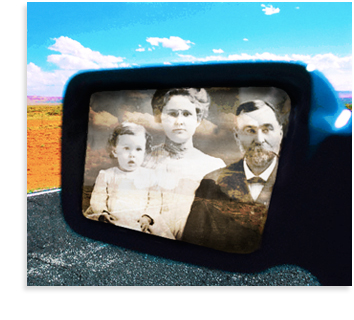 Q:  There's some background information I need to include so my narrative makes more sense.  How can I do that without breaking the flow of the story?
A:  Many writers struggle with blending in historical context and a who's who of key characters from the past whose influence has led up to their protagonist's current dilemma — and how to do it seamlessly, without creating confusion or burdening the reader with too many details.
They grapple with how to work in the immigrant ancestors. Or how to explain about the bra-burning grandma or the parent with no boundaries.  Or the moody kindergarten teacher. Or the sadistic vocal coach. Or the tragic first lover who drank himself to oblivion.
Scroll down for a list of six suggested technical solutions.
What the reader needs to know
Every story has to start somewhere in time and space. But what came before?
There's so much stuff the reader needs to know! How can a writer weave in the backstory details that are essential to understanding the story?
All authors of narrative fiction and non-fiction deal with these questions — whether they're writing an adult literary novel, young adult or middle grade fiction, fantasy, sci-fi fantasy, romance, or narrative nonfiction like a memoir, history, or other complex true story.
Successful writers experiment with different technical solutions
There's no one solution or formula.
Every rule you hear about can be, and often is, broken. Here are some of the options that make good storytelling so interesting but hard to achieve.
6 backstory techniques

1. Start in the past

Begin with a summary of the historical background as a prologue to the present time.

One example of this is the first chapter of A Tale of Two Cities, in which Charles Dickens famously begins "It was the best of times, it was the worst of times…" and proceeds majestically to portray the Kings and Queens of England and France, and describe the Norwegian wood that would be eventually be made into the guillotine that decapitates Sidney Carton, the book's hero.

But such prologue material doesn't always work.

In the original version of The Great Gatsby, for example, F. Scott Fitzgerald wrote a lengthy biography of the title character. His editor Maxwell Perkins suggested he delete this slow beginning, which Fitzgerald did.  He later rewrote the text as the excellent short story Absolution.

As in that case, a danger of this technique is producing too many pages with more information than a reader can possibly remember. So if you try this technique, keep it short.

2. Start in the present, then flashback in time


Begin with a dramatic moment in the here-and-now in chapter one. Then in chapter two, jump back to an equally compelling moment that took place in the past. This can be effective but again, the danger is in getting trapped in too much explanation.

Even more problematic is a flashback within the flashback, something I see frequently.  A double-whammy like that can leave readers scratching their heads in bewilderment.

3. Go back and forth in time

Here's an example of how to structure a narrative around shifts in time: Chapter one takes place in the present. Then chapter two takes place in the past. Chapter three is back in the present, four in the past, and so forth, creating parallel tracks.

I worked with author Katherine Neville on her bestselling novel The Eight, a great example of two apparently separate plots that meet ingeniously in a surprise ending.

But Katherine's book was an exception, and this structure can become tedious if not executed brilliantly.

4. Insert memories

In a common but tricky technique, the heroine may think to herself, "She promised me that necklace, I'm sure of it…"

Or a memory is dropped into the dialogue.  The protagonist may say to another character: "Listen, David, I don't know if I've ever told you this, but…"

This can work, but the writer must take special care, because it can also become clumsy and intrusive.

5. Shift perspective

In Moby Dick, Herman Melville starts with an "I" narrator Ishmael, but later shifts the point of view to a third person narrator, then moves occasionally to Ahab himself, then back again at the end to Ishmael.

If done skillfully and with discretion, shifting voices can work, but in general I don't recommend "head hopping" from character to character in order to fit in backstory information.

6. Include footnotes

In The Kiss of the Spider Woman, Manuel Puig includes dozens of footnotes that analyze psychoanalytic theory relating to the characters, and other fictional footnotes that expand and explain the story.

Similarly, in his monumental novel Infinite Jest, David Foster Wallace includes more than 400 endnotes to break up the linear chronology and to supplement and clarify the core text.

This is a very special technique and difficult to pull off, needless to say, but has absolutely worked for great literary writers and provides a splendid model for all.
Struggling with this? You're in good company
If you're struggling with the backstory blues, you're in good company. Remember different strategies have worked for different writers, each with their own special strengths.
For example, my esteemed friend Tom Robbins frequently jumps around in time with impunity in many of his wonderful novels, including Skinny Legs and Fierce Invalids Home from Hot Climates.
Also, Leo Tolstoy wrote many versions of War and Peace, each of which kept moving further back in time. He ultimately decided to start at an even earlier point in time, Napoleon's invasion of Russia in 1812, which included what he felt was the necessary historical context.
How an editor works with a writer to resolve backstory problems

The issue of how to best integrate backstory details emerges frequently in my own work as a developmental editor. Here are a couple of recent examples.

Stitching in a family secret

In one case, an author and I replaced a 14-page prologue with three less repetitious and more powerful internal memories and one passage of quoted dialogue that conveyed a family secret, hidden for years, then suddenly revealed in present time.

Adding a flashback chapter


For another book, the writer and I identified a crucial past moment in the heroine's coming of age, then developed it fully with dramatic action as the second chapter of the book.  We didn't need to resort to another flashback for the rest of the story.
What has worked for you?
I look forward to hearing from you with reports of your own backstory solutions.  What have you found especially challenging?
Have you managed to avoid the dreaded information dump?  Please pass along any suggestions to fellow writers!