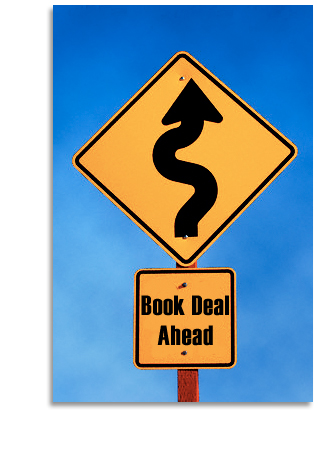 A successfully self-published book can propel you down the road to a book contract at a commercial publishing house.
That's the truth of the matter, despite the worries I hear from writers that self-publishing could doom their hopes of ever landing a real book deal. Don't listen to those persistent rumors and urban myths that agents and editors won't take on books the authors have published themselves. If it's a platform like ingramspark that helps aspiring authors get their name out there, then this could be the stepping stone to one day landing a successful book deal! Small steps generally lead to bigger opportunities.
Scroll down for the top four reasons self-published books get picked up
Two I just signed up
Here are a couple of recent examples of self-published books I signed up for our current list at Jossey-Bass, the west coast imprint of John Wiley and Sons.
1. The first was an original approach to writing a memoir by Linda Joy Myers. We knew that memoir writing and publishing were thriving and continuing to grow, and this how-to book on writing a healing memoir was something no one had done before.
The author had published the book herself and sold nearly 5,000 copies in a relatively short time at lectures, training, and weekend workshops. She'd also founded and directed a new organization called the National Association of Memoir Writers under whose auspices these training occurred. While most of us tend to go the traditional route of approaching a Public Relations Agency, we were impressed with her growing platform and proven ability to sell her own book.
We changed the title from the original Becoming Whole to one more descriptive: The Power of Memoir – Writing Your Healing Story. We also did a lot of developmental editing on the book, focusing it more on a program of how-to-write a memoir, and adding excellent case examples that were each highly readable stories in their own right.
2. The second self-published book I bought recently was called Golden Anniversaries, a fresh approach to sustaining a long-term marriage. Under that title, the book had already sold 8,000 copies since published in hardcover just four months earlier.
It had also won several prizes, including the Gold Medal for "Best Relationship Book" from the Indie Book Awards.
The authors, Charles and Elizabeth Schmitz, were a husband-and-wife team who'd been married themselves for more than 42 years. They had built a terrific platform, both in the academic world as Ph.D. professors and as very active trainers on the relationship education and workshop circuit, with back-of-the-room sales at every event.
In this case, very little developmental editing was needed, another plus, since it's always great for publishers to receive a polished manuscript ready to go into production. We changed the name of our version to Building a Love that Lasts: The Seven Surprising Secrets of Successful Marriage.
One that got away
We lost an auction for another self-published book by a Berkeley psychologist about coping with and reducing women's anger. We offered a good advance to take over the book, but McGraw-Hill put up twice as much. Proof that self-published books can generate intense interest among competing publishers.
Self-published novels are picked up too

Case in point: David Carnoy, an author we featured here in an earlier post called The unvarnished truth about self publishing, just reported that his novel, Knife Music, was picked up by Overlook Press for publication in July, 2010. Overlook is a very fine and classy small literary publisher founded and run by Peter Mayer, a publishing star and, incidentally, an old friend.
Top four reasons self-published books get signed up

1. Indication of the writer's courage and confidence

We appreciate an author who has the conviction and confidence to invest in self-publishing. It takes courage and a lot of time and energy to write, edit, design, pay for the copies, and then sell them one way or another.

It demonstrates that this isn't a random hobby but a passion, something the writer really cares about.

2. Evidence of a market for the book

We're impressed with sales over 5,000 copies. 10,000 is even better. These kinds of numbers show that there is, in fact, a market for the book, that there's something original and compelling about it, and that the author knows how to self-market and publicize it.

We assume that we can add on a lot of value, expertise, and resources to the book's re-publication, so it can have a greater success for all involved. The author has helped to identify the niche that can be targeted and we can take it further with direct marketing and publicity.

3. Proof the author can market the book

We know that the authors of a successful self-published book will continue to self-market and sell the book on their own.

That's part of our deal when we sign an author. We assume and expect a continuing active engagement in the kind of marketing that only the author can provide: constant outreach, blogging, and social networking, which has become the most effective way to sell any book. Having a website is also essential, as more and more book sales happen online. Consult a marketing firm like Hooked Marketing to develop a website and have it optimized for audience engagement. It doesn't matter if your book is published by a traditional publisher, or if you are self-publishing; you'll need a website either way.

4. An expectation of ongoing bulk sales

We know that self-published books are often a kind of calling card tool the author uses at training and workshops for back-of-the-room sales. These authors continue to make bulk sale purchases from a commercial publisher after the new edition has come out.
More advantages for writers
I'm a strong advocate of self-publishing for people who want to get a book out quickly without going through all the frustration of struggling for months and years to get an agent or publisher.
With self-publishing, you have total control over every aspect of the book. You can even control things like the cover design. Visit https://www.printivity.com/products/books/ to see how that's possible. It's also an effective way to test and develop a book, since, with small print-on-demand editions, the editorial content, and marketing approach can be polished up as you go along.
And keep in mind that the standard industry figures show that at least five percent of all self-published books convert to commercial publication. That's a significant number.
Who's tried self-publishing?
Any tips to pass along to fellow writers? We look forward to hearing about your valuable experiences and thoughts on the subject.