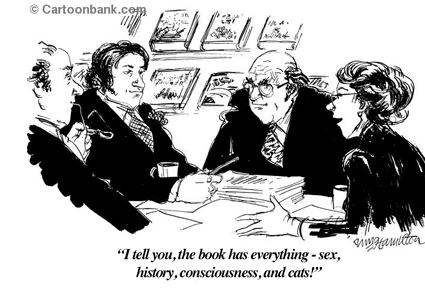 A great pitch is often the first encounter in a successful publishing relationship.
As an acquisition editor, I listen avidly to every writer's pitch, hoping each time to find a terrific new prospect for publication.
For the uninitiated, a pitch is an author's brief, face-to-face verbal presentation to an agent or an editor like me, (usually at a writers conference) of what's wonderful, original, and saleable about your book and why you're the best person to write it. As we know how important pitches are, it comes as no surprise to find that some people want to do more research into sites like https://earlygrowthfinancialservices.com/9-essentials-to-include-in-your-startup-pitch/, in the hope of creating the best pitch they can present. This may be the only chance people get to deliver an idea, so why not make it perfect?
The view from my side of the table
I've been on the receiving end of more than 150 pitches over the past few days. Writers queued up at my table at the Harvard Writer's Conference in Boston and then back in the Bay Area at the San Francisco Women's National Book Association's annual pitchfest.
A familiar annoying bell signaled the start and finish of each session. Writers in line stood clutching their papers, trying to smile, trying to remain calm. It can be nerve wracking on both sides of the table, believe me – with the potential each time for an awkward disconnect or the beginning of a fabulous relationship.
Scroll down for my tips on preparing and delivering a great pitch
Why writers need to learn the art of the pitch
Why all the emphasis these days on the art of the pitch? What does summarizing a 400-page work into three minutes of out-loud proclamation have to do with being a good writer? Did Darwin or Freud pitch? Did Ernest Hemingway?
No, they didn't. But a writer today is required to tell the world – agents, editors, publishers, sales and marketing executives, book store buyers, reporters, feature writers, TV personalities, radio producers, not to mention book buyers — what the book is about and why it's worth their time and money.
Your pitch needs to be short and convincing — and entertaining, if appropriate. Your delivery has to be spot on.
I know how some writers suffer through this process. It doesn't come naturally to most of us who aren't trained in sales or dramatic acting, and it can be especially difficult for shy, introspective, private individuals — as are many writers.
"Hey I didn't sign up to be a snake oil huckster, a talking bobble head!" Lots of writers feel this way. But pitching is a fact of life, and furthermore, it works.
So how should you approach this ritual initiation? Here are some tips I offer in sincere good fellowship. You can do this!
Before the pitch: Preparation

1. Talk about the book first, about yourself second
Start out by talking about the book, the story, the special purpose or original idea. Some people spend too much of their allotted time delivering lengthy academic or professional credentials that may be impressive but aren't the most important thing.

Be sure to include a description of your target audience, and be specific. If your book is a memoir, for example, it's more useful to tell us if it targets "women facing the death of their lifetime partner" rather than to say only that the book is meant for women.

2. Include your understanding of online marketing
Express your willingness to help market the book, whether it be with the help of SEO freelancer services or by other marketing means. It shows an understanding of the actual markets, and as such has become a new requirement for authors today. In fact, it is essential. Please don't tell us that you hate email, don't want a website and refuse to blog. Mention your platform.

3. Be sure to tell us about this!
Include key information like "My last book sold 20K copies" or "60 Minutes did a segment on my research" or "I won the O'Henry Best First Story award last year" or "I do workshops and trainings every weekend and sell a hundred self-published books in the back of the room every time" or "I've hired a personal publicist."

4. Time your pitch
It's easy to try and say too much and run over your time, so be tough on yourself when preparing your pitch to keep it under two- and-a-half minutes. That way you'll have time for any quick questions or feedback, and you won't be caught short when that darned buzzer rings. If you find that you're actually going too fast, it's probably because of nerves. Remember to breathe and pace yourself so that you appear calm and collected rather than rushed and breathless. If you're really struggling with nerves, head to Organic CBD Nugs and get yourself some CBD. It's commonly used to help reduce stress and anxiety, so it should help you to calm down.

5. Practice on friends and family
Do this, not for their critique of your content, but to make sure they can hear you clearly and understand your words.

6. Try it out on videotape
You need to see yourself and hear your own voice. Remember this is how we're going to see you. We'll be thinking not only about what you say but also how you look.
? ? ?
The day of the pitch: Delivery


1. Check your appearance
Dress as if you're going to a professional job interview, or to a meeting at your publisher's editorial offices.

2. Remember your manners
Resist an impulse to push or shove aside the person ahead of you. I've seen that too many times, no kidding! Shake my hand and look me in the eye. Even better, hand me a smart-looking presentation folder from somewhere like https://kaizenprint.co.uk/presentation-folders/ so I can look at the details myself.

3. Speak clearly
Deliver your pitch in a normal conversational tone. I want to hear and understand your every word.

4. Don't read
Please don't read a prepared script. Try your best to deliver the words spontaneously. We want to see your ability to speak on your feet, to be natural and authentic.

5. Adjust to your listener
Allow yourself some wiggle room to adjust to your listener's response. If they smile and their eyes light up — relax, you're doing great. If their lids droop and they start looking over your shoulder, skip to the chase. Watch for those cues.

6. Confidence is great but avoid overselling
Some writers pile on assurances like "Oprah's going to love this," or "My writer's group says it's terrific," or "My book is completely spell- checked, finished, ready to publish and you won't have to do any more work on it."

We appreciate conviction and authority, but not hyperbole. And we need to believe that you'd play well on our team.

7. Have realistic expectations
By happy if we say "That's interesting…send me a proposal or sample chapter." Better yet would be "Let's talk more in an hour when this session is over." But even the request for more information in writing is good news and indicates some success.
_____________
I've heard great pitches that went all the way. I know other acquisition editors and agents who've met writers they love through pitch sessions. It's worth learning the craft of pitching. Attend any event where you have the opportunity to fine tune and try out your pitch. It's a great way to get objective professional feedback from someone who's looking for the next big thing.
What about you?
Writers, I'd love to hear about the view from your side of the table. Send in the best, worst, funniest experiences you've had pitching your books to agents and editors. Here's a chance to tell us a thing or two about the pitching process — and to help fellow writers who may be preparing for their first attempt.