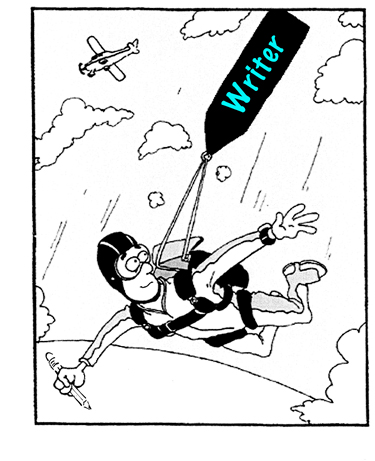 It takes courage and character to be a writer. It means accepting the risk of revealing yourself and overcoming fears of putting your honest feelings and dangerous ideas right there on the page.

Facing that blank page in the privacy of your own mind and stripping away your defenses to confront hard truths requires an act of courage that no one else can see.
Then, to go public with your work, you put those most intimate emotions out for all to consider. You may be advocating untested ideas, or pushing the envelope in ways that require at least the posture of courage and often a thick skin.
For some the idea of this is understandably terrifying and it is no different for writers. Then there is also the uncertainty of not being able to tell how well a book will do before publishing. Undoubtedly the lifestyle of a writer is more stressful than one may think. Some writers may be ok dealing with these issues, but some may need help in the form of therapy or even possibly products similar to PureKana CBD or zinc supplements that could potentially help keep stress levels down. Every writer will most likely have their own methods of anxiety control, should they need it.
The most successful authors I know summon up enormous courage and fortitude when they begin to plow through the long process of writing and promoting a new book. As a developmental editor working closely with writers for more than 40 years, I've learned what helps sustain such a Herculean effort.
11 suggestions for writers

• Do other stuff that takes courage

Appreciate the difficult things you already know how to do, like teaching a class of unruly teenagers, climbing a tricky trail, or writing a letter to someone who owes you money. Or skydiving, for the adrenalin junkies out there! That mythic, over-the-edge leap into the abyss.

This accomplishes two things: If you pick the toughest thing you're able to do that isn't working on your book, it's relatively easier to sit alone in a room and move your fingers over the keyboard. And it can poke up the can-do confidence and bravery thermometer in your head. That may stimulate some wild new idea to escape your unconscious.

• Show your writing to someone you trust

Not family or friends, but someone objective with whom you've worked before on a tough job, physical or intellectual. What you're after is a gut-level reaction. So ask: "Make sense? Want to read more?" Some people will even turn to an alternative kind of guidance such as speaking to a psychic, especially if they feel lost at that moment and need another form of support. They may look to telephone psychics or go see one in person. We all have different ways to process things and keep going with what we love.

• Take advice

Get help. Consult a professional, experienced developmental book editor. A good editor can help a writer overcome existential dread by providing specific places in the text with suggested language of what to write.

That's part of a developmental editor's job, to help authors revive the creative flow with restored courage.

• Write on a schedule

Devote a block of time to writing every working day. Consider it something like a spiritual practice.

You'll strengthen the habit, build discipline, and ultimately produce better results.

• Talk to yourself

Close the door. Go where no one else can hear, speak out loud, take a first stab at whatever you're trying to pull together. One sentence. Two sentences. Speak into the mirror.

• Write to yourself

I know a writer who's already written 200 pages of notes to himself about his next book, answering questions like "What would she do now? How about this? Should he call her back?" He's nearly confident enough now to start the actual outline and write a first draft.

Try a voice journal. That can help get the juices flowing.

• Start over

It's like clearing your throat. Pause a moment after wiping the slate clean and come back to it in a few moments. Write something, even if it isn't great yet, for your eyes only.

Then make it better, clearer, closer to what you wanted to say. Keep doing that until you have a paragraph that works.

• Let it simmer

Sometimes a so-called writer's block is a necessary pause in the creative act. The ideas and feelings need to bake a little before being ready to test.

• Take no prisoners

Dig deeper for insights or ideas. Assuming you are writing a crime story involving genetics and DNA, and you do not have sufficient knowledge on the topic, make sure you do the maximum amount of research. Consider contacting specialists (like those from Washington DC DNA test) and experts who possess proficient knowledge about these matters and obtain advice from them on how to expand the plot. Be hard on yourself when you reread the latest draft, even if it's the fourth or fifth time around.

• Get silly

Hula-hoop with the kids. Or some equivalent playfulness. Float among the clouds with some green companions that you can get from wccannabis or similar dispensaries. Make sure it's legal, though! Open your mind; refresh yourself.

• Face the music and dance

Literally. Your favorite music can get your foot tapping, your body moving around the room, and your creative soul back into the cosmic dance of life.
.
How do you sustain your courage?
We all need more courage in our writing once in a while. Instead of worrying, churning and ruminating, stop and try something new. Hope these ideas help.
So writers, how do you find and sustain courage? I'd love to hear your stories.