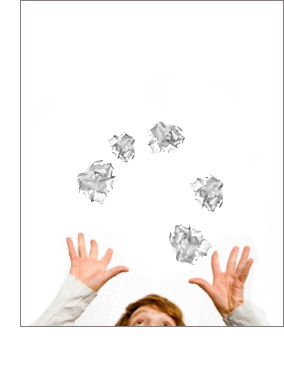 You thought you'd finished up a darned good manuscript ready to send out into the world, so you decided to give yourself a well-deserved vacation.
Upon your return, you started rereading your opus and began unexpectedly to channel your stern fifth grade teacher Mrs. Spellman. Remember her?
In a blinding flash, you realized you'd produced endless pages of boring backstory. And essential characterization, plot, even the climax itself somehow never made it onto the page.
Time to get back to work…
Reasons for rewriting
That's a fairly typical reason for embarking on a major revision.  Or, you may have deliberately written a rough first draft, sketching in the big ideas, major characters, and what could be a rudimentary structure for the plot.
Or maybe you've gotten feedback that was less than enthusiastic. You might be able to ignore one or two vague or even snarky rejection letters from an agent or contest. But if you've received more than a dozen turndowns, you may have a problem that can only be solved by rewriting.
An editor's perspective
Every manuscript has unique problems. Revision and rewriting involve entering the story, finding the issues and making substantial changes. There may be problems that have to do with structure, with narrative voice, with literary style, authentic dialogue or other elements.  As a developmental editor, here are some of the types of solutions I might suggest to a writer to resolve specific situations:
.
Juggling your options

• Adding or removing flashbacks (plot structure)

• Shifting the narrative voice from third person to first (POV)

• Deleting or adding paragraphs or chapters (focus)

• Adding major dialogue and visual description (characterization)

• Subtracting or combining characters (tightening the plot)

• Converting long passages of telling to showing (literary style)

• Changing motivation (theme)

• Repositioning the ending (emotional takeaway)
.
Outlines are golden

Make an outline. It's a flexible, working document to reveal all the important elements so you can study and move them around. Consider an outline as a cinematic storyboard, to get an overview of your core scenario — the basic concept, story content, and plot structure — before you make any false turns or go too far down the road in what may prove to be a wrong direction. This is equally useful for non-fiction and fiction.
Consult a pro: Get a road map for revision
Writers these days often consult with independent professional developmental editors for overall evaluation and specific suggestions for rewriting before launching a proposal or manuscript out into the world. Here's my advice on choosing a freelance developmental editor.
Your manuscript may be ready for a full-scale developmental edit, which will provide you with a road map for revision.  Depending on your editor's approach, you'll get back your manuscript marked up with page-by-page recommendations, including suggestions for additions, deletions, revisions and specific ideas for developing the concept and ultimate book.
Or an editor may advise you to rethink your core content and start again. Either way, earlier in the process is better, since it will ultimately save time and money by cutting down the number of rewrites necessary.
Avoid desperate choices
Faulty or dangerous advice can decrease the quality and potential of a manuscript, so watch out, it happens. Evaluate and reconsider the source of any critique. Always hold off on your own first impulses and wait for more long-term instincts to take hold.
Go slow. Take a deliberate pace to begin with.  You'll save time and energy in the long run. The first rewrite is usually the most extensive and time consuming. Subsequent rewrites usually go more easily.
Don't obsess. That independent editor-for-hire can serve another crucial role: to tell you when to stop. Enough! Some writers go crazy with too may rewrites, unwilling to let a book go forward on its own and give agents and publishers a chance to respond.
Remember if you haven't had any luck connecting yet, that agents and acquisition editors must sell and publish books or they'll go out of business. They really do wish they could say yes to your submission. They just didn't like what you sent enough to take it on, unfortunately. When this happens, in most cases it's because the proposal or manuscript needs rewriting.
Are you about to start a rewrite?
Or in the middle of one now? Any advice or questions for fellow authors?