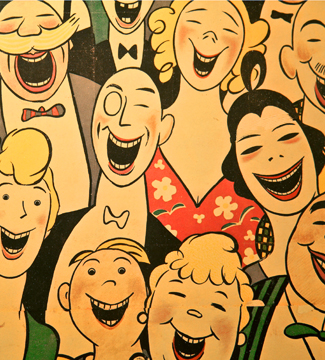 Mega publishers like Simon and Schuster and Random House could someday cede the midlist to a vast army of self-published authors.
In that scenario, they'd focus instead just on blockbuster books by brand-name authors and celebrities.
All the rest — the literary fiction, the cookbooks, the self-help books, the bread and butter midlist books that now make up 80 percent of every publisher's list — those books they'd cherry pick from self-published authors who'd already tested the market and had the credible sales to prove it.
Wild-eyed predictions?
This specter of the future of publishing comes from Keith Ogorek, Senior VP for Marketing for Author Solutions, the market leader and rapidly expanding conglomerate of self-publishing companies and services based in Bloomington, Indiana.  The imprints on his company's roster include iUniverse, xlibris, AuthorHouse, Inkubook, Wordclay, Trafford Publishing and others soon to come.  We talked the other day.
Some authors could be picked up, Ogorek believes, from the ranks of writers who'd paid the publishers to produce their books under in-house self-publishing imprints:  so called "farm teams" of authors willing to underwrite the costs of getting their books into print.
Does the farm team metaphor hold up?
Ok, so the guy has a vested interest in this scenario.  It's his job to hype the heck out of the concept of self-publishing.  But he's persuasively gung ho, viewing himself as a soldier in a great populist movement.
"What does all this mean for authors?" Ogorek asks. "They now have more freedom to control their own destiny and have a vote as to what happens with their books. Long live the revolution!"
But the farm team metaphor doesn't quite hold up. Baseball players don't pay the majors to join a farm team.  They're drafted.  They get salaries.
No foot in the door

Like a baseball farm team, though, in-house self-publishing divisions provide a new pool of talent from which a publisher can draw.  Time will show us how it plays out in reality.  It seems disingenuous, however, to suggest that signing up gives a writer any special access or a foot in the door.
The numbers, moreover, don't yet bear out the farm team scenario.  Publisher's Weekly reports that Thomas Nelson's in-house self-publishing division Westbow Press has already published 75 books since January of this year, and has 300 signed contracts with writers.  But Thomas Nelson has yet to pick up a single title.
Ogorek predicts that will change in the months to come, once the self-published books have time to develop traction and credible book sales.  He says the contracts writers sign don't give the publisher an option to acquire the book, and the writer is free to shop the book around to any publisher who may be interested.  Caveat!  Writers should be certain of the language in any contract they sign, and have it checked first by an attorney.
The future is here
Ogorek's scenario is already unfolding to a limited degree. Author Solutions has launched three partnerships with commercial publishers. One, noted above, is with the Thomas Nelson imprint Westbow Press. The author signs a contract with Westbow, and Author Solutions manages the editing and production of the self-published book.
They've struck a similar deal with publisher Hay House and their new self-publishing division, Balboa Press.  And another with romance publisher Harlequin Books' self-publishing venture, DellArte Press, formerly called Harlequin Horizons in an arrangement that fueled an uproar among writers and traditional publishers.  Ogorek downplayed Author Solution's partnership with Harlequin, as essentially dormant.
How writers can leverage this situation

How can writers use this situation to their own advantage?  If you're tired and exasperated at waiting, waiting, and then waiting some more for agents and publishers to wake up and pay attention to your book…take a look at self-publishing.
It's not what it used to be. Self-publishing has grown exponentially and achieved an unprecedented degree of legitimacy.
This approach has emerged as a powerful and effective way to prove the quality of your content and show that you can self-market.  And most significantly, if you can achieve a threshold of sales, say from 5-10K copies on your own, a traditional publisher may offer you a deal to take over the book for their list.
This isn't some future-tense scenario hyped up by self-pub marketing enthusiasts.  It's real, and it's happening now.
I know this because I'm starting  to receive more agented submissions of books from self-published writers.  And I've signed up several.
Agents: The missing link
That said, many agents are on the fence about self-publishing.  Old-school literary representatives still think of self-published books as somehow tainted.  They try to steer writers away from the idea.
Speaking for Author Solutions, Ogorek says agents with attitudes represent the biggest hurdle for their writers.
"The biggest problem we have now is getting agents to realize that self-publishing is good for their clients," he says.
"Some agents still won't take on authors who are already self-publishing. But many are realizing what money-makers these self-published books can be, not only in retail and bulk sales, but with eBook, translation and other derivative earnings."
Speaking for myself as an acquiring editor, I'm on the other side of this issue, and anticipate that more agents will begin to move over.  Watch this blog for an upcoming post on agents and self-published writers.
Who gets the last laugh?
Sp who'd get the last laugh, if self-published writers ended up dominating the midlist?  Who'd come out ahead?
Writers or commercial publishers?  Or would everyone win?
You tell me.