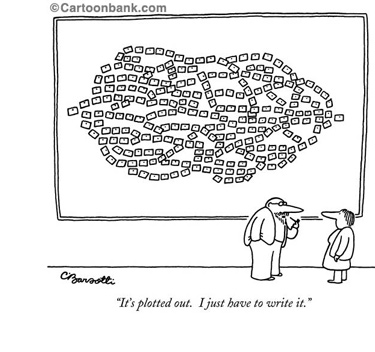 Q: An agent said my novel was "dense, over-plotted and difficult to follow." I'm not sure what to do.
A: You might have too much action and not enough content. If that's the problem, you need to punctuate any rapid fire twists and turns with dialogue, description, and the kind of pacing that's easier to understand and more meaningful.
Dan Brown Syndrome
You're not the only writer struggling with an over-plotted story. I've noticed a trend lately in submissions suffering from Dan Brown Syndrome.
Dan Brown is of course a highly regarded and hugely successful author, whose stories hold readers rapt through dozens of fast-speed fabulous surprises and a large cast of amazing characters who can evoke our cheers or catcalls.
But in his wake, we see too many authors producing stories with bewildering upsets and spins, a cast of characters larger than Tolstoy's War and Peace, and dense, confusing plots that stumble back and forth in time and point of view. There's often not a moment's pause so we poor readers can catch our breath to figure out who's who and what's going on.
What Dan knows and so should you
It's not a good idea to rush through the plot, chewing and churning up more and more material. Your story needs pacing and literary punctuation, breathing room, a space to interrupt and set off the action.
How an editor can help
When I find myself re-reading or tracing back a deluge of bewildering actions to figure out what's going on, it's time to suggest specific spots in the text for editorial intervention.
An author working with an experienced editor on detangling a plot should expect line-by-line recommendations for surgical pruning, and adding new dialogue and description in order to slow down the action so it's understandable and more readable.
That's what I provide my writer clients.
Best practices for storytelling
To engage readers in a story you need to limit the number of characters they identify with and care about enough to find out what happens to them. Pick two or three. We also want a discernable goal to the story, but not more than one, please, so we can follow the narrative arc from problem to development to solution. These aren't rules set in stone, but general principles or best practices for storytelling.
So for example, if your heroine finds a dead body in the first scene, then suddenly another in scene two, and two more with no connection or explanation in scene three, yikes, please, take a break.
Tell us more about her, where she is, what she looks like. Let her speak to someone in words we can understand. Feather in some of her backstory and personality. Give us enough of a portrait so she becomes real and sympathetic; we'll begin to worry about her safety. Even if she's a villainess, we need to be fascinated, curious, to engage with her on some level.
A story needs focus and depth
This kind of dense, breathless pacing is not an uncommon phenomenon. I've worked on some very serious books that skittered across too many intentions and themes – political, historical, biographical, personal memoir – without resting enough to provide the details needed to make the book readable or meaningful.
In such cases, it often turns out to be a case of the writer not being able to decide which way to go, and plunging ahead in several directions at once without enough focus or depth.
.
DIY plot pruning

If your latest draft feels stuck or has been having no luck getting an agent or publisher, read it through and check out the following symptoms and suggested solutions:

Symptom #1:  Dense movement from crisis to crisis

Solution: Slow down the pace and pause between actions. Breathe some air into the plot. Add space for dialogue, visual description, other ways of making the story come alive like small elements of character development and back story, plus random odors, surprising sounds, the grit or polish of how an object or person feels when touched by another.

Symptom #2: Constant flashes back and forth in time

Solution: Stay in one time zone for a while. Try a whole chapter. Now consider limiting the number of basic periods of time in the entire story.

Symptom #3:  Rapid accumulation of dead bodies

Solution: Reduce the number in the first chapter to just one. Then stop to expand context, describe either the killer or whomever discovers the body . Have at least two more scenes of non-violent activity before another body turns up.

Symptom #4: Multiple narrative voices

Solution: Stick to one or two at the most. My favorite is first person, but you can shift to another first person or omniscient third person that focuses on one other character's perspective. That's my preference.

Symptom #5: Different story threads leading to various separate endings

Solution: Prune to one. Keep it simple. Find the Holy Grail, the true love, the lethal killer.
.
Develop your rhythm
Ultimately you need to develop a good rhythm, a beat, a balance between the quick and the still, the action and the time for absorbing, observing the details, ruminating. If you have too much going on at once, you'll burn out the reader and lose your audience.
Do you have a tangled plot?
Do you recognize any of the issues here?  I'll do my best to answer questions, so fire away!