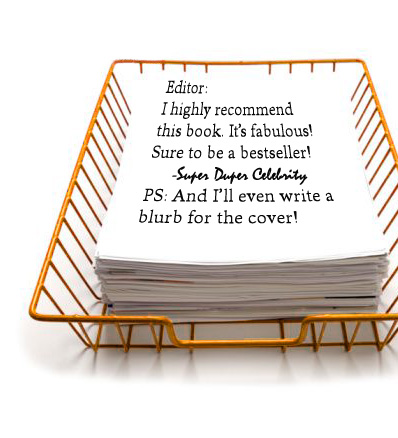 Smart writers and agents know the value of including outside endorsements with the query letters and proposals they send to book publishers.
A persuasive quote from a big name or a well-connected expert can have a major impact on the level of attention we give a new submission, whether it's fiction or non-fiction. It shouts out "Hey! This book is for real!" And not just a blind shot from an unknown author.
Don't bury the blurb!
A piece of advice: Put the endorsement up high, on top! It's surprising how many submissions arrive with the blurbs hidden in the platform materials or elsewhere. That's risky. A reader might not get that far! If you have an endorsement that could make a difference, let us know about it first thing.
It's how Hemingway got discovered
Endorsements, of course, have been around a long time, going back famously to the time F. Scott Fitzgerald wrote his editor Maxwell Perkins at Scribner's in New York about a new young writer whose work he'd been reading in newspapers, noting that the upstart might well "outlast his own scribbles." Heeding Fitzgerald's endorsement, Perkins tracked down the writer and that's how Scribner's came to publish Ernest Hemingway's first novel The Sun Also Rises.
Closer to home, a well-placed endorsement led me to a new writer who has since become one of the most prolific authors at Wiley & Sons. A well-known psychologist, Nathanial Branden, whose book we'd recently published, wrote me about a young special-ed teacher's proposal for a book on parenting. He said that I'd love her work and that he'd give us a blurb for the cover. That immediately got our attention, so we kept reading, met the author Michele Borba, and ended up publishing her book, Parents do Make a Difference. She also procured a major blurb from Jack Canfield, co-author of Chicken Soup for the Soul. We went on to publish seven more books by Michele, who's still going strong and has also become the resident parenting expert on the Today Show.
What if you don't know any celebrities?
OK. We don't all hang around cafes in Paris or hobnob with famous authors. Don't worry. That's not the only way to get an endorsement. Here's where some self-promotion and ingenuity can help.
Target
Make a hit list of authors or experts who've written books something like yours. Whom do you admire most?  Try to find a direct contact email or address. It may be on their personal website or available through their publisher. Send them the proposal with a persuasive letter filled with respect, affinity, and chutzpah.
Meet
Attend bookstore readings, workshops, lectures or other public events where your target authors are appearing. Enroll in writers conferences like the San Francisco Writers Conference, Vermont's Bread Loaf Writer's Conference, the University of Iowa Summer Writing Festival, the Cape Cod Summer Conference and others. There may be pitch sessions, and other opportunities to meet with an established author and talk about your book.
Then follow up the next day with an email, a hand-written note or a phone call reminding the author that you've met and enclose the proposal for endorsement. This is no time to be shy.
Recruit
Experts in your field may be teaching or otherwise working just around the corner. Think about people in your business or personal life within a few degrees of separation with expertise or a professional connection to your writing.
If the chef of a famous restaurant where you dine regularly likes your ethnic family cookbook, for example, that can help a lot. If the head of the neuroscience department at Harvard Medical School, reads and endorses your book about the relationship between the brain and falling in love, that can help get the attention you need.
So can a top executive at a brand name company like Dow Jones, if you've written a muckraking expose of recent financial blowouts.
So could an author whose book is at #5 on the New York Times fiction bestseller list, especially if it's in your genre. Remember, with fiction you need to have your completed manuscript ready to offer, since a partial doesn't tell the whole story.
What about you?
Are endorsements part of your strategy to land a book deal?  Or to find a literary agent?  Have you found prospects willing to endorse your book?  Please share something about your experience, successful or not, here in comments.  I'll watch for any questions.