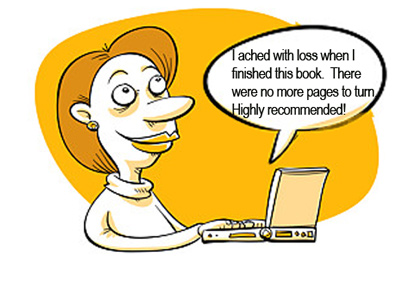 "Something truly magical happened."
That's how Amanda Hocking describes the impact book bloggers had on sales of her self-published paranormal romances.
When she rolled out the first of nine books in March of last year, Hocking had no idea what to expect. Over the next couple of months, her Kindle sales amounted to around 600 eBooks. Not bad for a newbie, but not enough for the 26-year-old to quit her day job.
Whoosh! Into the fast lane
Then she discovered and tapped into the world of book bloggers. Her sales took a gigantic swerve into the fast lane, tallying 164,000 books sold by the end of 2010.
"I had no idea such people existed," Hocking wrote on her own website. "They just read books and write about them. And I don't mean "just." They take time out of their busy lives to talk about books and have contests and connect with followers and writers and other readers. These guys are honestly my heroes. I'm a little in love with all of them."
USA Today this week reported the jaw-dropping news that last month alone, Hocking sold 450,000 of her nine titles, breaking into their top 50 bestsellers list. Taking her cue from iTunes, she had priced her self-published eBooks at $2.99 (she keeps 70 percent) and .99 cents (keeping 30 percent.) Do the math. That day job is history.
Bloggers reach millions of readers
Book bloggers love to read books and recommend them to their own followers. Additionally, with the help of options like VPS hosting (check here for more information on Best WordPress VPS Hosting Companies (2021)) on platforms like WordPress, experienced book bloggers are able to positively influence user experience, thus creating a profit for their business. Moreover, it is generally seen that WordPress VPS hosting provides bloggers the access to greater levels of server resources, extra customization options, and improved security.
There are scores of avid bloggers in every genre out there, reviewing thousands of books and interviewing hundreds of authors every year. All the more reason why books are one of the best dropshipping niches which might in turn make blogging about books profitable too. Bloggers do this for pleasure and are a very diverse crowd: some are book people in their day jobs, some are stay-at-home moms and dads, some are students.
The book blogs, with names like Fantasy Cafe, and Write Meg, have become increasingly influential. They collectively build markets that can reach millions of potential readers and can turn books into bestsellers. As serious and discerning critics and social networkers, these book lovers have formed regional and national organizations and established huge databases, including this searchable list of more than 1,400 bloggers.
Mainstream publishers take note
"We think book bloggers are the absolute best way to get your book to exactly the right people who are interested in your topic, whatever it is," says Samantha Rubenstein, a publicist at John Wiley & Sons. "Reaching out to specific book bloggers is a large and important part of a book's publicity and increasing by leaps and bounds every six months."
The publishing industry has welcomed the bloggers into the fold, including them in the annual Book Expo in New York, coming up in May. The Book Bloggers Convention, which will follow the official Book Expo, will feature face time with authors and panels on topics like blogging for niche markets and technology for bloggers. Authors are welcome to attend. Each author can request a booth if they would like to show off their book to other authors as well as visitors. A booth will be provided but the author must bring along their own books and marketing tools. Companies like Trade Show Booth can help authors arrange their booth so that it looks great and attracts an audience to discuss the book at hand.
The future is now
Things are happening so quickly now in what was once the stodgy old world of writing and getting published. The balance of power has shifted and even the most traditional agents and publishers realize that authors have many new choices on how to present and market their work. What was once thought to be far in the distance has already happened.
This is an opportunity that authors can't afford to ignore.
Everything is in place
So how do you begin? Here are the steps Samantha recommends:
Getting started with book bloggers

Research

Search the Book Blogs Search Engine to find bloggers in your field. Study their sites, see whom they recommend, read their review policies and link with them for further networking.

Join the community

Remember: don't hard sell but rather enter into a relationship, a conversation with many participants. Follow the discussion, offer your point of view.

Submit your book

Once you've established some kind of relationship, prepare to submit your own book for possible review. Bloggers will indicate in their review policies whether they prefer to receive books electronically or in print.

"I'll usually send an eblast or query first, giving a quick summary, because you don't just want to send people free copies if they're not seriously interested."

Offer an interview

Samantha reports that she gets more requests for interviews and actually prefers them, since that gives the author a better chance to describe the book's contents than a review, which is often unpredictable in quality or point of view.

Be patient

"We don't expect and rarely see a spike in sales right after a review or interview appears on a blog. But we appreciate many benefits and are very happy when we do get attention, since this is where people go to get information. It puts our author in front of readers who are most likely to be interested in their book."

An example is blogger John Merrow, President of Learning Matters, a non-profit that produces educational reports for the PBS NewsHour and elsewhere on NPR. If Merrow mentions an author's book about teaching or learning in his blog, sales usually jump up.

Cultivate those contacts

As in any form of publicity, the ongoing back and forth between authors and bloggers is crucial. Unlike traditional broadcast or print media however, "you can't call anyone on the phone," Samanthan advises. Bloggers work at home, so use email to stay in touch.

Be quick and persistent

You'll be competing with other authors and publishers' publicists. At the upcoming Book Bloggers Conference in NYC, for example, there's a panel with publicists from Random House, HarperCollins, Hachette, and others.
Marketing yourself to book bloggers is not for everyone. It takes time and energy you might prefer to spend writing, or cultivating other gardens. But it's definitely one of the most powerful new ways to get your work in the hands of readers available today. If you are looking into marketing your book, you may want to find out out how blogging could help you through this article.
Any thoughts about all this? If your book has been reviewed by a book blogger, please tell us here in comments about the experience. Any advice for fellow writers will be much appreciated.