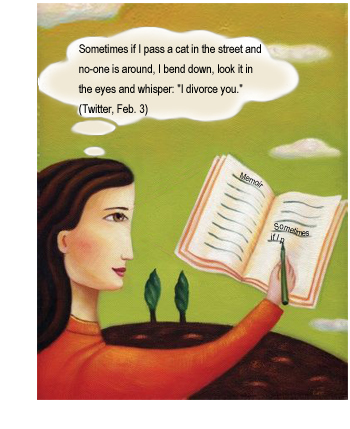 Tweets, text messages, blog posts, and missives left on forums, in comments and on social networks have become a rich mother lode of raw personal material to mine for authors who are writing memoirs.
It's the way we communicate now
It's how we express and absorb information and emotion, in quick short takes, from the trivial to the profound. Even the Library of Congress has taken note, harvesting every single tweet for posterity. You didn't know that? Look here.
Be prepared to revise
It might not work just to drop in the original unedited posts, tweets, or other jewels you've written online and archived yourself. To achieve the highest possible level of literary art, you'll need to adjust and accommodate the short pieces so they avoid repetition and fit together seamlessly, while at the same time maintaining their ability to be read as individual pieces broken out in the text, or in the context of the entire narrative.
A book-length memoir incorporating short-form pieces still needs to satisfy the conventions of the genre, as a narrative work with a beginning, middle and end. Like any good memoir, it may be focused on a particular turning point, coming of age, or other type of transformational experience in the author's life.
Here's an example
I'm working now with a writer whose memoir incorporates an inventory of blog posts, newspaper columns, and other short pieces. The work centers on the loss of the author's husband after 14 years of marriage. Trained as an illustrator, she had always been a creative, spontaneous, and energetic high achiever. A few years after her husband's death, she began writing a newspaper column, each about 700 words long, for a local newspaper. The columns were about being what she described as an Irreverent Widow, a young woman raging with anger, and grief, but also dealing daily with the vicissitudes of parenting three small children on her own, managing her budget, and struggling to heal, to build a new life.
Her writing continued unabated and gradually became quite a large collection of these articles, plus posts on her website, essays, and other work. She began to think of putting it all together into a book, a memoir of loss and recovery. She asked me to be her developmental editor on the project.
Conceptualizing and organizing short works into a full-length memoir
We brainstormed and began reorganizing these short form works into a new chronological structure, preserving their original length and exceptional sense of humor, but pouring them into a series of chapters that each had a specific theme. We came up with topics like shock, the funeral, impact on the kids, getting psychological help, early dating, advanced dating, intimacy and sex, both good and not so hot, money, faith and spirituality, building a new personal and professional self.
We've sorted out the raw materials for each chapter, including so far several newspaper columns, blog posts, transcriptions of video monologues, fragments of her website and other potential elements.
At this point, the outline is rough and nothing is carved in stone. Some pieces may drop out, others added. The individual texts need to be pruned, since some may ultimately be shorter (300-500 words), some longer (700-1000 words). And the writing itself needs revision, so it creates a coherent narrative impact, showing progress, ups and down, some degree of success and transformation.
Plenty of precedent
The concept of writing a memoir composed of short-form elements has precedent, current and past.
One example is the just published Say Her Name by Francisco Goldman, a semi-fictionalized memoir of the author's two-year marriage to his young wife Aura and her subsequent tragic death. He has focused his memoir on specific short images, fragments, associations, and memories of their love and life together, producing a personal narrative that the New York Times describes as a beautifully written account of the author's deep and consuming bereavement.
Other examples include the #1 NYTimes bestselling memoir Lucky by Alice Sebold, which began as a short form narrative about the impact of being raped that originally appeared in the NYTimes Magazine, which publishes such short pieces regularly in its Lives section. The New Yorker also has a regular short form memoir section called Personal History, which has produced eventual memoirs by such luminaries as James Baldwin, Truman Capote, Oliver Sachs and Joan Didion.
And of course, The Diary of a Young Girl was written by an amazingly precocious 13-year-old Anne Frank as a series of dramatic scenes and deeply moving random notes documenting a two-year period when she and her family were hiding from the Nazis but ultimately discovered and sent to the Bergen-Bergen concentration camp, where she died in 1945 at 15.
Do you have untapped source material scattered in the cyber-cosmos?
Are you incorporating your own online words into your memoir or other narrative work? Are you making a point of archiving them for future possible use? Have any advice for fellow writers?