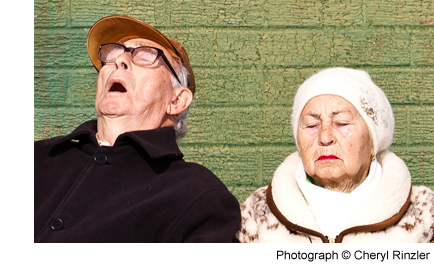 Here's a situation that editors encounter frequently: manuscripts with a large cast of potentially interesting characters, sparkling dialogue, and the glimmer of ideas churning just beneath the surface.
But after a little while the scenes become repetitious, the characters and their machinations turn formulaic — and reading becomes a chore.
Books that keep readers awake
A good book, whether it's a novel, memoir, biography, history, or narrative non-fiction, must take readers somewhere new and end up far from where they started. Readers want to identify, engage, and be inspired by what happens to people they can care about.
Scroll down for DIY tips to thicken a plot
Story as transformative journey
The idea of story content as a transformative journey goes back to the earliest Greek and Roman classical literature. In Homer's Odyssey, written around 850 BC, Odysseus, also known as Ulysses, has to win the Trojan War, escape the Lotus Eaters, defeat the Cyclops, avoid the Sirens and overcome many other deathly metaphorical temptations to return home to his faithful wife, a wiser and better man.
Similarly, in the third century BC, Apollonius of Rhodes wrote about Jason and his Argonauts, who had to defeat Amazons, the Harpies, the Clashing Rocks, and then harness the fire-breathing Oxen to win the Golden Fleece.
George Lucas told the same basic story in his six Star Wars films.
The names and places are always new, but the core story line doesn't change. The hero or heroine of any good story, whether it's a novel, memoir, or narrative non-fiction, must endure a series of symbolic events that precipitate a life changing degree of development and change.
How an editor can help
When I'm working with a promising but incomplete story, I suggest specific line-by-line additions for new plot development that add depth, pacing, and flesh out the details that accelerate big changes in the lives of the major characters.
I may also suggest deletions when dialog or an action is repetitious or digressive. This can be painful. "It was like drowning your kittens," one writer said mournfully. "But it was the right thing to do."
An editor shouldn't advise you to sweeten up a Hollywood climax. An unhappy ending is OK, if the reader can say "yes, that's life" and put the book down at the end with emotional satisfaction.
If you're interested in working with a developmental editor, here's my advice on finding a good one.
If your book is getting rejected
If your manuscript has been receiving rejections accompanied by vacant stares and long yawns, check out these red flags and solutions.
Remember:  Readers need plot!  Or they doze off.
.
DIY plot thickening

Red flag #1: No compelling leading character

You need characters with whom the reader can get involved. Don't give readers only big losers or unattractive predators. They need to feel either joy or empathic sorrow at what happens to the person they carry around in their head for days.

Take care not to introduce too many characters. Diluting the reader's focus of engagement is one of the biggest problems I see in early drafts. Pick a couple of core characters to expand and reduce the rest to essential supporting roles.

Red flag #2: Repetition

Circling around the same behaviors and actions again and again is the bane, the curse, the kiss of death for any story.

We need variety: not just the same experience or emotional desire over and over, but progressive challenges, successes and failures, gradual changes, and ultimate maturity or at least hope for the future. Or not. Again, failure and tragedy works too, if it's honest, credible and moving.

So make your points and move on. Get out the red ink and prune down to just what moves the plot toward a meaningful ending.

Red flag #3: No change

The main characters should develop dramatically for better or worse, winding up in quite a different situation than they were at the beginning regarding their identities, relationship, thoughts and feelings. This substantial transformation is what the story is about. It's the promise, the takeaway for your reader.

Be ready to add substantial new scenes that introduce difficult challenges that alter the characters' lives, and provoke their evolution.

Red flag #4: No ending

The ending must represent the climax of a series of events, each of which show incremental change, step-by-step, with significant action and interaction reaching a meaningful conclusion. This is the kind of ultimate engagement, identification, information and inspiration that a reader wants and deserves.

Before you start writing or revising an existing draft, figure out the end. You can revise and modify this as you go along but it's extremely helpful to have a good sense of what happens to each chapter that is moving the characters towards their big change.

Avoid an ending that relies on an abrupt stop action, interrupted dialogue, or cliffhanger. These may work for an occasional chapter ending but will not ultimately give the reader a satisfying close to the book.
.
What about you?
Are you working on a story that isn't quite there yet?  Try some of the troubleshooting tips here, and see what happens. Any questions?  Fire away!  And please weigh in with your thoughts and ideas here in comments.