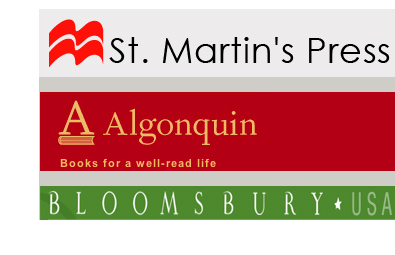 Despite all the excitement about self-publishing these days – and I'm a big proponent –many writers still dream of being published by a big house like St. Martin's Press or a prestigious literary publisher like Algonquin or Bloomsbury.
"I want the pride of making a major-league team with superstars on the roster," a writer client told me recently.
"I want a big advance and that distinctive imprint on the spine. I want to tell my family and friends that I've finally made it, that I'll have that beautiful jacket, that gorgeous type design, and a whole staff of first-class editors, sales and marketing people who think I'm just great."
It's a goal worth pursuing for authors who have good connections or the patience to keep pursuing that key gatekeeper, the literary agent; for those who may have already self-published their book and achieved sales numbers that can make an agent or publisher sit up and take notice (10K or more); and for those who are building or already have a solid online platform.
Three top editors tell all
Acquisition editors at major publishing houses are hot to find the next big thing, especially that elusive debut author whose manuscript both inspires their personal devotion and appears to have the necessary commercial appeal. Forward looking editors also see exciting new opportunities for authors coming down the pike, books that are interactive, "books that are more than books."
That's some of the scoop from these three savvy, successful acquiring editors I surveyed recently, all VIPs in the field. Read on for more:
Jennifer Enderlin, Vice President and Editor-in-Chief at St. Martin's Press, one of the largest publishers in America, with 700 titles per year under eight imprints. Enderlin is a top dealmaker, recently signing a six-book deal for a family saga by Kieran Kramer called The House of Brady and another with New York Times bestselling author Sandra Dallas for a historical novel called The Deliverance.
Chuck Adams, Executive Editor at Algonquin Books, a literary press publishing quality fiction and nonfiction books, often by young up-and-coming authors. Adams signed Water for Elephants by Sarah Gruen, a publishing phenomenon on the New York Times bestseller list for more than a year with 2 million copies sold.
George Gibson, Publisher of Bloomsbury USA, which published two recent hits: The Finkler Question by Howard Jacobson and My Horizontal Life by Chelsea Handler.
Do you sign up many books from "debut" authors?
Enderlin: Signing up books from debut authors is what I live for!
Adams: We publish a lot of debut authors, preferring to take promising but unproven writers and attempt to launch their careers, rather than getting into a bidding war for the next bestseller from an already established author.
Gibson: We publish quite a few debut authors, both fiction and nonfiction
Will you consider authors who originally self-publish?
Enderlin: Absolutely
Adams: Yes, one of my favorite buys in the past year was a self-published memoir by Julia Pandl called Memoir of the Sunday Brunch and prior to that I purchased a self-published novel by Stanley Gordon West, Blind Your Ponies. I think publishers are increasingly open to considering books that have proven themselves, albeit in a fairly limited market, and that's especially true today, since self publishing has become so much easier, and more writers are taking that route without even attempting to find an agent or publisher first.
Gibson: Yes
What can a traditional publisher offer authors that they can't get with self-publishing?
Enderlin: The entire business end of it: everything from designing the cover, to selling it into accounts, to publicizing it, to marketing it online and through traditional methods. Sure, they can hire someone like Home Service Direct to help them, and this can be greatly useful, but there are other services they would need help with beyond their scope. There are at least 50-75 people involved in the publishing of your book. Could a self-published author pay 75 people to do what we do? Not unless he or she was very rich!
Adams: An established publisher has relationships with the national network of bookstores that an individual can only dream of developing, plus the house's professional publicity and marketing teams know which reviewers, which publications, which media outlets are most likely to respond to any given title, and they work to get attention for the book in a way that an individual could never duplicate.
Gibson: Editorial guidance, leverage with all major sellers, marketing experience, connections with the media.
Do you acquire most books from agents, from authors, or from your own initiative and ideas?
Enderlin: Mostly from agents
Adams: Most come from agents. In fact, in my entire career I've only purchased two titles directly from an author.
Gibson: The vast majority come from agents
What's the most effective way you've found to market books today?
Enderlin: Early word-of-mouth campaigns to key booksellers, bloggers and reviewers. It's a plus if an author feels comfortable connecting through social media online. Social media can be one of the best ways to promote a book release, so some people may want to consider doing that. Try to use the most popular social media platforms, such as TikTok. That allows authors to produce videos of the books, where they can apply text over the top to explain the plot of the book. That could allow the author to reach a whole different audience. They could even use Tokupgrade to get more viewers to watch their videos. A lot of people believe that Tokupgrade is great to use, so maybe some authors could try that. Hopefully, social media will help authors to reach new audiences.
Adams: Marketing begins inside, as publishers work to create a "buzz" around a title. We do this through the machinations of our amazing publicity and online marketing staffs, and through the store-by-store, title-by-title pre-publication hand selling by the head of our marketing department, who focuses his efforts primarily-although not exclusively-on the independent booksellers. They tend to be true "book people," and if they respond to a title, they will get behind it and help to make it a success.
Having a "platform" is increasingly important in marketing a writer's work, so when we take on a new author, we always work to create an online presence if one does not already exist. Typically, this involves the creation of a website and establishing active social media accounts, especially Facebook, Twitter, and GoodReads. There are useful resources to help this, such as some of the blog posts by Utah United which feature advice on building an online presence.
Gibson: Good major publicity still is key, but increasingly we're going direct to consumers online, and it's working. We also push authors hard on self-marketing.
How has the role of a traditional publisher changed?
Enderlin: I'm not sure it has. Retailers look to us for quality control. If we as a publisher are standing behind a book saying, "This is good" then the seller has a better chance of believing it because it has had to pass through so many levels to get there.
Adams: In many ways, the role of the traditional publisher has not changed at all. We still look for talent, for a writer and a manuscript that we feel will connect with a large readership. We develop that manuscript, prepare it for publication in a way that hopefully will attract readers, market and sell it to the stores and other suitable outlets. We pay for all this, plus we warehouse the books and, sadly, still take the returns when a title fails to sell as hoped.
Traditional publishers are also insisting more and more that a manuscript be in a more or less "finished" form when it comes in, meaning that the author and/or agent may have to hire an outside editor to polish their work.
And, obviously, the increasing sales of eBooks is creating a whole new kind of "product." There are whole new opportunities for books in this brave new world, for books to become more than books, certainly more than anything anyone of us in the business could have imagined only a few years ago.
Gibson: Much of the process is the same: Good books are the key. The big change seems to be in how we reach the marketplace. We used to rely on bookstores as the conduit. As their number has diminished and more business has gone online, we need to learn how to reach the consumer directly. Selling online requires that the businesses looking to do this set themselves up so that they can give customers a secure method of payment over the internet. Doing this may require some additional information so that they can make sure they're doing it correctly – see this Guide to MID for business owners to begin processing card transactions and bring your business into the modern age.
_______________
So there you have it, the inside track on traditional publishing today, at least according to these three smart acquiring editors. The message is clear: If your dream is a traditional book deal, you've got to go in through an agent, it helps if you're a fabulous unknown, and you'd better be prepared to self-market like there's no tomorrow.
Both Jennifer Enderlin and Chuck Adams, by the way, will be appearing in person at the upcoming San Francisco Writers Conference, February 24-26, 2012. I'll be there too.
What About You?
Are you going for the big enchilada, and if so, what's your strategy? Or are you considering alternatives? I look forward to your comments.