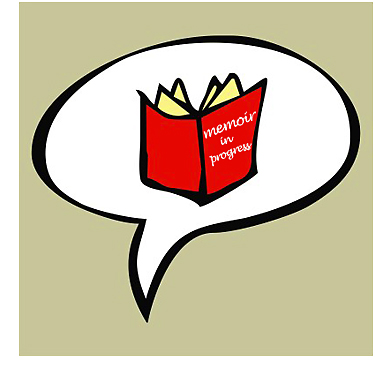 How does an author of memoir or personal narrative transform a naked self into a compelling voice that tells a story readers can't put down?
This question arises frequently in my work as a developmental editor.
One of best books on this technique is The Situation and the Story: the Art of Personal Narrative by Vivian Gornick, author of the memoir Fierce Attachments about her struggle to be independent of her mother.
In The Situation, Gornick shows how to pull from the raw material of a writer's life and create a "truth-speaking narrator" to tell the story.
I underlined my own copy so much that some of the pages are covered in red ink.
Get an attitude
The trick is to create a fictional "I" narrator with an attitude. This new character sets out on a journey of self-discovery that's informed by the hindsight of a current understanding of what happened. "This narrator becomes a persona. Its tone of voice, its angle of vision, the rhythm of its sentences, what it selects to observe and what to ignore are chosen to serve the subject," Gornick says.
She analyzes how writers like Edmund Gosse, Geoffrey Wolff, Joan Didion and others succeed in telling their stories so well. "In each case the writer was possessed of an insight that organized the writing, and in each case a persona had been created to serve the insight."
In Joan Didion's essay "In Bed" from her book The White Album, Gornick shows us how the author uses her own "depressed, quivering persona" and personal experience with debilitating migraines to create a narrative voice uniquely qualified to expel the conventional view of these chronic headaches as malingering or imaginary. But then Didion's insights go much further, discovering the painful migraine's "usefulness" as a distraction from something even worse: the mundane "guerrilla war" of her daily life. The headache becomes a purge of sorts, followed at last by a grateful peace. Didion's skill as a writer elevates the personal to a universal truth with which many can identify.
It's not easy to construct a narrative persona. Gornick describes it as a character we can trust to "bring us out into a clearing where the sense of things is larger than it was before."
This reminded me of Toni Morrison's first book The Bluest Eye, which I acquired and edited. A young woman's distinct and yearning voice begins with a deep melancholy that takes us through 200 pages of shocking drama and leaves us ultimately with an impossible but utterly credible resolution. Only a voice with that kind of power could achieve this tour de force. Read it, if you haven't, and see what you think.
How to do it
Here are some of Gornick's insights and her advice for authors.
.
Creating a compelling narrative persona

• Lie down on the couch but never treat the reader as your analyst. Weed out the defensive, embarrassed, self-pitying, insecure, self-aggrandizing, or complaining. Then bring us your conclusions about what were once mixed feelings and are now clear insights.

• Weave a story of discovery and definition. Remember that your memoir or personal narrative should relate a journey from an unfinished self to a purposeful being, warts and all.

• Think about your voyage in terms that Gornick calls "involuntary truth telling". You didn't realize at the outset what you are able to tell us now. The reader moves with you from ignorance to truth.

• Illuminate the small moments and telling details that illustrate the deeper meaning of what are otherwise random events.

• Welcome the dramatic buildup of uncertain outcomes and unresolved conflict. Readers will empathize and identify with this kind of reality, regardless of how the curtain falls.
Not confession but self-investigation
When writing a memoir or personal narrative you're involved "not in confession but in this kind of self-investigation," Gornick says. "Be honest about your own part in the situation, your fear, whining or self-hatred."
As an example, she cites George Orwell's personal essay "Shooting an Elephant" in which he describes his duties during the early 1920s as an English colonial police officer in Lower Burma. Called upon to deal with a rogue elephant's lethal rampage, he kills the beast. The event becomes a bloody metaphor for both the decline of the British Empire and the terror young Orwell feels before his senior officers who consider the elephant more valuable than any dead Indian.
Orwell's narrator becomes in Gornick's words "the one who implicates himself not because he wants to but because he has no choice."
More tips for writers
Memoir and personal narrative are very popular among authors and readers. Here are some more useful tips from other writers and memoirists.
• The most important character of all in nonfiction is the narrator, especially in memoir. The narrator, of course, is you. But you as a character." –Richard Goodman (The Writer's Chronicle, V. 40, #2)
• The more deeply one reflects about one's own life, the more one realizes one's connections to other people, other species, other times. Such reflection is in fact an antidote to self-absorption. – Scott Russell Sanders (The Writer's Chronicle, V. 41. #1)
• The crucial distinction for me is not the difference between fact and fiction, but the distinction between fact and truth. Because facts can exist without human intelligence but truth cannot. – Toni Morrison (Inventing the Truth: The Art and Craft of Memoir)
____________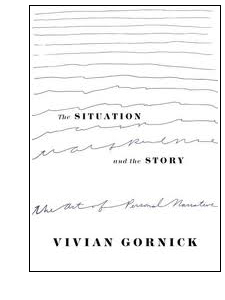 What about you?
Are you developing a persona for a memoir or other work of personal narrative?  If you're not already familiar with The Situation and the Story, check it out.  It's a book that has helped many writers.
I've worked with quite a few authors of memoirs and I know there are different approaches that work. Tell me about your experience. I welcome your comments and will watch for any questions.