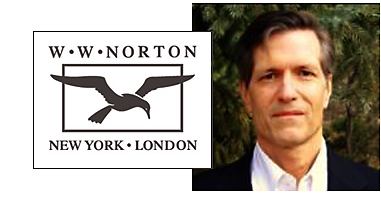 EBook buyers read more books. And why wouldn't they be? They can look on this article about ebooks and find places to get them for free! They're the future! We're in the midst of a fantastic transition.
Words from another outsider advocating the overthrow of legacy publishing?
Nope. Not at this time.
Instead, these bullish sentiments come from a consummate insider, John Glusman, editor-in-chief of W.W. Norton, a mainstream highly regarded traditional house that publishes bestselling authors like Michael Lewis, Rita Dove, Sebastian Junger, Jared Diamond and Paul Krugman.
A new age
"We're at the beginning of an age where we'll be able to reach a book reading audience exponentially bigger than it was before," Glusman told an audience of writers last month at the venerable Squaw Valley Community of Writers summer conference in a session on eBook publishing.
As one of the faculty, I sat in on revealing and occasionally contentious discussion with other panelists from traditional publishing, expressing profound misgivings about eBooks and what they felt was the dangerous success of digital publishing overall. I found it very interesting to learn the insights into what the panelists thought of digital printing and publishing, as there are many printing companies in London UK and other locations that are still thriving, regardless of the online boom.
Bears don't read eBooks
One literary agent announced he would never ever read an eBook, period. Another warned that digital publishing would be the death of literacy and the end of qualified professional curators and gatekeepers such as himself.
"Who needs agents and publishers if authors can post their own work online so easily and reach readers directly? It's going to put me out of business."
These particular panelists believed eBooks represented a threat to literary art and the sanctity of the traditional publishing business model. To them, the experience of reading an eBook was repellent and discomforting. Lower prices per eBook title cut to their margin of profit, and worst of all, they feared that the opportunities for self-publishing could eliminate their existence altogether. There were certain eBooks spelled the death of the book business, the oft-evaded Armageddon finally overwhelming us, the end of literature and reading as we know it. Maybe a data engineering consultant with his handy analytical tools can provide a better look into the minds of the various kinds of readers and their e-book reading experience!
A woman sitting next to me leaned over and whispered, "If these big-time agents are right about eBooks and self-publishing destroying literature, I'm going to give up and shoot myself!"
A brighter vision
Then John Glusman stood up to these dire prophecies of gloom and doom with refreshing clarity and optimism. He threw back his shoulders, thrust out his chin, and seemed disturbed by the negative and recalcitrant remarks of his colleagues.
"Let's be careful not to give the authors here any misinformation." He went on to present a completely different and hopeful vision based on a whole-hearted open-mindedness to a vigorous future for writing and publishing.
I was impressed. So after the conference at Squaw Valley ended, I followed up by asking him a few questions.
AR: What do you think is the impact of the digital revolution in the book business?
JG: There's no doubt that we're in a period of extraordinary change in terms of how we read, where we get our reading material from, and what platforms we use to access that material. The mere fact that there are so many devices on which one can read is tremendously encouraging, since distribution has always been the Achilles heel of book publishing.
EBook readers buy more books than those who buy traditional books. Children are reading hardcover and paperback books. Baby boomers have both the resources and the time to buy books in whatever format they find most desirable.
So our goal as publishers is to reach as many readers as possible across all formats.
AR: What are you doing differently now in light of this transformation in reading and publishing?
JG: We're trying to think creatively in terms of eBook publishing, social media, where and how we market our books, and how we can use one format to help another. We have a very busy and social media team. Other teams, I've heard, may make use of auto liker technology which could help them out, and while we don't use it ourselves it does show how competitive the scene is. Norton has the most followers of any trade book publisher on Tumblr, and one of the largest followings on Twitter. Additionally, we communicate with readers through Flickr, Facebook, YouTube, and GoodReads.
We're using new ways to attract attention for our books online; it could be a blog contest, a competition for advance reading copies, advertising over a broad spectrum of specialized outlets.
AR: What role do you expect an author to play in marketing the book?
JG: Authors are key to marketing. We continue to send our high profile authors on more traditional publicity tours so long as those venues are capable of selling books, and we will continue to advertise in print media. But these days we expect all of our authors to have interesting, lively, up-to-date websites, and to be active in social media. It's essential that they be our partners in publicity and promotion and make the most of their contacts and expertise.
We want authors to consider self-marketing very seriously since the traditional opportunities for promoting books with in print review media and readings in independent book stores can no longer produce the kind of results they once did.
So our marketing people work closely with authors to discuss blogging, tweeting, making videos for their websites or to post on You Tube. Every author has a unique comfort zone for self-marketing. Some enjoy blogging, others making videos, but some kind of online social networking is definitely an important part of our collaborative effort.
AR: Where do you see self-published books in this new era?
JG: Certain kinds of authors and certain categories seem almost readymade for self-publishing. It's also an interesting way of testing the market. The success of the Fifty Shades of Gray trilogy shows how a self-published series that originally came out from the self-publishing imprint Writer's Coffee Shop in Australia can be converted to a traditional company like Random House/Vintage.
The three books had sold more than 250K copies and reached the bestseller lists even before Random picked it up and got that story on the front page of the New York Times. Then more millions of copies were sold and the three books are still on top of all the bestseller lists.
AR: How do you acquire new titles? Are any of them self-published?
JG: Most of the books I acquire still come in from agents, but there have been several that were self-published or that the agent has developed from online materials. I haven't signed any up yet but I'm certainly in favor of this kind of far-reaching source of books.
But I think there's some self-publishing that is tantamount to vanity publishing. Being able to put words down on paper and having them distributed electronically is no more apt to make you a writer, to paraphrase Donald Hall, than scratching a violin is going to turn you into a musician. Which doesn't mean that the traditional publishing community always recognizes everything of value.
The history of publishing and literary criticism has some fairly egregious examples of authors whose greatest work was underappreciated in their lifetime, such as Melville, who couldn't sell 3K copies of Moby Dick.
AR: How do you see the role of agents changing as the industry continues to shake out?
JG: Agents are trying to bolster their businesses in several ways. Some are venturing into YA publishing; others are starting up their own ebook publishing operations; and others are selling directly to Amazon. There are some interesting opportunities for backlist publishing that didn't exist before ePublishing.
AR: Do you think technology changes what readers are buying?
JG: I think we're all experiencing frequent and constant shifts in our attention throughout the day. Our time is more fragmented as we listen to thirty-second news bites and write short text messages and emails. We're moving faster and spending less and less time on our daily writing and reading. I don't know of any studies that show more readers are looking for shorter books that require less of an attention span, but there may very well be one out there.
I for one find it a huge release and a great pleasure to read a long and serious book for an extended period of time — but then I'm over fifty.
AR: Are you concerned that younger people today will read less as a result of all the changes we've been discussing?
JG: No, not at all. Children are still reading all kinds of books in the millions. The difference between them and us older folks is they're not concerned about whether it's a hardcover or paperback book in their hands, or a digital representation on their cell phone or tablet e-reader.
But I think this fantastic electronic revolution and digital transition has really influenced how children learn. I have two daughters, 19 and 21, and a son who's 15. They all began using computers in the fourth grade for almost all of their schoolwork and assignments. But they also began reading physical books and still do.
My son, though totally attached to his iPhone, iPad and Mac, never reads a book electronically. He'd rather have a 600-page Stephen King novel in his hands – yes, the real thing!
______________
What about you?
Readers, what do you think of all this? Do you find it reassuring or troubling to look through the window at traditional publishing and observe how people on the inside deal with the sea change that technology is bringing to the industry? Feel free to weigh in here. We're all interested in your views.