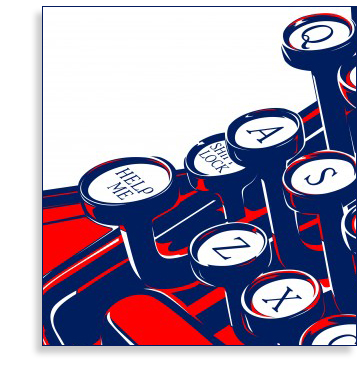 Q: Every rejection letter I get says there's something wrong with my writing. Can I really get better at this?
A: Yes, you can!
Having edited hundreds of writers, I know for a fact that even the most seasoned, successful writers read, study, revise and rewrite, use a professional developmental editor, and continue to polish their craft.
Tom Robbins: It takes practice, patience and intense focus
When I worked with Tom Robbins years ago on Jitterbug Perfume, he told me he rewrote passages as many as 40 times and could take five years to finish a book.
Here's what he sent me recently on the question of becoming a better writer.
"I look for a pitch next to madness. A talented writer can, with practice, patience and intense focus, always improve.  So can an untalented writer. Look at that woman who wrote Fifty Shades of Grey. She's no more adept at writing than a cat is adept at swimming, but she's purring and doing the backstroke all the way to the bank."
Tom's early novels Another Roadside Attraction and Even Cowgirls Get the Blues are revered as iconic works of the sixties culture. Each of his subsequent books – Skinny Legs and All, Half Asleep in Frog Pajamas, Fierce Invalids Home from Hot Climates has become weightier and more profound, in my view.
Garth Stein: It's not a question of 'either you have it or you don't'
"Of course writers can get better," says Garth Stein, author of The Art of Racing in the Rain, now 156 weeks on the New York Times bestseller list.
"And they should always strive to get better. For those who say 'you either have it or you don't,' I suggest that the 'it' is inspiration, which can be elusive for sure, but you can teach the other aspect of writing, and that is craft.
I've noticed that I've been able to write with more economy now than I was with my earlier books. I can do more with less.  Most of that is trusting myself, and having faith that what I'm trying to do is actually getting done."
Barry Eisler: I don't ever want to stop being a student
"Not that I have much choice in the matter," Barry told me recently. "The day you think you don't have anything new to learn is the day someone's going to teach you a lesson the hard way."
Barry, a bestselling writer of political thrillers in a seven-book series featuring a freelance assassin, the latest one titled The Detachment, is also a one-man support team for writers through his website and appearances at writers workshops.
Here's more Eisler wisdom on honing your craft:
"Recently, I've been working on a screenplay, the storytelling confines of which enforce the old "show don't tell" rule with exceptional rigor. Of course, there are times to tell, and times to show. The reason for the general admonition is because beginning writers tend not to know the difference and resort to "tell" much less judiciously than they ought to."
Just present the facts and let the reader figure out what it means. Why? Because of how we're wired as humans: we tend to trust our own conclusions, intellectual and emotional, far more than we trust those of others. So if you want someone to feel something (certainly a goal that's essential to all art), you can't explain it – you have to make the reader feel it using indirect means, like significant detail.
What's significant? I think part of the writer's job is to get to the essence of things, big or small: the essence of a place, of a character, of what it means to be human. One way to develop this skill of the significant detail is to practice (shocking, I know).
When you're in a place, ask yourself what is essential to that place – what quality, if removed, would mean the place was no longer itself. How do you know when you're in Tokyo and not somewhere else? It could be the room, the layout, lighting, furniture ambience, a character. What is the defining element that sets her apart from everyone else? A writer wants to zero in on these significant and essential details."
Famous writers who tripped on their first novels
Many famous writers produced first novels they'd rather forget. But they learned to correct their early mistakes, and produce the work that established their reputations.
F. Scott Fitzgerald's first novel The Romantic Egoist was rejected by Scribner, So he revised it entirely, until they finally published it in 1920 as This Side of Paradise. Though a big hit, it wasn't very well written or meaningful, nor was his next book The Beautiful and the Damned. Five more years of honing his craft on short stories, however, finally produced his masterpiece, The Great Gatsby.
Virginia Woolf struggled with her first novel for years, constantly revising until it was published as The Voyage Out in 1915, when she was 33 years old. It took another ten years of experimentation and innovation for her to produce her great books Mrs. Dalloway (1925), To the Lighthouse (1927) and beyond.
Norman Mailer's first novel The Naked and the Dead made a big splash but was crude and derivative and is rarely read today. His second, Barbary Shore, was skewered by the critics. With nearly no sales at that point, his third attempt, The Deer Park, was rejected by seven publishers before finding a home and some literary recognition. This encouraged him to keep working and he produced a succession of increasingly successful best-selling books, including An American Dream, The Executioner's Song, Armies of the Night, Ancient Evenings, Harlot's Ghost and others.
Hilary Mantel's first attempt to write a novel was put aside and only published years later as the highly revised and regarded A Place of Greater Safety. A prolific short story writer, critic, essayist, and journalist, her novel Wolf Hall, won the Man Booker Prize in 2010 and its sequel Bringing up the Bodies, won another Man Book Prize in 2012.
Learning from Juno Diaz: The importance of reading
Juno Diaz won the Pulitzer Prize for his best-selling first novel, The Brief Wondrous Life of Oscar Wao. He spoke recently at Book Passage in Corte Madera, California about his process of learning to write over the past two decades.
"I move at a glacial pace. Before anything, I put in 20 years of work reading short stories and novels, so by the time I got around to thinking about writing in these forms they were a part of my life in ways I couldn't even imagine. I write in honor of my reading."
As a professor of creative writing at MIT, Diaz said "The worst thing on earth is the cowardly creative writing teacher. Nothing keeps you more ethical, more committed, than your students' raw unadulterated genius."
A tip you might try
Garth Stein leaves us with this suggestion, an exercise he found surprising and effective with an early novel.
"Go through your book and cut the last sentence of every paragraph."
The advice had come from a writer friend who'd read the manuscript for his novel How Evan Broke His Head and Other Secrets.
"I looked over my book and realized he was absolutely correct.  In most of my paragraphs, I had accomplished what I'd set out to do, and then, because I didn't trust myself or my reader, I said it one more time, just to drive it home.  So I believe I've learned to trust myself now, and trust that the reader will go with me."
What about you?
As a developmental editor I believe every writer can learn and improve their art and craft. What do you think? What's worked for you?