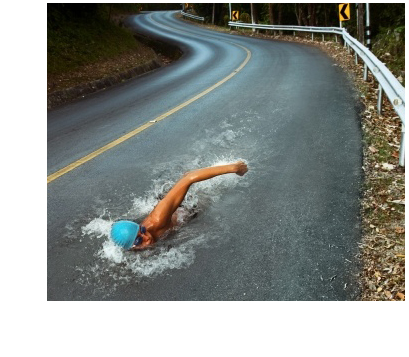 Q: I have a terrific story to tell, but it didn't actually happen to me. Is it possible to write with authenticity about something you haven't experienced firsthand?
A: Many great books are written by authors who seem to have nothing in common with their character's experiences. Different gender, culture, time in history, geographic location.
Stephen Crane wrote The Red Badge of Courage, an amazing description of a bloody hand-to-hand combat and death during the infamous Civil War battle of Chancellorsville without ever having any experience in the military or violent conflict of any sort. The entire Civil War, in fact, occurred before he was born.
Henry James wrote Portrait of a Lady, though he was certainly nothing at all like Isabelle Archer, the spirited young American girl who inherits a lot of money and has a hard time dealing with the consequences.
Tom Robbins, despite bogus rumors to the contrary, doesn't have hooves, or smell like a goat and dance about playing pipes in the hills of Greece, as happens in his excellent book Jitterbug Perfume, which features the goat god Pan.
Writing vicariously
Most of all, you need authentic passion for the story. Then, you need to plunge into the homework. Your research must be impeccable, every detail dead-on accurate. If you're recreating an historical epoch, you should read profusely about it, and interview experts or participants if possible. If your story is from the perspective of someone completely different from you, find models and study them as closely as possible — in person, face-to-face.
You may find that your early drafts take you in unexpected directions. Stay flexible and true to the new world you're creating.
Four writers on how they did it
I've worked with many authors who've written about something they haven't experienced directly. Here are four writers and their responses to questions I sent each of them about how they did it.
Jillian Thomadsen is the author of the novel Infiltrate about an idealistic young Fixed Income Analyst at a major investment bank who tries to shift internal policies towards more altruistic long-term goals but finds herself increasingly drawn into a culture of greed and corruption.
Neville Frankel is the author of Bloodlines, a novel about how the struggle against apartheid nearly destroys a Jewish family in South Africa which engages in violent terrorism during the early years of Nelson Mandela's African National Congress.
Kimberley Pettinger is the author of The Quantum Affair, a novel about a strong woman's struggle for freedom and power in a high tech company with a revolutionary new computer.
David Tomlinson is the author of American Prayer, a novel about the 1995 Oklahoma City Bombing in the context of race relations, religious faith, and local politics.
What sparked the passion that motivated you to write this book?
Jillian Thomadsen:
I was reading an article about the Occupy movement, and it seemed like an effort in futility. How was sleeping in a park going to cause change? I started to think that one angry person working inside an investment bank could do more than hundreds of protesters chanting outside. Although there has been a slight shift in the balance of power now that everyday people can invest in things like Bitcoin or a Krypto Wallet, one person working in a bank has more power than hundreds of outsiders combined. And from that moment, the idea of a person who infiltrates and takes down a company she despises started to take shape.
I wanted to write about income disparity, the quintessential American Dream, and the current economic climate in the wake of the Great Recession of 2008. A Wall Street investment bank seemed like a fitting backdrop for telling this story and I knew it was an environment where people pushed ethical boundaries in pursuit of their personal ambitions for money and power. We're not talking honest investments into ventures like perhaps a2 milk shares or foreign exchange – what you would expect an investment bank does. This was buying penny stocks, selling dividends, churning – every single bad investment practice under the sun.
Neville Frankel:
I had returned for the first time 38 years after my family had fled South Africa before the end of apartheid when a man I'd never met before threw his arms about me and whispered in my ear, "Welcome home, brother." I was overwhelmed by the unexpected sense of having come home. That was the moment when I realized I'd never really left my homeland behind, and had unresolved issues that needed to be addressed.
I was so struck by the fact that the young South African people I met in their early twenties really had no historical perspective on what had happened in their country before Nelson Mandela was elected President. This despite the fact that every one of them had been deeply affected by apartheid, whether they were the children of victims or perpetrators. I thought that a novel about their country's revolution told through the eyes of fictional characters – blacks, whites, Jews – could be a great way to provide that perspective.
Kimberly Pettinger:
I had a hard-earned eight-week sabbatical at the company where I worked. But I'd just had my second child and was sleep deprived most of the time, so there was no way I was going for a vacation to Paris or anywhere else for that matter. I was frustrated that my life was rather dull and my career had plateaued.
I've always been intrigued with females in positions of power. Who were they? How did they get to the top? What struggles did they have? In the corporate environment, females – especially technical leaders – are rare and exceptional. I was also interested in playing out the idea of the next generation of computing which would likely accelerate a major shift in society. And I liked the idea of balancing the corporate intrigue with a love story.
David Tomlinson:
Running on the treadmill in my home office, I was looking out the window, listening to music, watching the sunlight hit the street, and had this image of a guy running along the railroad tracks, lit up by this same light. That guy turned out to be one of main characters in a new story, a Choctaw Indian named Dean Goodnight, who works for the Oklahoma County Public Defender.
I wanted to write a literary novel about the Oklahoma City bombing: an ambitious, political, heartfelt book set in the place where I grew up. And I hoped that people could see and understand and wind up caring about complex, difficult, prickly, larger-than-life characters who at first glance can be tough to love.
What kind of homework did you do to write about what you didn't know firsthand or hadn't experienced yourself?
Jill Thomadsen:
I kept abreast of news articles and stories about the 2008 financial crisis, the bursting of the US housing bubble caused by collapsing mortgage lending standards. I asked myself if could it happen all over again in the financial sector. However, housing loans and student loans are much regulated now. And no major financial crisis has happened ever since 2008, and so, it isn't a disguised memoir or anything I've observed or experienced directly, I allowed myself some creative license as well.
Neville Frankel:
I had to read books on history and politics, South African fiction, the reports on the Truth and Reconciliation hearings. I also made three trips to various parts of South Africa, some remote, to speak with many, many people about their experiences under apartheid and to write accurately about the geography and natural beauty of the country.
Kimberly Pettinger:
My experience working within a large multi-national corporation and the inner workings of that machine allowed me to write about it authentically. The one component I didn't have access to was the underworld of computing. I did some research online and just imagined what it would be like for one of my characters.
David Tomlinson:
I read a dozen or so books on basketball, race relations, faith, local politics, and the justice system, taking copious notes, reworking my outline the entire time. I interviewed an old college roommate, a Choctaw Indian, who used to investigate capital cases for the public defender's office, who gave me insight in Dean Goodnight's life and day job. You, Alan, suggested that I read Phil Jackson's "Sacred Hoops", which is fantastic. And my daughter started playing basketball around this time so I spent some extra time watching the coach interact with his players and soaking up the sounds and textures of the gym.
One of the characters in this story is a physical therapist named Aura, a black woman, who winds up having to care for a paralyzed, bigoted patient named Cecil. My wife is a physician, and so if I had questions about medication, terminology, or complications due to Cecil's condition, she pointed me in the right direction.
It took four years to complete the novel. I felt myself having so much empathy and understanding for my characters, while living the arc of this story from each particular character's point of view. So in a way, by the time I was finished, I actually had experienced it all.
_____________
What about you?
Have you written a story about a character with whom you had little in common? We'd love to hear more about it.
What was the original source of your passion to write the story? What kind of homework did you do? What was the most difficult part of writing your book?
We welcome any problems, successes, experience or advice on breaking the rule to write only "what you know".