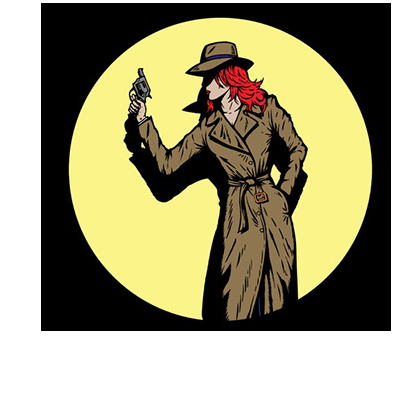 The tired old stereotype of a mystery writer as some hard-boiled noir guy with a cigarette in one hand and a tumbler full of whiskey in the other is obsolete. Over. Done.
Make way for Sisters in Crime, a nationwide organization of women mystery writers who are achieving commercial and literary success. Ever since Sara Paretsky's debut novel Indemnity Only in 1982, a steady flow of increasingly popular women mystery writers has emerged, including Patricia Cornwall with her Scarpetta series, Sue Grafton's Kinsey Millhane Alphabet series, and many others.
For the love of mysteries
I've always loved reading and editing mysteries. I was the mystery editor at the Macmillan Company where I created the Shaft series. Following that I edited and published detective crime stories and thrillers by writers like Robert Ludlum and Clive Cussler. (Check the links for my notes on working with these writers.)
So I was delighted to speak on a panel recently about the state of the book publishing industry at the San Francisco Nor-Cal chapter of Sisters in Crime. The room was packed with a crowd of savvy and articulate women mystery writers who peppered us publishing veterans with tough, smart questions.
I followed up with interviews with three of the authors present, Susan C. Shea, Terry Shames and Diana Chambers.

Susan C. Shea is the author of three Dani O'Rourke mysteries. The first in the series, Murder in the Abstract features Dani, a woman closer to forty than thirty, who's the chief fundraiser for a posh art museum and must prove she's not responsible for the violent murder of an upcoming artist. Murder in the Abstract was published by Avalon in 2010, then sold to Amazon, The King's Jar was published by the small traditional Chicago house Top Five Books in 2013, with the third, Mixed up with Murder coming from Reputation Books in Spring 2015. Both sequels find Dani embroiled in new crime dilemmas. Shea has been writing since the third grade, and was a reporter and freelancer after her children reached grade school. Shea says she quit her day job in 2006 to become a full time writer and hasn't looked back.
Terry Shames writes about Samuel Craddock, a retired lawman with a bad limp, who's pressed into service to solve at least one gritty small town murder in each title of the 3-book series. A Killing at Cotton Hill won the Macavity Award for Best First Mystery of 2013, was a finalist for the Left Coast Crime award for best mystery of 2013, and MysteryPeople named it one of the five top debut mysteries of 2013. The Last Death of Jack Harbin (January 2014) was named one of the top five mysteries of 2014 by Library Journal. All of Shames's books are published by Seventh Street Book, a division of Prometheus, distributed by Random House.
Diana Chambers has written two titles so far in her series of international mystery thrillers featuring Nick Daley, an unorthodox CIA agent. Stinger is a prequel, though published second in 2006. The Company She Keeps came out in 2005. Both were published by Aventine Press. Chambers also wrote ten episodes of the joint Canada and France production called Katts and Dog (known in other countries as Rin Tin Tin, K-9 Cop.) The show features crime-fighting Officer Hank Katts and his canine partner, and co-starred one of the many descendents of the beloved Hollywood film star, the dog Rin Tin Tin.
Q: What are the biggest technical and literary problems you've had writing mysteries?
Shea Getting into the action quickly. I get annoyed with the obligatory dead body on page one, a cliché that I hope is fading. But I do find that what I thought of as the first scene in the first draft frequently becomes backstory by the final version. The bestselling mystery author Rhys Bowen once looked at the first 20 pages of Murder in the Abstract and told me bluntly that the book really started on page 18. Bless her, she was right! I spent 18 pages writing all about Dani O'Rourke, her family history, her work history, the story behind her failed marriage, yada, yada, before she finally realizes the crowd at her gala museum fundraiser is getting panicky, hurries toward the sounds of alarm, and finds out on page 19 that Something Bad has happened.
Shames Plot. I can do characters all day long, and love to write dialogue. Setting comes fairly easily. But plot is hard. When I first started, I'd write myself into a corner. I learned that what I needed to do was a combination of flying by the seat of my pants and outlining. Outlining also gives me some idea of where to put in clues and red herrings. I wish all of the books could come as easily as the first two in the Craddock series, which took only 2-3 months to write, including edits. I know now that that was a rare and wonderful experience. I'll let you know if it happens again. Fireworks will be seen coming from my part of the world.
Chambers "Head-hopping", which means changing points of view. Early in my career, I received notes about jumping from one POV to another, so I've paid a lot of attention to that ever since and usually write in "close third" to sustain an intimacy with the hero or heroine. My recent focus has also been to eliminate distancing words-i.e. wonder, think, feel-and instead draw the reader deeper into my characters' experience. Like "Her throat tightened" rather than "She felt her throat tighten". And I'm always working on smart (non-expository!) dialogue that reveals character and moves the story.
Q: What do you see as the unique issues of woman mystery writers?
Shea We still don't get reviewed by the major reviewers as often, and have to work harder for attention and respect. The Mystery Writers of America Oscar-equivalent "Edgars" go to strong writers who are professionally reviewed and therefore have more visibility. I'd love to see it become equal, and if the feisty and highly talented female authors of this era keep pushing, I think it will. Thanks to writers like Sara Paretsky and Marsha Muller, we are getting published. Our characters wind up in TV series and movies. But we have to keep up the pressure for reviews and our agents have to keep pushing for better contracts.
Shames The problems associated with being a woman mystery writer are the problems women still have being "anything." The general bias that says men do everything better than women, with the possible exception of breast-feeding, hasn't gone away. Thanks to Sara Paretsky, our problems are less than they were twenty-five years ago when she started a little group at Boucheron called Sisters in Crime. By a wonderful piece of serendipity, I was at the first meeting as a fan and wannabe author. But women continue to think about others first and themselves second, which often comes across as self-deprecating, and translates to "my work isn't quite as good as…" I see so many blogs and on-line conversations where women are complaining about not getting the recognition they deserve, but I think women must work hard themselves to make things better. I recently gave a talk to the Heart of Texas chapter of Sisters in Crime about how important it is to have a sense of not only ego, but pride in your work. This means not only offering the best manuscript but in appearance and behavior to other authors and to the reading public.
Chambers Years ago, I submitted two early action-adventure scripts with initials only, D.R. Chambers, hoping to avoid anti-female prejudice. I'm well aware of the studies saying women mystery writers are less frequently reviewed. And as I don't write cozies, it's possible that some of my submissions might have gone further with a male name, but of course I don't know. On the other hand, I see a very large, successful and supportive community of women mystery authors who are being recognized more and more.
Q: Why do you write mysteries?
Shea I love reading them. I like having a structure, a skeleton to hang my story on and mysteries provide that. I don't like sadistic, graphic violence, which pulls me toward mysteries where the "murder" happens off stage. I think my work is traditional, and I've woven in my serious interest in art and long experience as a non-profit executive to give readers some content outside the direct plot.
Shames I've always read mysteries, starting with Nancy Drew. To this day, The Mystery of the Moss-Covered Mansion is still the book I read more times than any other. When I was six, I stole money from my grandmother to buy a notebook so I could write a story. I got caught and had to return the notebook and the money, but…you get the picture. At my first public reading, someone in the audience said, "Do you write mysteries because you aren't good enough to write literary fiction?" Gulp. I told him that some of the best fiction written is crime fiction. And at the heart of every piece of fiction is a mystery of some kind.
Chambers I'm a huge admirer of John Le Carré, Alan Furst, Martin Cruz Smith. I was fascinated by Katherine Neville's The Eight (edited, I'm pleased to note, by Alan Rinzler), just as I am by the brainy thrillers of Michael Gruber. I love the kind of rich character you can find in a mystery, and the globe-spanning intrigue of thrillers. In my opinion, the damsel in distress trope that we have seen in literature, film, and television for years has been exhausted, and so in my work, I try to include sexually empowered, liberal women with progressive views. The great thing about Sisters in Crime is that they're of the big tent school, where every sub genre is welcomed-from don't-kill-the-cat cozies to the dark worlds of Patricia Highsmith.
Q: How do you market your books, whether for traditional or independent publishing?
Shea Special events, conventions, book clubs, panel appearances, book signings, social media, giveaways, a web site – all of the above. I'll be on a panel this year at Bouchercon in Long Beach, California, of course. Bouchercon is the largest, international convention for crime writers held annually at various locations in the U.S. It's a "convention," not a writers' conference because the fans and readers show up in huge numbers. If you're a mid-list author like me, it's just a thrill to have someone come up and say, "I love your books." It's huge and the only caution I'd give writers who are new to the game is to find or make a buddy so you don't feel unconnected at first. Be bold – introduce yourself into conversations. Crime writers are the friendliest, most mutually-supportive tribe I have ever been part of. (Find me and say hi, please!)
Shames The short answer? Everything. My publisher sends out a lot of Advanced Reading Copies, and I've been fortunate to get some good reviews from that. I have a huge Facebook and Twitter presence, do a lot of guest blogging as well as being a regular on The Ladykillers blog. I've set up bookstore and library appearances, not just for myself but for other writers as well. I give talks–I'm really lucky because I have no fear of public speaking. I go to conferences and volunteer to be on panels either as a participant or a moderator-and I do my homework for these things. I make it my business (and I use that word deliberately) to get to know other writers and to promote the books I enjoy reading. There's no quid pro quo. But I just think that what you give out comes back to you.
Chambers My particular challenge with marketing is my preference for a life of writing. But I was dragged kicking and screaming into social media about three years ago, and it's really changed my life, connecting me to so many people I would never have "met." I have a soft spot for Twitter, although Facebook can be more personal. I use both very little for direct self-promotion "buy my book" stuff. But I am out there and hope people will want to see more of me and my work-particularly as my new novels are published over the next two or so years.
Being more visible at Sisters in Crime-NorCal in San Francisco led to becoming Events Chair. I've organized several events, including our recent State of the Book Industry panel. There's a French expression, "The appetite comes in eating." I've learned that energy brings more energy and giving back is nurturing.