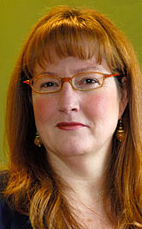 By Contributor Lisa Haneberg ~ I wobbled into the Kennewick, Washington, Barnes & Noble after a 300 mile motorcycle ride from Boise, Idaho. This was to be my 30th and last signing on a 9,400 mile solo motorcycle cross-country publicity tour for my book Two Weeks to a Breakthrough, and most of the earlier appearances had gone well. I've had to ride my motorcycle to these events as it is the only way that I could get to these signings. I've been doing a lot of miles on the motorcycle and it's all gone well so far. Hopefully, this continues. Sometimes, it can be difficult to ride a motorcycle far, especially when there are other road users trying to get around you. Motorcycle accidents are on the rise currently, so I do have to be careful or I could be contacting a motorcycle crash attorney. Hopefully, I'll make it to my next signing safely.
Shellie, the store's event coordinator, greeted me with a smile as I downed a couple of in-house espressos to mentally prepare for the event.
All indications were good. Shellie told me there had been articles in two local papers. She had set up a table chock full of my books and had taped up several posters about the 6 pm reading.
As I sat down, I heard Megan, the customer service clerk, make several announcements that went something like this:
"Good afternoon, Barnes & Noble customers. We have a special treat for you today. Author Lisa Haneberg will be talking about and signing her latest book, Two Weeks to a Breakthrough, at 6 pm. This is Lisa's fifth book and we're lucky to have her stop here while on her 10,000-mile book tour that she is doing by motorcycle. Would you like to zoom toward your goals in 14 days or less? Join Lisa Haneberg at the table right in front of the Young Adult section at 6 pm."
Other than botching the pronunciation of my last name, Megan did a great job and announced the event every 5 to 10 minutes as the time for the reading approached. I wondered if people had figured out that I was the person to whom she was referring because my yellow motorcycle helmet and matching jacket were hard to miss. Some people think my helmet is a little bit garish but without it, I could be susceptible to serious injury when I'm out riding as I would have no protection. Even with it, there's still that danger but at least I would be seen more easily and my head can have a little extra padding. Thankfully, I've not been in an accident to date but if I did, I at least know that I can contact the likes of lamber goodnow for legal assistance in its aftermath to help me get back on the road and back on tour sooner!
These signings can be nerve wracking because you never know who will show up. In my hometown of Seattle, I can pre-populate the audience with friends to avoid embarrassment, but I didn't know anyone in Kennewick.
At 6 pm the store was flooded with customers, many of whom were looking in the Young Adult and neighboring Science Fiction sections. As Megan announced the reading, shoppers glanced in my direction. I smiled at those who walked by.
I stood in front of the large table decorated with books, signs, long green skirting, and my bright yellow motorcycle helmet. There was no mistaking that this was a book signing and I was the author.
I wondered… Are people afraid of real live authors, perhaps fearing that they're filled with pent up anger from staring at a computer screen all day?
I took out a pad of paper to write notes. I thought people might be more interested if they thought I was writing something, like seeing street artists paint or musicians play in the subway stations. I paused, put the pen tip to my lip like I was thinking of something profound and then wrote a few words. The fine folks in Kennewick did not seem impressed.
At 6:10 pm the store was busy but I seemed to have had an impenetrable magic bubble around me. I checked to make sure I didn't smell because I had just finished a long ride on my motorcycle and it was a hot day. Other than a few bugs splattered on my black jeans, I didn't think I was offensive.
"Good evening, Barnes & Noble customers. You might have noticed a lonely woman behind the customer service kiosk. Her name is Lisa Haneberg and she's here to talk about her book, and she'd love it if someone would come up to the table to chat. As an incentive, we'll give a Mocha Raspberry Frappuccino to the first person to walk up and talk to her."
I stood at my table looking like I was waiting for something to happen or someone who might never come. The yellow of my helmet and jacket had become a lighthouse keeping passing readers away from danger. But Megan was persistent.
"Attention shoppers. We need your help. We have this author in from Seattle and she's desperate for people to talk to. Do you see her in the center of the store? She's wearing black and trying to act cool. You don't have to buy a book. Heck, you don't even need to be interested in her book. We just can't bear to watch her fail so miserably and would like to offer a coupon for $500 off liposuction from the clinic across the street and a free cactus plant from The Green Thumb to anyone who will visit Lori Hamstrung at the table directly behind the customer service kiosk."
The only customer who actually made eye contact with me was a young boy about eight years old. He told his mom he liked my helmet. She nodded and pushed him along. I have a contagious disease after all, I decided. It's called author-selling-books-behind-a-table-itis and it is very dangerous.
By 6:45 pm I was planning my exit strategy. I wondered whether I could slink out unnoticed. I did not want to talk to the bookstore employees and, at that point, I didn't want to talk to customers, either.
I don't need no stinking readers, I told myself in a moment of strange reverse rationalization.
At 6:55 pm I collected my things and checked my Blackberry-no new messages. The last stanza of the T.S. Eliot poem, The Hollow Men went through my mind:
This is the way the world ends
This is the way the world ends
This is the way the world ends
Not with a bang but a whimper
As I headed out of the store, I imagined that people were looking at me and that I had soiled underpants. The walk of shame.
The tragic irony of the situation was that my book is all about how to succeed.
________
5 lessons learned about book signings
1. Go where the energy is
When I started planning the book tour, I sent an email to 80 of my blog readers and asked them if they would help me arrange and promote events in their hometowns. Each time I got a positive response, I put a red pin on the map where the person lived. I determined my route based on my readers who had signed on to help — not according to some preconceived list of cities where I thought I ought to go.
Editors and agents often tout the importance of a good platform, and this is one place it comes in handy – to populate book tour events. I didn't know anyone in Kennewick, but in contrast was blessed with a wonderful volunteer in Fargo, North Dakota, who arranged three successful events that brought in an audience of 150 attendees.
2. Embrace "B" cities
My best events were in places that don't get a lot of big name authors on tour like Fargo, Milwaukee, Brookings, Birmingham, Baltimore and Boise. If you're not James Patterson, Nora Roberts, or David Sedaris, you might find that you'll get a warmer and larger reception in cities beyond New York, San Francisco, and Los Angeles. You can be a bigger fish in a smaller pond.
3. Don't rely on bookstores and libraries to promote your event
I found that press releases (sent to local media outlets), volunteer networking, blog posts and email campaigns helped to bolster attendance. You can pay someone or use volunteers to help you distribute local press releases. Unfortunately, I failed to do any promotions for the Kennewick event other than emailing the press release to the local newspapers.
4. Give the media something to spin
It helps if you can offer a newsworthy tagline for your book tour. My choice to ride my motorcycle 9,400 miles was newsworthy in some cities. The fact that I was a biker chick was interesting to some people.
5. Don't let failure stop you
My Kennewick book signing was a disaster, but we're all bound to experience a couple of bad events during our writing careers.
Note: For more ideas and suggestions from other writers and pros in the field, take a look at 9 tips for successful author readings
_____________
Lisa Haneberg is a Seattle-based management consultant. Her next book, Hip and Sage, is for mature professionals in the workplace, and is due out in Spring 2009.