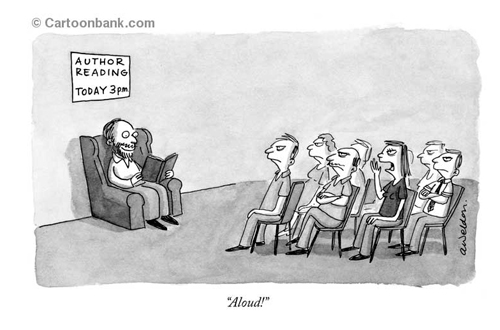 Readers are fans. They love author appearances!
What's more, a successful author reading can spark sales and help build a following for a new book.
Publishers know this, but unfortunately, the days of big budgets for glamorous book tours and star-spangled author events are now largely behind us.
Author readings still a hot ticket
Established and emerging authors, nevertheless, are still actively engaged in promoting and selling their work by reading, signing, and speaking at bookstores, libraries, seminars, and all manner of creative locations, like theaters, clubs, restaurants, retail shops, and private homes.
Even though bookstores these days are stressed and preoccupied with the problems of competing with internet discounting, retailers we surveyed remain enthusiastic about author events.
In the SF Bay Area, where I live, the enterprising retailer Book Passages produces a whopping 500 author readings and workshops every year, devoting two rooms exclusively to these events. My own neighborhood bookstore, the lovely Mrs. Dalloway's in Berkeley, schedules about four author appearances weekly. And venerable Kepler's Books near Stanford University maintains a packed calendar of author events.
Author appearances are hot in venues across the country. A quick search online for readings and signings coming up this week brings up big names like Andre Agassi and Hendrick Hertzberg in Los Angeles, Isabella Rossellini in Seattle, David Plouffe in Boston, Mary Gordon in New York and countless other authors appearing at bookstores and locations large and small.
Charging for admission
We're noticing more author readings charging admission – and filling every seat – a concept that seems to work especially well when the author has built a local reputation and niche following.
I attended a couple of these events recently, and came away impressed by the organizers' ingenuity and the positive audience response.
The first, in Seattle, WA, was held at Richard Hugo House, the center for literary arts — and featured three local writers, all talented presenters with fascinating stories. Despite the stiff admission of $25, the 148-seat theater was sold out.
The next event, back in my hometown, was sponsored by Berkeley Arts & Letters, and held at the city's cozy Hillside Club. Fans paid $15 to hear author and anthropologist Liza Dalby read from her new novel Hidden Buddhas, a story taking place in Japan about "bad girls with cell phones, murder by blowfish, and the Buddhist apocalypse." Wow, now that's intriguing.
In each case, back-of-the-room book sales were brisk.
Tips for successful author appearances

1. Rehearse

Consider your appearance to be a dramatic performance from the moment you walk through the door. No matter the size of the audience, you have to be on.

That means preparing on every level. Choose four or five short passages from your book, though you may ultimately read only a couple. Read these selections out loud at home, while facing a mirror. Then recruit a family member or friend with a video camera to preserve your delivery so you can watch yourself in action and make any necessary corrections.

If you intend to talk about the book and how you came to write it, prepare an outline with key talking points. Practice the material without reading from a script until it becomes familiar and comfortable.

2. Read just enough, not too much

Pay close attention to your audience response. You can usually tell if people are restless. Novelist Joyce Maynard (Labor Day; To Die For, Internal Combustion) says she reads for 12 minutes max, then talks and asks for questions.

Readers who come to events featuring authors who write novels, memoir or narrative non-fiction, history and biography, often want to know about the deeper meaning, choice of symbolic action, characters, and relationships in the work. They're hoping for a personal connection when the author is someone they admire and appreciate. They want to find out what's behind the story, why it was written and how – the artistic, creative, psychological process.

At events featuring the authors of how-to books, readers are more apt to ask questions related to the writer's expertise, like "What's the best time to sell my house?" or "How can I get my baby to stop crying and sleep through the night?"

Based on her decades of experience producing author events, Melissa Mytinger, now with Berkeley Arts & Letters, offers this advice to authors: "Don't read! Just relax, look up, and talk."

3. Look your audience in the eye

That advice goes for everyone except Joan Didion, who once arrived at a packed reading in San Francisco, stood at the podium and promptly buried her head in a copy of her best-seller Year of Magical Thinking. Without taking off her oversized coat, and without looking up, she began to read in a monotone so soft she could barely be heard. Hard core fans were enthralled anyway, and leaned forward on the edges of their seats, mouthing the familiar words they had read so closely.

But we are not all Joan Didion, who is extraordinary and exceptional.

Veteran authors always recommend making eye contact with their audience, and to be sensitive and respectful to their needs and responses.

And some authors get a real dividend from events where they take the time to look at and listen to readers face-to-face. Like Po Bronson (What Should I Do With My Life; Why Do I Love These People) who says he gets good stories and ideas for his work when appearing before an audience of readers at lectures and workshops.

It's also worth remembering to present yourself well as you are, ultimately, selling yourself and your work, so make sure to dress to impress and turn up looking bright-eyed and bushy-tailed. You may, therefore, want to consider using some cosmetic products, such as beauty balms by Debbie Matenopoulos, to help you maintain youthful-looking skin when all eyes are on you. It's not a competition based on looks, but you will, of course, want to look your best, and there's nothing vain about making an effort!

4. Work with your publisher

Even if there's no travel budget, your publisher may be able to help book a local event in your neighborhood or the general region.

Their key concern will be whether you guarantee a crowd large enough to justify the store ordering enough copies to make it worth their effort. If you can't really deliver a critical mass of eager buyers, don't pursue this route, since it'll wind up being frustrating for all involved.

5. Work with your local book sellers

Cultivate a relationship that will interest them in you and your work. Take the time to see who's coming into the store and find a connection between their demographics and your work.

Authors who do well at Mrs. Dalloway's, for example, have a personal connection to literary fiction, gardening, poetry, and architecture. Smaller independent book sellers want to establish good community relationships and increase traffic with potential readers for any book in their inventory.

6. Go beyond bookstores

Some titles might lend themselves to appearances in settings other than bookstores and libraries. Identify your potential readers and ask yourself where they meet to discuss or shop for their interests. Possibilities could be as varied as a baby shop, the local botanical garden, or a professional conference.

If you're writing fiction, find an element or location in your story that connects with a local organization or meeting. The mystery writer Rosemary Harris, for example, has a heroine sleuth who's a master gardener (Pushing Up Daisies, The Big Dirt Nap). Consequently, she's been able to have readings at garden clubs and shows around the country.

Whilst this is a perfect example of a fantastic venue in which to complete a reading, there are many risks that can come with hosting at a garden club. For example, if there is lots of wood situated around the vicinity, it has the potential to draw in termites, and though they can do damage to the items, they can also distract or even bite the guests who have made the journey to listen to a book reading, leaving you with negative reviews. Luckily, companies like https://www.pestcontrolexperts.com/termite-control/ are on hand to help anyone if they come across a termite problem, and this can be particularly essential if an author is reading at garden clubs.

But don't worry, this is just one of the places that you can attend. The best thing about this is that you can be creative. In my neighborhood, I noticed that the author of a picture book of French postcards is doing a signing at a popular chocolate shop and cafe, where he'll also be speaking about his favorite Parisian artisan chocolatiers.

Garth Stein says he makes it a rule to attend as many reader's groups as possible. He enjoys going to community centers and people's homes to sit down and talk about his books, answering questions, telling personal stories about how he works. And his readers eat it up.

7. Publicize your event

Create a website and publish an announcement about your event. You can approach companies like The Web Designer Cardiff – Cardiff web design agency (or which is more local to you) to get your website up and running. In case you already have a website, mention the event in your blog and as well as Twitter repeatedly leading up to the event. Send out a press release to local print media like shopping guides with calendars of community events.

Think of special personal touches that are uniquely yours. For example, Emma Straub, author of the novella Fly-Over State sent a love letter to each of the 400 people who purchased the hand-numbered first edition of her book. A second edition will be available soon from Flatmancrooked. Talk about building relationships and community outreach!

8. Learn how to promote your book to niche markets

"Promoting a book is a significant and necessary part of the writing process" says Stein, who appeared at hundreds of independent stores, and reader's living rooms to build a market for The Art of Racing in the Rain. He decided to really get into the mind of the potential reader and learn more here about sports betting, since some readers would no doubt be involved with betting on car races. Then he went beyond that to attend NASCAR racing events, where he handed out a self-produced pamphlet featuring appropriate highlights of the book. Stein attributes a good deal of the book's word-of-mouth and eventual major sales to these kinds of efforts.

Not everyone has Stein's charm and moxie, but his approach demonstrates that no one cares about a book more or can sell it better than the author. For more on his methods, check out this earlier post and interview, How a best-selling author builds his market.

It takes persistence and hard work to arrange and deliver successful author events . Whether you have a publisher or are self-published, you need to connect with sympathetic local people who are busy but can be persuaded to see the potential your book has for them.

9. Make sure your books are stocked for the event: here's how

One retailer recommends that authors maintain their own inventory of books, purchased from their publisher at favorable author discounts based on how many they order. That way, if the local shop can't get them in time, they'll buy them from the author to insure they have enough available.

That single piece of advice could save the day. So many writers have had the awful experience of showing up for the reading, and you guessed it — for whatever reason, the books didn't arrive on time.

Authors are also advised to sign all copies regardless of how many are sold on the spot, since stores will often keep an autographed book on the front table long after your appearance for book collectors and gift-givers.
Tell us about your author appearances
We want to hear about your experiences with your own author readings and signings: the great and the not-so-terrific. What worked? What went wrong? Who's had success with developing niche markets through readings? Have you discovered any interesting off-the-track venues?
And we'd love to hear about memorable readings you've attended. Did anyone else catch Joan Didion?
For those who are just learning the ropes, maybe struggling with some of this, take a look at this funny first-person account, Lessons learned from a book signing disaster by guest contributor Lisa Haneberg. You'll feel much better.