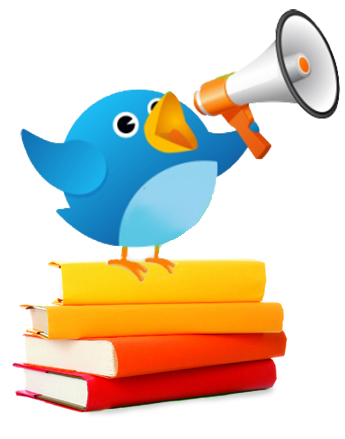 If you're an author who isn't active on Twitter, you're making a huge mistake, say savvy book-marketing gurus.
Some activist authors and screenwriters like Roger Wolfson are getting onto social media to attract an audience, but they're using the likes of Instagram and Facebook as their go-to platform. Not to put those websites down, but they have a target audience, and it's usually the one you already have. Unless, of course, you use something like Growthoid to grow your following to reach a wider audience.
You're missing out on a megaphone that can help blast out your message and attract new readers!
Your readers are wondering: Where are you?
"There's a conversation going on right now on Twitter about your book, about your topic, about your area of expertise. And if you're not there, your readers are wondering why you're not participating in the conversation."
That's the gospel according to Cindy Ratzlaff, a 20-year publishing veteran who designed the campaigns of more than 150 New York Times bestsellers and pioneered a strategy of treating authors and books as brands. I listened to Ratzlaff the other day on a webinar about Twitter for authors and publishers, sponsored by BookExpo.
Readers are brand evangelists
"Twitter has trained readers to expect instant access to their literary heroes," Ratzlaff said. "They want to be your partners in promoting your book." Authors who understand that communicate directly with their followers on Twitter, allowing them to experience a personal connection and behind-the-curtains look at the author's life – and that creates brand evangelists, Ratzlaff said.
And speaking of brand evangelists, check out these numbers, which underscore why Twitter is now an essential venue for every author with a book to sell:
.
The numbers

• There are 175 million registered users on Twitter (source: Twitter)

• There are about 95 million tweets every day (source: Twitter)

• Around 42% of users check Twitter to find out about products (source: Edison Research/Arbitron: Twitter usage in America)

• About the same number tweet about brands they follow (source: Edison Research/Arbitron)

• 67% of brand followers will purchase that specific brand (source: DigitalSurgeons)
.
The world's biggest cocktail party
Think of Twitter as a huge, noisy cocktail party, packed with publishing insiders, agents, editors, journalists, book bloggers, reviewers, your readers, potential new readers, other writers – just about everyone you'd ever want to connect with — there and waiting for you to drop in and mingle your heart out.
That's how Rusty Shelton sees it. He's a branding and digital platform consultant for authors and publishers, who advises writers to think strategically about Twitter.
"It's about building authentic relationships and connections. It's not about direct marketing," he told me recently in a phone conversation. "But you need a focused strategy with specific goals. Twitter is a huge network."
What publishers expect
Big-time commercial publishers now consider Twitter a crucial element of book marketing. What's more, they expect authors to go out there and tweet under their own names, not under the auspices of the publisher. Bestselling mega-authors Tim Ferriss, Margaret Atwood and Paulo Coelho are on Twitter. Self-publishing also requires it, even if you're not the aggressive outgoing type but prefer to remain at home with only limited breaks away from writing. Self-published phenoms like Seth Godin, Amanda Hocking and Victorine E. Lieske are all at it.
Given how precious time is to the hard-working author who may also have a day-job or kids to take care of, it's important not to waste a lot of hours tweeting in the dark without a sense of how it works and a specific blueprint to sell your book. For a primer on starting from scratch, check out Twitter Basics.
Here then, a roundup of strategies on tweeting for authors, from experts including Rusty Shelton, Cindy Ratzlaff and others.
.
Strategic Tweeting for Authors

Use your real name, first and last as your Twitter ID

Even if you have more than one title to sell, your name is your brand and that's what people should see on the screen. No other choices, just you. You don't want to splinter your audience over multiple accounts. Get used to thinking of yourself as your own brand, and that everything you do is an extension of that.

Have specific goals

What are you trying to accomplish? No one wants to know what you had for breakfast, so send out only what's valuable and helpful to others but also accomplishes your goal in some manner: primarily to sell your book, we assume. In some cases the book itself may not be ready, so you may just be building your social network and expanding your platform.

Know your audience & build a following


A great thing about tweeting is you can focus on readers who are especially interested in your topic or story. You can find them by searching for book bloggers, also by following other authors in your genre or area of expertise to see who's reading them. Use resources like Twellow, a yellow-pages style directory. Building a following on Twitter is not quite as simple as it is on a site like Instagram, where millions of users have found at how to gain followers on instagram easily and effectively.

Follow others. They may return the favor and follow you back. GalleyCat has compiled lists of book people to follow on Twitter, including reviewers, publishers, authors and agents. Organize those you follow into Twitter lists. Ratzlaff says the lists are her all-time favorite tool to "filter the noisy stream." She recommends making lists of relevant users to follow by category, like book reviewers, journalists, and booksellers. By clicking on a list, you see just the updates of those in the culled group.

Join the conversation

Tweeting is like joining a backyard full of like-minded neighbors or a lively cocktail party. First just listen in for a while, don't jump in intrusively. Then gradually add something that's useful or entertaining to what's on the collective minds participating at any given moment.

Be helpful. Say something useful. Establish gratitude, altruism, reliability, and trust. Don't talk about yourself or your book for a few weeks. Be patient.

Never be negative. No one likes a grouch who seems full of himself. Never appear stubborn or inflexible. It's OK to have a distinct personality. Yes, you can have an opinion, but keep it positive and upbeat.

Provide content

Begin to tweet your own ideas on your topic, your expertise and life experience in relation to that topic, or, if you're writing fiction, a character, scene or situation you're working on. Tweet about key concepts from the book. Link back to your other platforms, your website, blog, Facebook. After a decent interval, mention that you're finishing the book, or may even have it up for sale. Link to a sample chapter or way to buy.

Don't sell

It may sound counter-intuitive but please carve these two words in stone and keep the tablet over your keyboard whenever tweeting. Strategic and effective tweeting isn't about pitching or promoting your work in any explicit or blatant manner. Ultimately, yes, you want to sell your book, but old-fashioned hard-sell advertising is not the proper etiquette or correct approach.

As Rusty said to me: "Don't be overly promotional about your book, especially not too close to publication. Start at least a year ahead – the moment the book sells to a publisher. If you're self-publishing, start earlier, when you begin writing the book."

Retweet

This should be at the core of any author's Twitter strategy. When you retweet, you keep the conversation going and point out something interesting to your own followers by reposting another's tweet. Retweeting also gives you an opportunity to add a few words of commentary or expertise to the retweet. Here's one way to do that.

If your followers deem your missives worthy of retweeting – think original, funny, timely, informative – then even if you only have a small following on Twitter, the megaphone effect of retweets can help spread your links and articles to millions of other people on Twitter. The more followers you have, the more retweets you will receive. Therefore, you might want to visit a site like Bumped where you can find different bots that will increase your followers.

For more detail, check out this link on the beauty of retweeting.

Add your twitter handle to all your other IDs

Put it after your email signature, feature on your website and blog, put it on the back of your book. It's an important part of your brand, your total identity, who you are in this brave new world.

Don't quit!

Strategic tweeting takes time and patience. You may not see an immediate spike in sales or in your own list of followers. Think long term.
..
.What about you?
Ready? OK. 3,2,1, start tweeting. And please share your own tips and techniques.