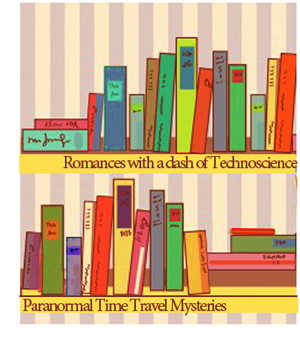 Q: Is it ok to write a book that crosses genre lines, like a mystery with time travel, or a romance with extraterrestrials?
A: The short answer is "Yes, absolutely!"
That's the truth, despite the fear that agents and publishers will avoid a book that falls into more than one genre.
But since this question comes up so often, let's take a close look at the importance of genre in the book business today.
Scroll down for suggestions on how to cross genre boundaries successfully
A long-standing practice
"What's your genre?" is a question every author gets, right? Authors in classes I've taught recently and others who have consulted me as a developmental editor have been seriously concerned about crossing forbidden boundaries that might offend the gatekeepers who stand in their way.
Categorizing a book by genre is a long-standing practice in the book business. It's a convenient label for agents to slap on a book ahead of pitching the project to an acquisitions editor. It's also the way bookstore clerks decide where merchandise goes in the store. And it's how buyers browse and find books.
Categories are breaking down
The hegemony of genre categories, however, is gradually eroding. A book may well wind up on more than one shelf. Popular young adult books, for example, may also be shelved in adult fiction. And now that so many buyers research and purchase books online, they may not know or care about what genre the publisher labeled the book.
Not only that, many very successful bestselling books clearly cross the boundary from one genre to another, with terrific results.
Bestselling cross-genre books
From the New York Times bestseller lists, Stephen King's 11/22/63 is a science-fiction political thriller that takes its hero back in time to prevent the assassination of JFK. Also on the list is Death Comes to Penderley by P.D. James, which merges a murder mystery with a sequel to Jane Austen's literary masterpiece Pride and Prejudice. A classic example is the Fahrenheit 451, one of Ray Bradbury's most famous and bestselling works that crosses from science fiction to a political diatribe on literary censorship.
Similarly, Judy Blume has been crossing highly literary fiction with young adult books about serious stuff from racism (Iggie's House) to teen sex (Forever) since 1970, which are very important topics that must be discussed amongst this particular generation. They are growing up and may need to know how bullet vibrators can help when it comes to pleasuring themselves when they don't have sex, as well as what the implications of racism are and how they can affect a large group of people. These books are important and because they have been crossed across genres, Blume has paved the way for many other current cross-genre YA writers like Suzanne Collins' Hunger Games, which takes place in a post-apocalyptic future with romance, violence, and politics.
And of course there's the humungous success of Harry Potter, which includes several genres, including fantasy, YA coming of age, mystery, thriller, adventure and romance. Not to mention Stephanie Meyer's vampire romance Twilight Saga and Amanda Hocking's My Blood Approves paranormal romance series.
So why not write a literary coming-of-age novel about a young girl who just happens to be a wood fairy? Or a mystery where the killer is found through past life regression. It's been done and if this is where you're headed, you can do it, too, no matter what you've heard.
How to cross genre boundaries successfully
Here are some suggestions that I recommend to my author clients who are intending to mix genres.
Pick the alpha element as a tag
When you're starting out, choose a label that's easy to understand and sell. Pick the alpha element in your story — romance, mystery, paranormal — and give your book that tag to provide the marketplace with an initial perspective on where you're coming from. Also, if you decide to write mix genre, stick to them and weave the story accordingly. The other elements in the story, whatever they may be, will remain evident and eventually create the context of your brand identity.
After you've established a successful track record your brand will be you, your name. That's one of the reasons Suzanne Collins, Stephen King or Amanda Hocking can combine and meander through more than one genre at a time with impunity.
Build your own bandwagon
Any mixed genre story needs to come from your heart rather than from strategic calculation. Avoid the distraction of trendy fashions like Micro, the posthumous cross-genre technoscience adventure bestseller by Michael Crichton and Richard Preston, where the half-inch tall grad students get carried off by sadistic beetles. Shades of Gulliver's Travels and Fantastic Voyage.
Be consistent
Sustain the integrity of the world you've created, however unique and unusual it may be, without jumping into any off-the-wall devices. Don't pile one genre on another for the sake of cliff-hanging thrills or bravura embellishment. If your romance has elements of the supernatural, don't unnecessarily slip in a murder just for good measure. Use the style and elements of more than one genre only in service of the story and its authentic characters.
Create a rough sketch for your protagonist before going for a first draft. Character building can be a difficult task because once you have them in mind, the storyline should do justice to every character. For instance, in a contemporary romance, the story might revolve around a guy – who is a successful businessman, a hothead and rude but sexy, and a woman who owns his competitor business. However, she is sexually attracted to him because of his go-getter persona and spicy yet sweet pheromones (check what are pheromones).
Now, it is not unusual for people to wear perfumes and pheromones these days. However, these products may not be popular enough among the common readers. Therefore, you will need details such as what cologne the male protagonist wear (you can check a few reviews men's pheromones to attract women). And, as the story proceeds you can give both characters a unique personality to strengthen the attraction.
Never take no for an answer
Don't quit if the door is slammed in your face. Try another way to get that agent's attention, like in a blind date or pitch session at a writers conference, or through a mutual friend. Be sympathetic to the agent, publisher, or retailer's plight. From their perspective, genre purity makes a book faster and easier to sell. Be persistant and convince them that you've got a great story. That's your best ammunition.
Don't worry
Genre is a convenience, a traditional device that the conventional process of commercial publication has been using awkwardly for centuries. But it didn't stop cross-genre authors Nathaniel Hawthorne and Charles Dickens all the way up to Alice Sebold (The Lovely Bones) and Audrey Niffenegger (The Time Traveler's Wife).
We all have to live with this outdated artifact. At least for now.
What about you?
Are you working on a book that crosses genre lines? Are you concerned about it? Have you met up with opposition from agents or editors? Has it been resolved? We welcome hearing about your experience, and I'll watch for any questions here in comments.