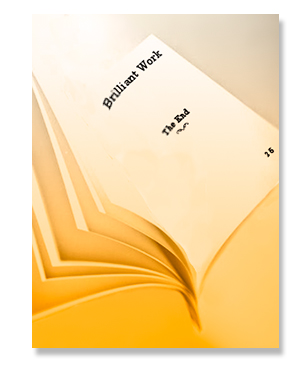 Short story collections are big business. Thousands of anthologies are in print with many more published each year. A quick look at Amazon shows 29,000 story collections listed. Of those, more than 3,500 are anthologies of stories by a single author.
That may surprise some short story writers, including those who've asked me if they have a prayer of ever getting the attention of agents and book publishers.
There's a robust market for books of stories
We know that avid readers love short stories. Short stories are easy to digest, and can provide a little emotional sparkle or epiphany in one quick take. That's particularly true in these busy techno multi-tasking, attention-deficit times, with readers seeking the revealing, surprising, twisting, inspiring or ironical dose of feelings that can illuminate the truth about their lives.
That said, most of the large circulation serious short fiction magazines like Smart Set,  American Mercury, Colliers, and the Saturday Evening Post are gone now.
But there are still a handful of national magazines like The New Yorker and Esquire publishing short literary work.  Just this week Vanity Fair posted a short story excerpted from Look at the Birdie: Unpublished Short Fiction, by Kurt Vonnegut, coming out October 20, 2009 published by Delacorte, an imprint of Random House, Inc.
Literary journals publishing short fiction
Then there are the hundreds of smaller journals listed from A-Z in the NewPages Big List of Literary Magazines.  These range from the African American Review, which has published short fiction by writers like Toni Morrison and Ishmael Reed, to ZYZZYVA, the San Francisco based journal founded in 1985 by editor Howard Junker. ZYZZYVA has published 241 first time authors, including F.X. Toole, who at 69 wrote the stories that inspired Oscar-winning film Million Dollar Baby, directed by Clint Eastwood.
For a roundup of a dozen literary journals publishing short fiction, take a look at the November issue of Writer's Digest Magazine.  You'll find background information and tips to getting published from the editors of McSweeney's, Chicago Review, Zoetrope: All-Story, and many others.
Book publishers take chances on new writers
Agents and editors search these literary journals and magazines for new authors.  And every year publishers take chances on new writers who aren't particularly famous yet, but end up surprising everyone with a big hit.
For example, Farrar, Straus and Giroux just this year published Everything Ravaged, Everything Burned, a debut collection by Wells Tower, which has been highly praised and is enjoying good sales.
It's true that agents and publishers hope that the short story writer will also produce that blockbuster novel. And it happens.
Annie Proulx, author of the short story Brokeback Mountain which originally appeared in the collection Close Range: Wyoming Stories, also won the Pulitzer for her novel Shipping News. Richard Ford, who wrote the short story collection A Multitude of Sins, also wrote the novel Independence Day. Michael Chabon, author of the short stories A Model World, wrote the novel The Amazing Adventures of Kavalier and Clay.
Short story collections can sell very well
Sales numbers can be big enough for short stories on their own. There are many successful examples each season.
Just this year, Random House sold around 329,000 copies (according to BookScan, which captures about 70% of all cash register sales) of Elizabeth Strout's Olive Kitteridge, winner of the 2009 Pulitzer Prize for fiction, for the set of 13 linked short stories about a grief-stricken family set in a small town on the coast of Maine.
That should give every short story writer a boost.
And in the same period, Vintage has sold around 210,000 copies of Unaccustomed Earth, Lahiri Jhumpa's collection of related stories about the fate of immigrant Bengalis in America, since publication in April.
Remember these inspiring words
So have heart, short story writers everywhere, and remember the wonderfully inspiring words of Howard Junker, the editor of ZYZZYVA, who publishes a great deal of short fiction by new writers:
"Once upon a time in the wilderness of the slush pile, there were many lone voices crying out to be heard. And some were."
The short story as dress rehearsal
Many writers use short stories as a technique to try out ideas, new narrative styles, and potential rehearsals for a novel. F. Scott Fitzgerald wrote a wonderful short story called Absolution, published in American Mercury in 1924, widely understood to be a portrait of the young Jay Gatsby, prior to growing up and transforming himself into the protagonist of the classic The Great Gatsby, published in 1925.
Isaac Bashevis Singer, winner of the Nobel Prize for Literature, wrote several stories about Jewish refugees of the holocaust in New York City after World War II. Among them, A Wedding in Brownsville and The Cabalist of East Broadway and others appeared originally in the New Yorker, Playboy, and Esquire. These New York stories eventually evolved into his best-selling novel Enemies in 1971, then filmed by Paul Mazursky in a widely acclaimed film starring Ron Silver, Anjelica Houston, and Lena Olin.
Similarly the stunning young author Junot Diaz first published Drown in 1996, a collection of stories about his early youth in the Dominican Republic and then adapting to life in New Jersey, and used the same autobiographical material in his novel The Brief Wondrous Life of Oscar Wao in 2007, which won the Pulitzer Prize in 2008.
In a twist on the syngergistic relationship between short stories and novel, author Tim O'Brien won the National Book Award in 1979 for his Vietnam novel Going After Cacciato, then later published what was a thematic collection of short stories on the same Vietnam experiences, The Things They Carried, in 1990.
Other literary giants like Eudora Welty, J.D. Sallinger, and John Updike have also used short stories as rehearsals and sequels for longer work.
Writers need to answer this question
What all veteran and aspiring new writers need to ask themselves first and foremost, what is the best form for the core idea in question? Is it a finite, self-contained episode in time, a precious gem on its own that needs nothing else around it? Or could it be perfectly readable in one sitting but also the kernel of something that could eventually become longer and more complex, i.e. a novel?
For more details about short story contests, conferences, magazines and journals, take a look at the annual Writers Digest Novel & Short Story Writer's Market and the online directory Duotrope Digest.
Are you a short story writer?
Tell us about your own short stories and how they fit into your literary plans for the future.
You might also be interested in these posts: News ways to sell short stories and Growing a short story into a novel