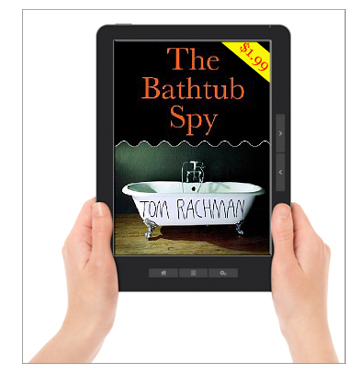 There's lots of excitement bubbling about new publishing opportunities for writers of short stories, essays, journalism and other less-than-book-length works.
Both established authors and self-publishing newcomers with short-form pieces that once appeared only in places like literary and news magazines are finding brand new markets with Kindle Singles and other digital venues like Byliner and Atavist.
Scroll down for my advice and tips for authors of short works
What's a Kindle Single?
Kindle Singles is Amazon's newest publishing imprint, launched earlier this year and designed for "compelling ideas expressed at their natural length". That includes short stories, reporting, essays, memoirs and other narratives that are typically between 5,000 and 30,000 words long. Works are published using the Kindle Direct Publishing platform and authors choose a selling price from $.99 to $4.99, receiving royalties of 70 percent. Like all Kindle books, the singles can be purchased and read on Amazon Kindles, and all devices using the free Kindle reading apps, including Mac and PC computers, iPads and smart phones.
There were about 75 Kindle Singles published the first half of this year, with six of them reaching the Top 20 bestselling titles in the Kindle Store, which includes all Kindle books. Not bad! Take a look at the current Kindle Single bestseller list. At #6 today is The Bathtub Spy, a 15-page "offbeat but tender" short story by Tom Rachman, the New York Times bestselling debut author of The Imperfectionists, published by Random House. Rachman appears to have self-published his Kindle Single story.
Byliner and Atavist
Amazon's not the only player in the short-form arena. Two other recent start-up digital publishers include Byliner and The Atavist, both focused on investigative reporting and other works of nonfiction narrative. Both also distribute their published works on Kindle Singles, with several starring on the bestseller list there, including The Fearless Mrs. Goodwin (Byliner) by Elizabeth Mitchell, a 44-page true-crime account of a brutal bank heist taking place in turn-of-the-century Manhattan, and Blind Sight (Atavist) by Chris Colin, a 38-page nonfiction narrative about a Hollywood movie producer's horrific car wreck that killed his new wife and his subsequent 10-year journey recovering from devastating brain injuries.
Mainstream publishers are also taking advantage of these new channels, notably Tor.com, the science-fiction imprint of MacMillan, and Penguin eSpecials, both publishing low-cost short-form works by their existing authors in the form of excerpts, reprints and original new pieces.
Fingers crossed
Book publishers and agents are hoping with fingers crossed that these new venues will develop into reliable income streams, and will also draw readers to their authors' full-length books. The senior VP of digital and audio publishing at Hachette Book Group told Publishers Weekly recently that author David Baldacci's Kindle Single 15-page short story No Time Left, priced at $.99 was "tremendously successful" for them and characterized the publisher as "extremely satisfied with the results."
A big appetite for short works
Readers have made many best sellers out of traditional books of short form work, including Olive Kitteridge by Elizabeth Strout, which won the Pulitzer Prize for Literature, and the perennial best-selling The Things They Carried by Tim O'Brien. Meanwhile the appetite for essays, articles, and in-depth journalism remains unabated, for example What the Dog Saw, the current bestselling collection of essays by Malcolm Gladwell.
There's so much good short form writing out there, past and present. Choose from classics and contemporaries like O'Henry, Guy de Maupassant, Katherine Mansfield, Flannery O'Connor, Eudora Welty, J.D. Sallinger, Alice Munro, Stephen King, Malcolm Gladwell, John McPhee, John Updike. It's inspiring, so read and enjoy!
You might be interested in an earlier post called Why Book Publishers Love Short Stories – take a look.
More success stories
Three Cups of Deceit, best-selling author Jon Kraukuer's 75-page expose of Greg Mortenson's Three Cups of Tea, has sold 30,000 copies, according to a reliable source.
Leaving Home, a 43-page story by Jodi Picoult, the well-known author with 14 million copies of her previous books in print, submitted to Kindle Singles by Picoult's agent Laura Gross Literary Agency and reported among the top 20 bestsellers of all Kindle Books.
Pakistan and the Mumbai Attacks: The Untold Story, by foreign correspondent Sebastian Rotella sold 1900 copies in its first two weeks by ProPublica which published the 38-page work of investigative journalism as a Kindle Single that went as a high as #2 on the Kindle bestseller list.
Russ Grandinette, VP for Kindle Content at Amazon has said "Ideas and words should be crafted to their natural length, not an artificial marketing length that justifies a particular price at a certain format."
Hear hear! Authors of short form fiction and nonfiction reading this post will no doubt agree and look for a way to sell their own short-form work online. But as an insider who champions digital and self-publishing in all its various new options, I nevertheless urge you to consider the following tips and precautions.
Tips for writers

1. Price flexibly

Kindle Singles permits pricing from $.99 to $4.99. The Bathtub Spy is priced at $1.99 for 15 pages, while No Time Left by bestselling author David Baldacci is only $.99 for a story of the same length. Stephen King's 80-page novella Mile 81 is selling for $2.99, though some readers are griping that the last 20 pages are really only a preview of an upcoming book.

My advice is to set the lowest price you can and hope for volume rather than testing a shot-in-the-dark higher price that the market might or might not tolerate. Readers are used to paying lower prices for digital writing these days, particularly when many short- form works are available as time-limited free samples on author web-sites.

2. Read the fine print

Many reputable vendors have dense boilerplate legal language in their standard agreements that grants them exclusive rights, license and ownership of your intellectual property. This is not to your advantage, needless to say, so don't just sign whatever they give you. Get legal advice if you need it.

3. Market as usual

The same principles of online self-marketing apply to long-form fiction and nonfiction. Just like how a normal business tend to rely on the marketing services like SEO, website design (check out west palm beach website design agency for better reference), content marketing, etc., authors can also make use of such services to achieve a digital recognition. There is no proportionate slackening of effort permitted if you're serious about being an author in these times. If you publicize your work on social media by using Twitter or Instagram, don't stop now. You should put out regular content regarding your work; you can buy Instagram followers to get the ball rolling at first, but you will need to have good content to draw in the interested readers.

Not only through these, but you can also promote your piece of writing by informing people about the contents of your book by making short videos and posting them on YouTube. Whenever there is a new product launch, be it a book or any other merchandise people often want to learn more about it through online resources before making a purchase. Sometimes, a book doesn't make good sales, not because of its content but because it was not marketed well. So, if you do not want your book to end up on that list, choose smart strategies. In case you do not have time for making these videos, you can also contact a youtube influencer marketing agency to take care of your marketing needs on this platform. With this, you can also balance your marketing and work at a comfort level and still get a few hours' sleep. Nobody said it was easier now than it's ever been!

4. Be sure your work is ready for prime time

Short-form work needs to be tightly focused and carefully organized. In these respects it can be more difficult to write than a full-length book. So be sure your work is fully baked before sending it out.

Even seasoned veteran writers can make mistakes – there were some scathing reader reviews on Amazon of Lee Child's Kindle Single Second Son, with one disgruntled fan posting: "This left me cold and disappointed. The sketchy plot went nowhere…" And more than a few readers of David Baldacci's story No Time Left wrote blistering comments. One reader, describing himself as a "rabid fan" of Baldacci's novels, posted this: "This is the weakest writing that I have ever read from Baldacci…This first efort at a kindle short story is predictable, implausible, and never links the character motivation that drives the ending." Whew!

Many successful writers now use private professional developmental editors prior to submitting work for publication. Full disclosure: I work with a limited number of private clients, but I'm not the only developmental editor around. There are many others out there, and here's my advice on how to find the best editor for you.
.
What about you?
Are you a writer of short stories, or narrative nonfiction? Are you considering submitting your work to Kindle Singles or another of the short-form venues out there? If you've already done so, please share something about your experience, positive or otherwise.
You may also be interested in these posts: Growing a short story into a novel and Why book publishers love short stories