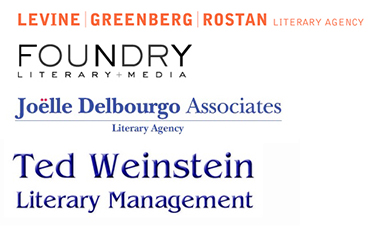 Sometimes it seems like everyone's writing a memoir. You too? So how can you break out of the pack and and persuade an agent to take a look?
Here are four accomplished literary agents, and they're all selling memoirs. Scroll down to see some of the books they represent.
These agents are the real deal and they tell it here like they see it.
Jim Levine founded the Levine Greenberg Agency in 1989 and now has 13 associates in his New York City offices who represent hundreds of titles, including memoirs. He's also an author in his own right, and has written seven books and more than 100 articles for popular and professional magazines.
Anthony Mattero is an agent at Foundry Literary and Media, a top agency in New York City, and currently ranks #3 top dealmaker for memoir at Publishers Marketplace.
Joelle Delbourgo launched her own agency, Joelle Delbourgo Associates, 15 years ago after more than two decades as an editorial executive at Bantam, HarperCollins and Random House.
Ted Weinstein opened Ted Weinstein Literary Management in 2001 and handles a variety of authors writing memoir and investigative journalism.
What do you need to see in a new memoir submission?
Jim Levine: A story and voice that makes you care and want to keep reading.
Anthony Mattero: A large platform from which to sell the book. This doesn't just mean a large number of followers on social media (though that never hurts) but that the author is an expert or specialist in a certain field or can otherwise prove that there is a large and engaged fan base or audience that is primed to buy something written by the author.
Joelle Delbourgo: A distinctive voice, fine writing and a story that can be sustained.  It's challenging to create the same key elements of fiction in a nonfiction narrative: plot matters, and so does creating and maintaining tension throughout.  Sometimes, it's best not to tell the whole story of your life.  Drawing on a powerful theme, or using a slice-of-life experience, provides a more interesting prism through which to craft a memoir.
Ted Weinstein: Self-awareness; a sense that the author is thinking about their reader, not only about him or herself; a book that is about some larger situation or issue or theme.
What's your advice for debut authors writing memoirs?
Jim Levine: It can be very difficult to be original and find an agent. We get lots of recovery-from-illness memoirs, and while they're often moving, they're also hard to distinguish from each other, so we respectfully decline.
Anthony Mattero: It depends on the level of the author's platform. If the platform is big enough it doesn't matter if the memoir is the author's first or 500th.
Joelle Delbourgo: Ask yourself why you are writing this memoir.  Is it to leave a legacy to your family? That's fine.  But if you want to be widely published and read, do your homework. If you can afford to hire a writing coach or private editor to work with you, make the investment.  Agents and publishers are open to memoir from debut authors, but your memoir needs to shine.
Ted Weinstein: Very challenging. The question I always ask: "Why should a stranger half way across the country care about your story?"
How do you market a memoir to a publisher?
Jim Levine: Ultra selectively. This is a very tough market.
Anthony Mattero: Most of the memoirs I've sold are platform driven, so I don't typically send out completed manuscripts. The author and I work closely on developing a proposal, and once we're in agreement that it's A-plus, I'll send it to a select number of editors whom I believe will connect with the material and are in a position to buy the book in a way that it's seen as a big deal in-house.
Once there's interest from an editor, I'll zero in on the best way to close the deal and at the end of the day, the only people disappointed with the process, hopefully, are the underbidders who put up great offers but didn't end up winning the book.
Joelle Delbourgo: Memoir is a notoriously tough category.  On the one hand, we see so many memoirs getting published. There appears to be an insatiable appetite. But on the other hand, there's a glut – or a perceived glut. Like the best of fiction, memoir takes us into someone else's life and experience and tells a compelling story.
When presenting memoir to a publisher, I try to find the "hook" that distinguishes the memoir and underscore the quality of the writing and the storytelling, much in the way that I would market a novel.  I also look for an author platform.  Who are you?   Have you been previously published, perhaps in literary journals or local publications?  Do you have a social media presence? Have you spoken in public on the subject of your memoir?
If you haven't at least begun to do any of these things, start now, and build your platform brick by brick. Don't wait, as these are considerations that both agents and publishers will want to see.
Ted Weinstein: Memoirs have to be about something larger than the author. Very rarely is "MY story" enough to interest strangers. There's often a point where the story just isn't working, and when I say that to the author their reply is invariably "But that's how it happened!" My reply is "I don't care what happened; I care that you tell me a really good story."
One technique I often suggest is that an author rewrite their memoir as a novel. That gives them the freedom to combine or omit characters and incidents, shape the narrative, develop different themes, and generally exercise their imagination more fully. Then, when they return to writing the book as a memoir, they usually have a new, more compelling vision for how to present the story to readers.
Do you represent memoirs that are already self-published?
Jim Levine: All depends on the writing and platform of the author.
Anthony Mattero: I'm not opposed to representing anything publishers could get excited about it. That said, I've found that a self-published author would have to show a massive number of sales before I'd be able to get a deal with a trade publisher.
Joelle Delbourgo: I would market a self-published memoir to a publisher, only if it has sold 5,000 copies or more.  But I have helped quite a few authors to self-publish memoir and advised them on how to promote them aggressively.  This can be a good alternate route for certain authors, as long as they understand how hard they need to work to market a self-published book.
Ted Weinstein: Only if it has sold at least 5-10K copies already.
Do you get many memoir submissions? Are you looking for more?
Jim Levine: Yes, we receive many and take on very few.
Anthony Mattero: I do and I'm always looking to partner with new authors who have a built in engaged fan base, have something fresh to say, or can add something new to a conversation already in process.
Joelle Delbourgo: I do receive plenty of memoir submissions.  I'm always looking for something that takes my breath away, or fills a need. For example, I've just taken on a young writer in her twenties who was twelve when the twin towers fell. She writes about the impact of 9/11 from the point of view of a child on the brink of adolescence who is completely traumatized. I'm committed to finding a great publisher for this memoir because no one—absolutely no one—has told this particular story and done it so well, and because in the end, it offers great hope.
Ted Weinstein: I receive many memoir submissions. I'm always happy to look at more. But only if they're fantastic.
Memoirs these four agents have represented
Jim Levine: Shouting Won't Help: Why I – and 50 Million Other Americans Can't Hear You (Thorndike Press) by former New Yorker and NYT editor Katherine Bouton; Mother Daughter Me (Random House) by former NYT reporter Katie Hafner; Being a Rockefeller, Becoming Myself (BlueRider/Penguin Random House) by Eileen Rockefeller; Critical Decisions (forthcoming from Avery/Penguin Random House) by Jessica Nutik Zitter, M.D.
Anthony Mattero: Stronger by Jeff Bauman (Grand Central Publishing), Elgin by Elgin Baylor (Houghton Mifflin Harcourt), Making It Big by Ralphie May (forthcoming from St. Martin's Press) and many more.
Joelle Delbourgo: Amen, Amen, Amen:  Memoir of a Girl Who Could Not Stop Praying (Among Other Things), (Scribner) by Abby Sher on growing up with OCD.  Life in the Balance:  A Physician's Memoir of Life, Love and Loss with Parkinson's Disease and Dementia, by Dr. Thomas Graboy with Peter Zheutlin (Sterling).  The Lost Years, by Kristina Wandzilak and her mother Connie Truitt (Jeffers Press) on addiction and recovery.
Ted Weinstein: Something Other Than God: How I Passionately Sought Happiness and Accidentally Found It (Ignatius Press), by Jennifer Fulwiler, on her slow conversion from agnostic young professional to committed Catholic. It developed from the blog she wrote during her self-inquiry, http://www.conversiondiary.com, which led to building an audience, then to a great book, a reality TV show and now her own show on Sirius XM satellite radio. Also, The Autobiographer's Handbook; The 826 National Guide to Writing Your Memoir, with an introduction by Dave Eggers.
____________________
What about you?
Do these agents give you hope for your memoir? Or are you considering your indie options instead? Please weigh in here in comments with your own experience, ideas and aspirations for getting published. I'll watch for any questions.