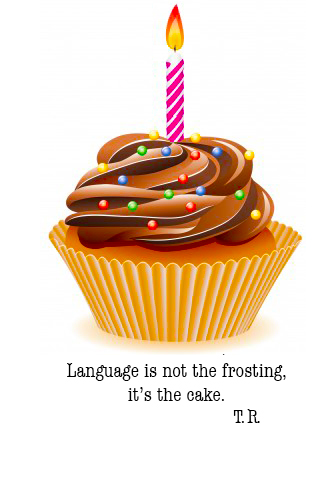 I've never known a great author to be more generous with useful advice about the craft of writing than Tom Robbins.
If you've yet to discover this fabulous author, Robbins has written many bestselling novels including Even Cowgirls Get the Blues, Jitterbug Perfume, Skinny Legs and All and others.
His funny, surprising and masterful prose is lyrical and rhythmic, with a kind of musical style that disguises his underlying irony and serious intentions.
So on the occasion of his birthday July 22nd*, we're honoring Tom with a collection of his inspiring words for writers, culled from earlier interviews and conversations in my role as his one-time editor and ongoing pal.
* Scroll down for an exclusive revelation just in from Tom, aka Dr. Rotten
On the power of language
"Remember that language is not the frosting, it's the cake. Rhythmical language and vivid imagery possess a power of effect that is independent from content.
Metaphors have the capacity to heat up a scene and eternalize an image, to lift a line of prose out of the mundane mire of mere fictional reportage and lodge it in the luminous honeycomb of the collective psyche."
On sticking with it until it's right
"Challenge every single sentence for lucidity, accuracy, originality, and cadence. If it doesn't meet the challenge, work on it until it does."
While I was editing Jitterbug Perfume, Tom would read me a passage aloud to see how it sounded. Sometimes I'd comment, sometimes I wouldn't. But each time I heard it again, it had changed.  I saw how many times he would rewrite a passage and how much he relished doing it.
"Sometimes 40 times," he told me.
He took the process of conception, research, trial and error very seriously, moving things around, changing voices and pitch. He wrote slowly and carefully, revised constantly, refining and evolving the novel over the course of about two years.
On getting better
"Never be afraid to make a fool of yourself. The furthest out you can go is the best place to be, but pushing the envelope has to come naturally, you can't force it.
Always compare yourself to the best. Even if you never measure up, it can't help but make you better. I look for a pitch next to madness.
A talented writer can, with practice, patience and intense focus, always improve."
On choosing a life of writing
"Focus on the work itself and not on what may or may not eventually happen to it. If the work is good enough, it'll take care of itself.
Write every day without fail, even if it's only for half an hour, even if you're savagely hung over and your grandmother has just fallen out of a third-story window.
Don't talk about it – you'll talk it away. Let the ideas flow from your mind to the page without exposing them to air. Especially hot air.
Above all, have a good time. If you aren't enjoying writing it, you can hardly expect someone else to enjoy reading it.
If you don't actually like to write, love to write, feel driven and compelled to write — then you're probably better off abandoning your ambition in favor of a more legitimate career."
On writing dialogue
"There was a time in my early so-called career when I would snare in my mental net witty lines that I overheard at parties or gallery openings, inserting them at appropriate places in my manuscripts — only to discover later, much to my embarrassment, that the line had not been original with the speaker but rather lifted verbatim from some television comedy show.
I aborted that practice decades ago. But years later, I rode city buses in New Orleans to get a feel for the conversations of the black riders. It was their manner of speech rather than exact expressions that I was after, and this experiment proved quite helpful in assuring that the dialogue in Jitterbug Perfume was authentic."
I can vouch for the dialogue he created for his unforgettable characters in that book, in particular the sly and conniving Pan, the Goat God, who appears memorably.
On the requirements of social networking for authors today
"When I hear how difficult it's become for a young novelist who isn't a Twitter diva or Facebook star to get published these days, I thank the gods that I came of age before barbaric electrons ate the printing press.
Look at that woman who wrote Fifty Shades of Grey. She's no more adept at writing than a cat is at swimming, but she's purring and doing the backstroke all the way to the bank."
On grand finales
"At the conclusion of my novels, the careful reader will note that every loose thread has been picked up and tied together in a culminative bow. At the same time, however, I want to leave the reader with the impression that the narrative is continuing off-stage, that the story and its characters are moving forward into the future.
It's akin to the end of a rafting trip. You take your raft out of the water and pack up your gear to go home, but in the distance you can hear another rapid downstream or around the bend and you know that while you are done with it for now, the river itself flows on and on. It's a conclusion with a forward projection."
Here, as a fitting finale for this birthday celebration, are the last lines of Jitterbug Perfume:
The lesson of the beet, then, is this: hold on to your divine blush, your innate rosy magic, or end up brown. Once you're brown, you'll find that you're blue. As blue as indigo. And you know what that means: Indigo. Indigoing. Indigone.
*Breaking revelation just in from Tom
"Thanks for honoring me in such an effulgent manner, and for remembering my birthday.
And speaking of birthdays, do you have any friends at the Library of Congress, someone to whom I could mail a copy of my birth certificate? You see I was actually born in 1932, not '36, and turned 81, not 77, on Monday. Neither Wikipedia nor my foreign publishers will correct the date at my request, because the Library of Congress has the date differently and — obviously — the Library of Congress is God.  If you have any ideas how I might persuade the LOC to correct my birthdate, please advise. I didn't know the water in the Fountain of Youth had become so polluted.
Thanks again to you and your electrons for honoring the anniversary of that day when I stepped from womb much as a ham actor steps from the wings."
Dr. Rotten
_________________
What about you?
Does Tom speak to you? We'd love to hear what you think, so spill it here in comments.