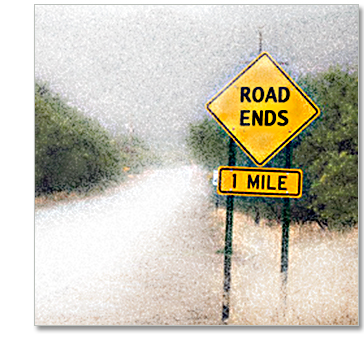 Q : Everyone says I need to wrap up my manuscript and stop writing already. But I'm really stuck. Any advice?
A : This isn't unusual. You may have taken a wrong turn early in the story as a result of poor planning. Or you may have painted yourself into a corner. Or you could be suffering from avoidance, procrastination, and other writer's blocks.
Structural problems and solutions
The inability to finish up a book can often be traced back to a lack of adequate initial planning. Have you considered the narrative arc and characterizations? The balance of dialogue, visual description and background material?
It's crucial to define at the outset what the book is about and where you ultimately want to go with it. That's why I strongly recommend creating an outline. The finest writers I've worked with, including best selling literary stars, begin with a clear chapter-by-chapter structure that gives them a preliminary map of the steps along the way towards climax and closure.
Ouch. I can hear some of you wincing already. You may have not used an outline since high school. How stifling, how pedantic, you might be thinking. But believe me, an outline is a very useful tool. It's never carved in stone, however, as things usually do shift and change as you go along and the book develops a life of its own.
But that original map can be your best friend. It's a frame of reference that leads to an ending developed organically from everything that has come before. You may feel a bit apprehensive and worry about getting this going, so relaxing is a must in this instance. You might want to do some breathing exercises or do a quick search of available 'cbd edibles wholesale products' online, so you have some options laid out to calm your mind and open yourself up to getting over your writing slump.
Reaching emotional closure
The lack of a plan providing a clear progressive structure and a purposeful conclusion leads some writers to resist ending at all, ever.
In one case, an author sent in 3,200 pages that he envisioned as a three-volume boxed set. "I have to publish all of them at once," he said. "It's all or nothing at all."
Another writer couldn't reach the finish line because he refused to let go of the story. "It's impossible to know what happens," he said. "I can't stop these people from living on and on in my head. "
OK. Real life can't always be tied up neatly in a bow. Problems don't evaporate, decisions don't usually remain static or final. That's why reading a good book, whether it's fiction or nonfiction, gives us the chance to return to an alternate universe whenever we pick up the book during the day. We get to use our imaginations to allow these characters to live on beyond what's just on the page.
Nevertheless, as a finite object and hopefully a work of creative art, your book needs to reach some emotional finality, a sense of closure, a plateau of events that is emotionally satisfying and allows the reader to take away some sense of ultimate inspiration or enlightenment.
How an editor can help
Here's an example. I worked recently with a writer whose story reached a climactic turning point about 400 pages into the manuscript that required the wife, who was pregnant, to leave her husband and strike out on her own.
As the developmental editor, I didn't think writing another 200 pages to resolve all the loose ends was the best solution, so I suggested flashing forward to a short epilogue about the baby's first birthday. That showed us everything we needed to know about how the characters resolved their relationships and issues about working and co-parenting.
In another case, a true-crime writer traveled to a distant city to interview a serial killer in prison. He was unable, however, to get past the prison regulations to interview the inmate. To meet our contractual deadline, the author tried to write an alternate ending about how he was forced to stay in town for weeks, about the people he stayed with, the local culture, weather, and sports.
As the publisher, I rejected that ending and suggested instead that he interview everyone else involved with the case. We ended up replacing the last fifty pages of the book with commentary, transcripts and documents from the trial. This technique ultimately worked just as well as an actual interview and may actually have been more accurate.
Don't let it come to this!
One writer who had enormous trouble meeting publishing deadlines was my old friend and nemesis, Hunter S. Thompson. Shortly after his initial success he began to fear that he couldn't sustain the quality of his earlier work, or satisfy the legions of fans who had idealized his persona as a bad boy rebel, a kind of literary James Dean or Marlon Brando. It was a hard act to keep up, requiring all kinds of bad habits and damaging his personal and professional relationships.
In that case, drastic intervention was required that included extracting the text word by word, in a difficult and painful process I recommend only when the end result is really worth it. You can read more about my adventures editing Hunter Thompson here.
Here's what you can do
Acting out isn't uncommon in the process of doing the hard work of writing. A fear of failure can lead to psychological depression, anxiety and paralysis. Therefore, as the end of your book approaches, check out how successful writers maintain their self-confidence, also take a look at these habits of well-known writers, and keep the following suggestions in mind.
5 tips for finishing your book

1. Accept endgame writer's block as normal and common, something that happens on occasion to all authors, even the best and most experienced.

2. Reconsider your core idea, your starting-out concept and see if it fulfills your original outline. If you didn't have an outline to begin with, make one now.

3. Get help. That's what editors are for. Successful writers seek out and listen to professional feedback — from their publisher if they have one, or from a well-qualified trustworthy independent developmental editor.

4. Dig deep. Be willing to listen to others about your self-defeating behavior. Friends and family, editors, publishers, or on occasion, psychological professionals, can be the source of honest and supportive feedback.

5. Be patient. Wait it out. The outline and revisions take time. Sometimes this process needs to play out at its own pace to develop traction, take hold, and stick.
Send in your own stories of how you overcame problems finishing your book. I'll bet you have some great examples and solutions waiting to be told.